The Inca Trail is one of the most desired destinations for any lover of nature, hiking, fitness or outdoor activities. Located in the Andes Mountains, the 4-day trek will take you up from the village of Piscacucho to 4,215 meters above sea level (Dead Woman's Pass), ending at one of the most iconic destinations and part of the New 7 Wonders of the World: the historic citadel of Machu Picchu. If you plan to visit this legendary site, a living emblem of Inca history, there are a few things to keep in mind to make sure you are fully prepared.
Getting in shape
You will first of all need to be informed about how fit you need to be or how much you need to train. And to be honest, there is no fixed answer, everything will depend on the physical shape of each person and how they have the capacity to go through this complicated route. What you can know and get an idea of is the distance, an average of 12 km per day, often with steep stone stairs and at high altitude, so it is not a light walk. If you are already in good physical shape, preparation for this hike will involve a slight increase in your current training, mostly focused on physical endurance and acclimatization to the altitude. And if you are not so fit? We suggest you start a strict training regimen 3 to 6 months beforehand. In any case, long-distance running, cycling or long-distance conformed walks are a good way to strengthen the cardiovascular system, as they help to process oxygen better and faster, while aerobic exercises are essential to strengthen the legs and upper body. Squats, kettlebell swings, squats, step aerobics, shoulder presses and back and shoulder presses will help you tackle those thousands of stairs that make up the Inca Trail. It's also a good idea to do a few 10 km hikes around your city before the trip, choosing routes with rocky terrain and at higher altitudes.
Prepare yourself mentally
Mental preparation is just as important as physical preparation when it comes to hiking the Inca Trail. Endurance and stamina are what pushes you through these 4 days, and all of this is largely mind over matter. You will find that many parts of this route are hard and will leave you breathless, others are quite calm and will give you the opportunity to enjoy all the incredible surroundings, at the end you will just feel all that feeling of gratification for having ploughed such a long and difficult route, only to complete it successfully, after that the only thing left for you will be to enjoy the feeling accompanied by the best views.
At your own pace
The Inca Trail is by no means a race. The history, the incredibly beautiful views, the local cultures present along the entire route and the bonding with your group mates is what this trek should be all about. So be sure to walk at your own pace. There is no rush. Making stops to rest and enjoy the surroundings is what will keep you going until you reach the top.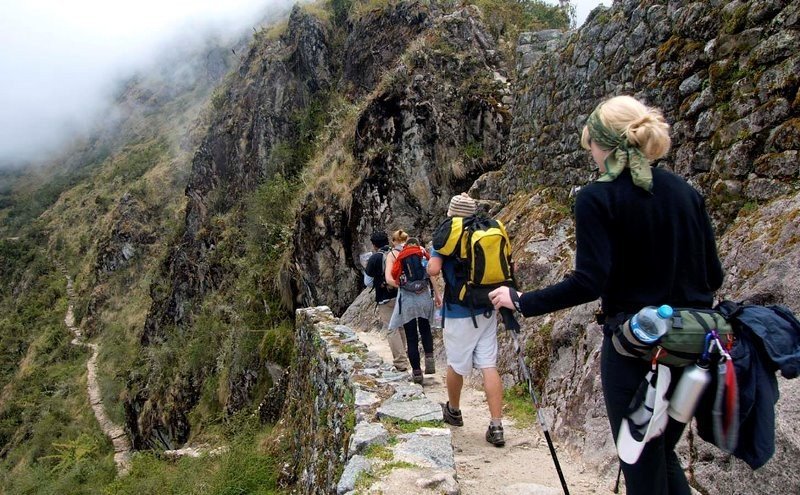 Do not underestimate the altitude
You may be one of the fittest people in the world and still suffer the effects of high altitudes. The high altitudes on the trail can make you short of breath and feel sick, but there are ways to train your heart and lungs for this. Drinking plenty of water and eating (even if your body won't allow it) also helps a lot to feel better. You can also buy pills against altitude sickness that will help prevent it. But above all it is best to spend a few days in Cusco City to acclimatize properly to all these unwanted effects of altitude.
You can also gradually climb to higher altitudes, reaching 3,500 m in the Colca Canyon if your visit includes the city of Arequipa, and 3,400 m in Cuzco before starting the trek. This will allow your body to acclimatize slowly, and most often you will not have any subsequent altitude-related problems after this. So, if you have a few days to spend in Peru before your trip, we recommend that you spend at least two nights in Cuzco or explore the Colca Canyon before starting the trek.
Invest in a good pair of walking shoes.
You will be walking A LOT and for long distances, so choose your boots carefully and make sure this is your number one priority when equipping yourself, they will become your best friend along this route. I would recommend a pair of slippers, as they are lighter, easier to carry and more breathable than boots. They can also double as sneakers if you plan to walk the Camino on both sides. Be sure to buy waterproof slippers or, at least, a waterproof spray. Although you should keep in mind that these will not offer you the proper grip as a proper pair of boots will. Ultimately, it is a matter of taste, comfort and needs.
Get all the equipment
Raincoats, layers and thermal clothing are a must for hiking the Inca Trail. The weather can fluctuate from 30-degree sunshine to torrential rains and freezing nights in a matter of minutes, so make sure you're prepared for anything. And remember, the last thing you need to worry about when you're hiking in a mountain range is how you look (chances are you'll be wearing socks and flip-flops at some point), so comfort and shelter from the weather comes first. Here are some essentials to pack:
Your passport (you need it to enter the Inca Trail)
Waterproof jacket / poncho
Wool cap
Thermal clothing for the night
Gloves
Walking pants / leggings / shorts
Warm sweater
Short and long sleeve lycra active shirts
Underpants and regular underwear
Hiking socks and warm socks
Wet wipes
Toilet paper
Hand sanitizer
Sports headband
Sunglasses
Sunscreen
Toiletries
Personal medication / basic first aid kit
Altitude sickness pills
Underwear
Water bottle
Flip-flops
Flashlight
Cash
Lightweight packaging
While all of the above is necessary, do not overdo it, as you will have a weight limit on what you can carry on the trail. Before starting the trek, you will be given a bag to store all your clothes for the next 4 days. This bag will include the sleeping bag and sleeping pad, this cannot weigh more than 6 kg. So, basically, you should carry enough and a little less.
You will need a sleeping bag and sleeping pad.
During the trek the tour operator planning your trip will provide you with tents, but you will need your own sleeping bag. If you do not have one, you can opt to rent one from various tour agencies that will provide the service. In this case, some people choose to carry a sleeping bag for reasons of hygiene or comfort, but this is entirely up to you. You will also have the option of renting a sleeping mat, which is 100% recommended to ensure that you will have a comfortable and restful sleep after a full day of trekking.
Keep a pillow handy
Another tip would be to have some sort of pillow to sleep on while you are on the road. It could be a makeshift sweater, a scarf, or an inflatable pillow that is lightweight and easy to carry. Whatever it is, make sure you have a pillow that gives good support to your neck.
Carries a headlamp
A flashlight will be a must for the nights when your only light will come from the stars, you will not find electric lights along the way, so always make sure you have one handy, or even better a headlamp. On the last day of the Camino you will have to wake up in the early hours of the morning and walk a long stretch in the dark until the sun rises just as you are about to reach the Puerta del Sol. For the first few hours you will be in total darkness, so a headlamp will be your best ally for careful walking. Be sure to carry spare batteries until the end of the trip, as you won't find charging points either.
Charge all your devices
As you may already know, on the Inca Trail you won't find plug sockets in the tents, so make sure you have everything charged and ready to go before the trip. It's also worth carrying a battery pack or two to recharge your phone/camera charging while on the Inca Trail, and any extra memory cards you think you may need and even external batteries that will offer extra hours of use to your devices.
Take out money
Once you enter the Inca Trail, there will be no ATMs or places to withdraw money, so carrying cash will be necessary to buy snacks and any extra drinks you may need. You will also need some money to tip your guide, cook and porters at the end of the trek. These guys work very hard to make sure your trip goes as smoothly as possible and that you enjoy some amazing meals along the way.
Carry snacks or sandwiches
The meals provided on the trip are mind-blowingly good and tasty, as you will also be provided with snacks every day, but I would advise you to bring some extra treats to snack on when you feel too hungry and there is still time left for your daily lunch. The first 2 days there will be snack stops along the route, so you can always grab a chocolate bar or energy drink along the way to recover your spent energy.