Everything you need for the Inca Trail, due to its location in the middle of the Andean rainforest, is made up of cold nights and warm days. Characterized for being a route composed of camping, hiking and exploration in the Peruvian valleys, this is one of the most sought after and best valued routes by visitors worldwide. In addition, you will have the privilege of entering the historic citadel of the Incas through the Sun Gate of Machu Picchu squinting under the early morning sun that will bathe your arrival as if it were a fairy tale.
The Inca Trail is an absolutely wonderful travel experience, but deciding what to bring for its various temperatures and geographical and climatic conditions is a little less exciting.
We want to share our tips and experience so you know exactly what to bring and, just as importantly, what to leave behind for your own adventure.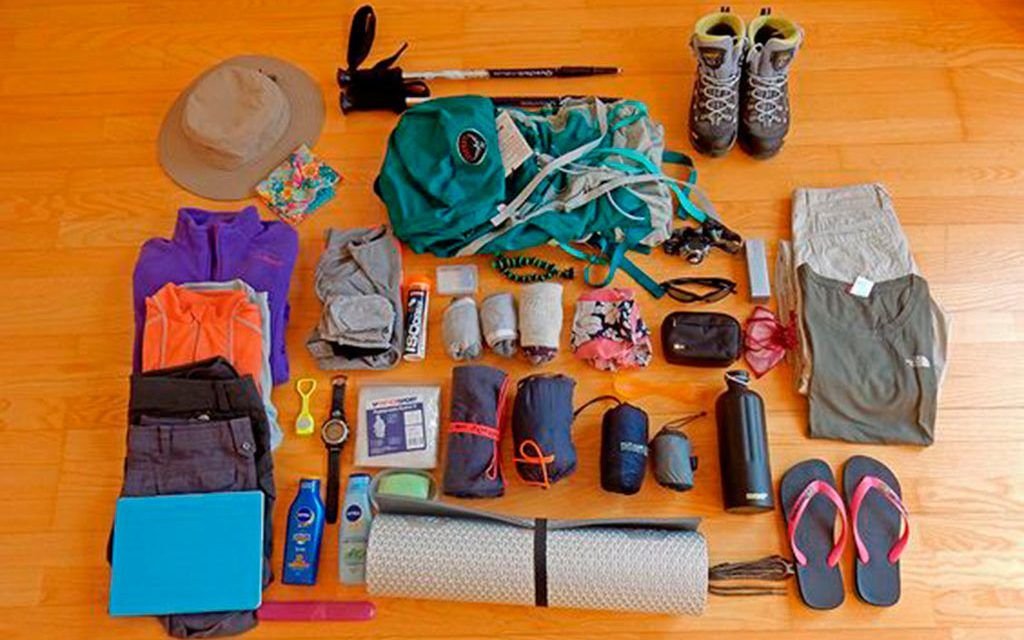 Packing light and smart for the classic Inca Trail trek is key. After all, too much gear will make the multi-day trek much more complicated and less enjoyable for the visitor, while omitting essential items can make the trek forever remembered for the wrong reasons.
In this post, we've listed the essentials that every hiker will need to pack – whether you're hiking in the rainy or dry season, for the first time or the fifteenth time – and some of the optional "useful, but not essential" items that your trip won't depend on, but may well make the whole experience a little more comfortable and enjoyable.
If you have not yet booked your Inca Trail trip (it is not possible to do the trek independently – you can only do the route with a licensed tour operator), or if you want to know all the essential details for preparing and hiking the Inca Trail, continue reading this post.
Luggage list
But before you start packing and get everything ready for your journey, it is essential to understand the logistics and baggage limits before you hit the road.
First of all, you will need to leave most of your luggage in a secure storage room at your hotel back in Cusco, some agencies will also offer you the option to leave your bags at their facilities, all of this will be organized and you will be informed through your travel company. Everything you need during the Inca Trail is then separated into one of two pieces of luggage that will be handed to you before you leave Cusco:
Your own small backpack to carry on the Camino.
A bag provided by your tour company, which you will not carry.
All tour companies include a considerable team of support staff on the Inca Trail, including porters who are responsible for carrying the group's cooking and camping equipment, as well as the main food supplies for the four days on the route.
The second excellent news is that these porters (who are absolute heroes, by the way), will also carry a certain amount of luggage per hiker – this service is included in the cost of your trip. They will generally allow you to store up to 7 kg of luggage in each. The porters are responsible for transporting these bags along the trail, dropping them off at the tent at the end of each stage and picking them up again the next morning. It seems that the norm among tour providers is 7 kg, but be sure to confirm this with your own company well in advance to make provisions for this.
So, when packing for the Inca Trail, you can be sure that you won't have to carry most of the items during the trek and can focus more on enjoying your visit. Instead, you will only have to carry the essentials in your own backpack and store everything else in a bag carried by a fantastic Peruvian porter who will make things much easier for you. In addition, it is worth noting that most tour operators will also provide you with the tent in which you will spend the night.
Luggage list
The good news is that, if you have ever gone hiking or spent any time backpacking before, then you will already have a lot of the necessary gear hanging around your house. If not, then much of the gear you will have to buy will be incredibly useful on your Peruvian adventures and future trips, never a waste.
Your passport
You cannot enter the Inca Trail without first having your passport information checked and verified with your permit at the checkpoint at Km.82, the starting point of the Inca Trail. In addition, you will need your passport to enter Machu Picchu. Photocopies are not an adequate substitute for the original and the passport must also be the same one you used to book the Inca Trail tour. No passport, no Inca Trail.
Clothing for the Inca Trail
If you make a mistake, you will certainly be too cold or too wet at some point on the Camino and will have to carry the extra kilos as a result.
Whether you are hiking in the dry season (April – October) or the wet season (November – March, note that the Trail is closed in February), be prepared for some sudden showers and start to get comfortable with the fact that you will again be wearing various items of clothing along the way. We recommend the following
1 waterproof jacket (with hood)
1 Lightweight fleece
3 Hiking vests / T-shirts. Sport vests and t-shirts, or high breathability versions, are best for hiking, rather than cotton ones, which become heavy with sweat, rain and dirt. Also, white is a terrible idea.
2 T-shirts for changing at the camp and for the return trip to Cuzco.
1 Long-sleeved shirt or T-shirt to avoid burns or mosquitoes that roam the area.
1 Hat / cap for cold nights – we also carry wide-brimmed hats to protect us from the sun, or a cap is a good alternative.
1 Pair of lightweight hiking pants (recommended to be pants with removable boots so that they can be converted to shorts if necessary) or hiking leggings.
Pair of light walking shorts (it's hot on the trail)
Good hiking socks
Pairs of underwear
Sports bras (for women only)
Set of thermal layers (these are essential for cold nights, and you are likely to sleep with them, especially in the dry season when temperatures are cooler at night).
1 Sunglasses
The weather varies on the Camino, but the important thing to keep in mind is that, if it doesn't rain, it is always cold in the morning, quite hot in the late morning and afternoon, and very cold when the sun goes down, the weather in this area is crazy. To avoid this, we prefer to walk around in vests and shorts, and at night we put on warm clothes and extra layers. However, when you leave camp early, you start the hike with pants and fleeces, and exchange them for the vest and shorts later, when you have worked up a sweat from the exertion.
Optional items for the Inca Trail
Plastic rain poncho
This may be recommended by your guide as an additional layer of rain protection that will cover you and your backpack – these cost less than $1 and can be purchased in Ollantaytambo before you begin your trek. A more sustainable and long-lasting alternative to carry in your backpack through South America is this lightweight packable poncho.
A packing cube
Very useful to store our clean and dirty clothes without mixing them, this way you can better organize the remaining clothes that you will still have to wear and avoid bad smells.
Nicer clothes
Not all visitors enjoy always being in hiking/sports clothes, so, if you have some free space, pack a nicer set of your best clothes for those last day photos in Machu Picchu.
Shoes
We recommend that you wear good quality waterproof hiking boots for the Camino.
Waterproof hiking shoes are significantly lighter and will not provide ankle support, although they are also suitable for the trail and most treks in Peru. Please note that it is imperative that you pre-wear your hiking boots on some treks and hikes before setting foot on the Inca Trail, which will greatly reduce the possibility of generating unwanted blisters and unnecessary discomfort.
Although the porters walk in old sneakers, the shape of the Camino and the difficult slippery conditions underfoot in the narrower sections are well known and easy for these guys – which will be much more complicated for most people on a tour. You should heed our advice when we recommend that your best bet to cover all eventualities, weather conditions, and avoid slips and trips will be to wear waterproof hiking boots.
Optional items
Flip-flops
We didn't bring a change of shoes for the Inca Trail, but we wish we had brought our sandals to wear after the hikes. Not essential by any means, but if you have the space and weight to spare, it's not a bad idea, your feet will thank you after walking 10 km a day.
Hiking poles
In summary, hiking poles are not essential for the Inca Trail; it is 100% possible to do it without them. However, using them will make the hike easier for many people and will result in less aches and pains during and after the Camino. With them you will reduce the load your body will have to bear especially on steep descents, making the hike much easier, if you opt for one remember that they should have rubber tips so as not to damage the terrain.
Sleeping bag
It gets very cold at night inside the tents – after all, some nights you will be spending the night at around 3,800 meters – so this shouldn't be a big surprise. This means that everyone on the Trail will end up sleeping in their thermals, woolly hats and socks to keep as warm as possible, but a good sleeping bag really makes a difference and will help you get a fuller and more restful night's sleep.
Just remember, the bulkier and heavier the sleeping bag, the less clothing you will be able to carry on the Inca Trail due to the size and weight restrictions of the duffel bag.
Note that, if you do not bring your own sleeping bag, it is possible to rent one from your tour company (approx S/. 45/£10/$13.5/€12) or at one of the camping supply stores in Cusco. Some people on our tour rented sleeping bags from the company and they did the job. However, they are bulky when rolled up and weigh about 2.5 kg, which will reduce the space and capacity of the travel bag.
The company provided a very thin mattress, but you can also rent slightly better air mattresses (S/. 45 / £10 / $13,5 / €12). They are not absolutely essential, but if you are not used to spending the night away from your comfortable mattress at home it is recommended that you opt for the air mattresses, this way you will rest even better.
Optional item
Inflatable camping pillows
Are not 100% essential as they can be substituted for some rolled up clothing, but a quality one will always make a difference.
Headlamp
One of our essential pieces of backpacking kit, a headlamp is absolutely necessary on the Inca Trail, you will not have electric light on the entire trek so if you choose to pack one remember to bring extra batteries.
Tour companies will provide lighting during dinner, but after your campsite will be pitch dark, a travel headlamp is a must for light inside your tent, on your way to the bathroom (or bush), and navigating your way to the Puerta del Sol entrance while it is still dark. Note that a small lightweight flashlight is a good alternative option, it just means you won't have both hands free when you're using it.
Inca Trail Toiletries
Toiletries are the area where most people overpack for the Inca Trail, adding a lot of unnecessary bulk and weight on their shoulders. The necessary items we recommend are:
1 Toothbrush + toothpaste
1 Cleanser (can be micellar water) and reusable wipes.
1 High SPF quality sunscreen, remember that the higher the altitude, the greater the proximity to the sun and UV rays.
1 Deodorant
1 Lip balm (with sun protection) necessary especially for low temperatures that dry out the lips.
1 Roll of toilet paper / package of tissues.
1 Travel hand sanitizer.
1 Insecticide.
It is a good idea to keep toiletries in a separate case or in an old plastic bag so that they do not get mixed up with the rest of your luggage, as well as being easier to find.
Note that baby wipes are a popular choice for such excursions, but they are full of plastic and therefore very unsustainable (i.e. if you throw one out in the wild, it's going to be hanging around for a long time). An excellent alternative is biodegradable wipes, designed to clean dirty bodies. It's not a bad idea to bring your travel towel too, one that doesn't take up much space and can dry quickly.
Water bottle with travel filter
Your tour should provide you with purified, drinkable water at camp each night and each morning; plus drinks purchased in advance and along the way including the drinks you will enjoy with the day's meals and at the campsites should be enough to keep you from getting dehydrated.
However, reducing the plastic footprint and impact of travelers is something we're passionate about (which was hopefully clear in the "toiletries" section), so it's important to note that the best way to ensure plenty of clean drinking water on the Inca Trail (and during your travels in South America) is to invest in a travel filter water bottle. These types of bottles, which are BPA-free, have a built-in filter to remove 99.9% of harmful bacteria from tap water, river water, and just about any other source that can provide you with water. If you don't invest in one of these recommended bottles, then at least take a refillable water bottle with you on the Inca Trail.
Power Bank or external travel battery
There are no charging facilities on the Inca Trail, so you will need to be conservative with your phone usage (we recommend putting it on battery saver or airplane mode) to make sure you will still have enough charge for photos of Machu Picchu. If you will be using it to take a lot of photos or videos during the trip, or to listen to music during downtime, we recommend that you bring an external battery and phone charging cable. Keep in mind that if you use your phone as your main flashlight, it will also drain its charge fairly easily. For photographers, invest in spare batteries and carry enough SD cards to make sure you won't run out of storage space.
.
Basic First Aid Kit + Medicines
Your travel company will carry an emergency first aid kit and oxygen, but it is a good idea to take some of the essentials with you (and have these with you when backpacking in South America in general). We recommend:
1 Box of blister band-aids (tip: do not wait until the blister has fully appeared to apply the band-aid)
1 Antiseptic cream.
1 Packet of paracetamol or a common painkiller.
1 Packet of diarrhea pills (trust us, you don't want to get diarrhea on the road)
1 Rehydration sachet.
Also take any personal medication you need and keep it in your backpack.
Coca leaves and coca tea should be available on the Camino from your travel company, but if you are concerned about altitude sickness on the trek or in Peru, you can read about it by searching for related articles.
Money
There are some costs along the way for which you will need to carry cash. Small bills and enough coins are best.
Inca Trail Backpack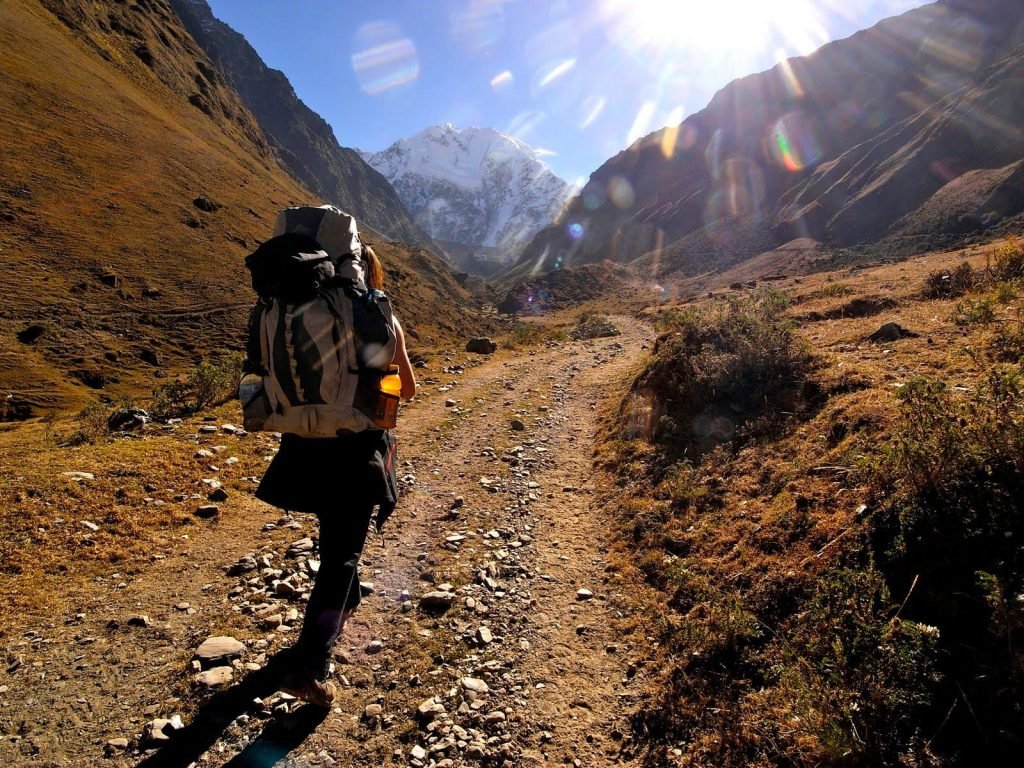 The tool you use to carry all your luggage is very important, this also includes the small backpack (ideally less than 25 liters) that you will be solely responsible for carrying on the entire Inca Trail. All you really need to include are your daily essentials such as snacks, water, sunscreen and raincoat, as well as your camera, phone, cash, cards and other valuables.
If you are going to travel for several months in South America, you will most likely use a normal backpack, but do not carry it too full, because your shoulders will feel it during the trip. Ideally, this backpack should have good support, a waist strap and side pockets for your filtered water bottle, look for your comfort as this will be on your back throughout the entire trek.
Carrying an AMP
This will become the most important thing to complete the hike and have the most memorable experience in your life.
Positive Mental Attitude
When you find yourself out of breath on the second day of hiking at 4,000 meters altitude and only halfway up Dead Woman's Pass, this will really be what will carry you through these tricky routes to achieve your goal!
We hope this Inca Trail Packing List has provided you with all the answers you were looking for, and some suggestions for the kit and equipment you can rely on for this adventure and many more. The historic citadel of Machu Picchu is waiting for you, and what better way to experience it than by trekking the ancient Inca Trail.