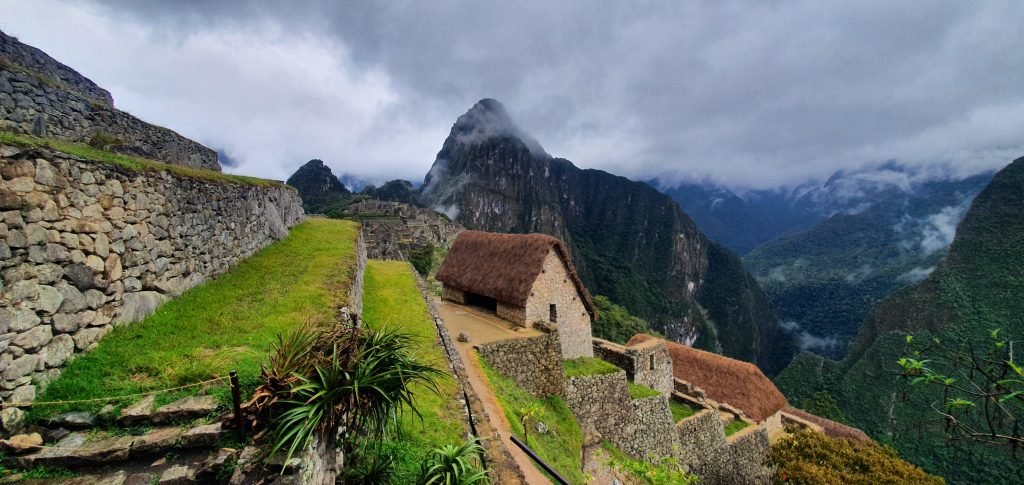 Lose yourself in the mystery and adventure of a yoga retreats in Machu Picchu
To this day, the exact use of the Inca citadel is unknown. Machu Picchu is located at the top of the impressive Andes mountain range of Peru, with wonderful landscapes and an energy typical of this area of the tropical forest. If you are looking for a yoga destination full of culture and impressive views and locations, your next destination is Machu Picchu! Have no doubt that this dream destination will delight all your senses, and your yoga practice will be full of joy and emotions. Book now a yoga retreats in Machu Picchu to discover yourself and find peace in a unique place full of history and incomparable energy.
We recommend the following tours if you are looking for a yoga retreats in Machu Picchu
4-Day Meditation, Yoga and Hiking Retreats in Machu Picchu, Cusco with Sacred Journeys Retreats
Sign up for this tour if you are looking for a unique journey for the mind, body and soul where you can deeply connect with the sacred place! Machu Picchu is at the top of many people's lists of pending destinations and is recognized as one of the places protected as a World Heritage Site by UNESCO. If you enjoy meditating, connecting deeply with nature, practicing relaxation yoga, walking in nature with amazing landscapes and visiting the Inca jungle, this tour is for you! A truly special place and an experience that will hold a place in your heart and soul forever.
The most outstanding
Guided meditations in the morning.
Circles for sharing and gratitude practice.
Morning yoga practices for relaxation and energy recharge.
Walks along the trails of the Inca civilization and towards Machu Picchu or the Huayna Picchu mountain.
Ceremonies and offerings with the sacred plant of the coca leaf in Machu Picchu
Workshops on Emotional Freedom Techniques (EFT).
Breakfasts and lunches made with vegan and healthy ingredients.
3 nights of accommodation in a charming hotel.
Yoga styles
Accommodation
Throughout this retreat, you can choose a shared or private room, either in the excellent and luxurious Golden Sunrise Machu Picchu, which is a four-star hotel, or in a very comfortable twostar accommodation. We recommend you opt for the 4-star accommodation option, for a slightly higher cost. It is comfortable, spacious, quiet, adjacent to the jungle and it is where our classes and meals are held.
Program
Sample program (may vary)
The exact program will be given to you after your arrival.
07:00 Morning yoga and meditation – intentional work – gratitude
08:30 Delicious breakfast at the hotel (included)
10:30 Hike towards the waterfalls of the jungle
12:00 Blessing ceremony in the river and visit to the city of Aguas Calientes
13:30 Lunch at the visitor's choice
14:30 Free time
16:00 Emotional Freedom Technique (EFT) and Mental Protection Workshop
17:00 Visit to the thermal and medicinal waters
18:45 Evening meditation, sharing circle, chanting and optional light yoga
19:45 Orientation for your visit to Machu Picchu – dinner and rest
Itinerary – Route of travel: Below as indicated:
Day before the withdrawal
Arrival at Cusco airport. You will be picked up to take you to the beautiful town of Ollantaytambo – in the Sacred Valley near the city of Cusco.
You will find beautiful views of the mountains, beautiful cafes, restaurants, old buildings, artisan markets and ancient ruins.
The town is small and safe, so you can explore it on foot. This day he will have his rest and he will prepare for the Yoga retreats in Machu Picchu that will begin the next day. It is possible that on this day you will meet with your fellow retreaters.
Day 1
This morning you will be picked up at your hotel and taken to the train station that will transport you to the town of Aguas Calientes in a 1:40 minute stretch, located below the mountain that houses the ruins of Machu Picchu. You will be received by hotel staff at the station, then you will go to the hotel to register and be accommodated in your room. Activities: opening circle, healthy lunch with locally grown products (vegan, plant-based, yogic), village tour with point visits history of the town. Night meeting to share, meditation, relaxation, orientation, intentional work and dinner.
Day 2
Yoga and meditation in the morning, ideal breakfast for the day ahead, healthy and local products, plant-based variety, walk towards the waterfalls located in the jungle, with revitalizing properties and where you will live unforgettable experiences, rest , lunch, more visits to the city and the town's craft market, blessing ceremony of the river, rest, night meditation meeting, a little yoga for the members of the group who wish, orientation and information about Machu Picchu, healing process guided interior of the group and more. Dinner and rest.
Day 3
Morning meditation, breakfast, early bus trip to the ruins of Machu Picchu, you will spend the whole day in the ruins enjoying walks along the wonder, visits to sacred ruins of great religious value, meditation, spiritual offerings traditional coca leaves – prayers, guided tour by a local guide who shares culture with the area to which Machu Picchu belongs. You will take a bus to the city in the afternoon and have a break before the evening meeting to close the day and meditate, then continue with dinner and rest.
Day 4
In the morning yoga and meditation, breakfast. closing ceremony, check out of the hotel and take a train back to the town of Ollantaytambo located in the Sacred Valley. You will be offered a 2-4 day trip in the Sacred Valley to continue your retreat in another equally wonderful and enchanting destination if you wish. You need to pre-register for it. If you need private transportation to Cusco and the airport, you can contact the company to coordinate your transportation.
Vacations to revitalize and restore well-being in Peru with Unlocked
This retreat organized by Unlocked has been carefully and passionately planned to give the adventurous person an unforgettable and authentic experience in the magical country of Peru. On this retreat, you will explore Cusco, the Sacred Valley, Aguas Calientes, and walk through the citadel of Machu Picchu. You will experience the rich culture and charm of Cusco, practice yoga in the immaculate studio space of a luxury retreat center in the Sacred Valley, enjoy the experience of meditating in the gardens of the seven chakras, discovering ruins ancient, and explore the lost
city of Machu Picchu.
The most outstanding
yoga practice
Healing through sound and cocoa ceremony
Meditation in the Temple of the Moon
Hike and exploration of Machu Picchu and Huayna Picchu and excursion to the salt mines of Las Salineras in Maras, Cusco.
Explore the city of Cuzco, the Sacred Valley and the town of Aguas Calientes located at the foot of the mountain that houses the citadel of Machu Picchu 7 nights of accommodation Most meals
yoga styles
Accommodation
During this retreat, you will stay in different types of accommodation. Each hotel where you will stay have sustainable practices and help preserve Peruvian culture as well as provide education to children in poverty. They are Niños Hotel, Willka Tika Retreat Center, and a hotel in Aguas Calientes.
Willka Tika Retreat Center
Willka T'ika is the first luxury wellness retreat in Peru's Sacred Valley, with easy access to the world heritage citadel of Machu Picchu and the nearby city of Cusco. Willka T'ika is a satisfying ecological sanctuary for rejuvenation, relaxation and the cultivation of proper well-being of body and mind. It is a perfect option for hosting a group retreat, as well as booking accommodation while traveling in the region.
The energy of tranquility that Willka T'ika and its mystical surroundings inspire, refresh and revitalize, offer you a wonderful connection with Mother Nature, of great religious and cultural value for the Quechuas and known as Pachamama. Located in one of the most energetic places on earth, Willka T'ika prides itself on serving the spiritual and cultural needs of all guests seeking an authentic mind, body and spirit experience.
Very close to the location of this estancia you will find Inca ruins, ceremonial places, temples and an endless number of cultural activities. For hikers who venture into this experience, meandering rivers, charming towns and high mountain meadows where herds of llamas and alpacas graze await.
Program
Day 1
Pick up at Cusco airport around 11 am
Check-in at the Children's Hotel and rest
Group lunch at the Children's Hotel
Afternoon Cocoa Ceremony Group
dinner at Green Point (named the 12th best vegan restaurant in the world!)
Rest
Day 2
Breakfast at the Hotel Niños that enjoys a varied menu with dishes of important reception by diners Visit to the White Christ, considered one of the protectors of the city of Cusco, this statue located on the heights of the city of Machupicchu and close to Sacsayhuaman is a tourist spot that generates great interest among visitors to Cusco.
Meditate in the Temple of the
Moon Group lunch at Nuna Raymi
Free time so you can enjoy your visit in Cusco Yoga and
movement class at 4:30 pm
Dinner on your own
Day 3
Breakfast at the Children's Hotel
Lunch on your own
Departure by bus to the Sacred Valley at 2:30 p.m. (Willka Tika Retreat Center)
Free time to explore the retreat center and its surroundings
Sound healing and fusion yoga evening class
Delicious dinner at Willka Tika
Day 4
Morning of movement and meditation
Breakfast at Willka Tika
Hike and exploration to the Salt Mines located in Moray (Salineras de Maras)
Lunch at Willka Tika
Afternoon stretch
Dinner and rest at Willka Tika
Day 5
Morning movement and meditation
Breakfast at Willka Tika Free day.
Schedule a massage, visit to the retreat center, meditate in the gardens Lunch on
your own
Yoga fusion and embodiment
Dinner and rest in your room at Willka Tika
Day 6
Morning Movement and Meditation
Breakfast at Willka Tika
Train to Machu Picchu
Lunch in takeaway bags prepared by Willka T'ika
hotel registration
early group dinner
Rest
Day 7
04:00 Time to get up to go hiking to Machu Picchu!
Lunch on your own
Train back to Cusco at 4:20 p.m.
Sleeping at the Hotel Children
Day 8
Group breakfast at the Hotel Niños
And farewell from our group
Thanks and bye for now!
Note: Itinerary subject to change.
Contact us
I am founder and content creator of Lorenzo Expeditions, since 2006 I started with the Inca Jungle tour, guiding and serving thousands of tourists in a personal way to get to know Machu Picchu in a unique and authentic way.