Have we ever imagined seeing a rainbow-colored mountain in the middle of the Peruvian Andes? Mother Earth is kind enough to give the region of Cusco the most beautiful landscapes of planet earth, including Mountain of Colors ,Vinincunca or also known as "Seven Colors", "Cerro Colorado" and in English as "Rainbow Mountain".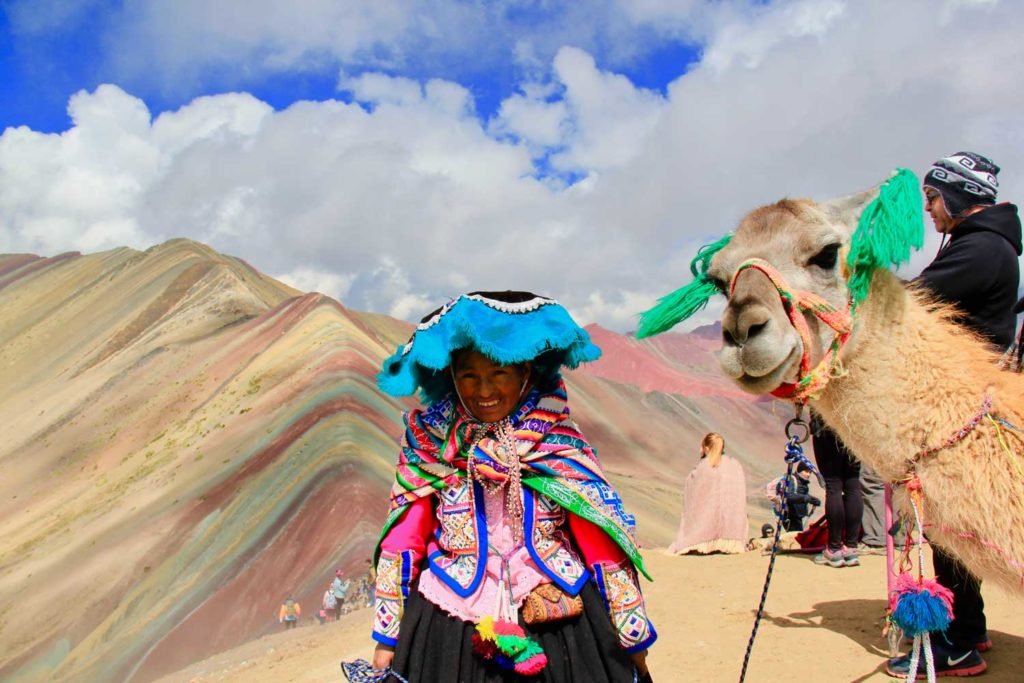 The majestic mountain Vinincunca has this shade because of the erosion of the sedimentary stones, which are formed without human intervention, many say it is a rainbow. It is located in the Vilcanota mountain range; the Mountain of Colors is between 4,800 and 5,220 meters above sea level.
Location
Vinincunca Mountain belongs to the district of Pitumarca, in the province of Canchis, within the territory of the Ausangate (sacred mountain). Its high Andean zone makes it surrounded by camelids like alpacas and vicuñas, an incredible turquoise lagoon, and a varied fauna. In addition, you can appreciate the flight of the majestic condor, an animal in danger of extinction.
Know the route to Vinincunca with us
Wanchaq to Checacupe
From very early in the morning (3:30 a.m.) the traveler will leave the city of Cusco towards the Huayruropata Avenue in Wanchaq. In this area, there is a bus station located in front of the Garcilaso stadium. This bus will take you to Checacupe in about two and a half hours.
Approximate cost: S / 7.00 ($ 2.10).
From Checacupe to Pitumarca
As soon as you arrive in Checacupe you must board the buses that are parked in the Plaza de Armas of the city and travel to Pitumarca. The trip will take 15 minutes and the departure frequency is every 20 minutes.
Approximate cost: S /. 1.00 ($ 0.30).
From Pitumarca to Chillca
The vehicles leave from Pitumarca's main square towards Chillca, the trip will take approximately two and a half hours.
Approximate cost: S / 15.00 ($ 4.50).
Chillca – Vinincunca
Our destiny is getting closer. To reach this wonderful mountain, you must leave Chillca in the service of muleteers, who know the area very well and will guide you to Vinincunca. After an intense walk of approximately two hours, you will finally have reached the majestic rainbow mountain.
Entrance fees at Vinicunca: National passenger S / 5.00 ($ 1.50) – Foreign passenger S / 10.00 ($ 3.00).
Recommendations
The most recommended is to travel between April and October
Bring equipment such as: hat, small backpack, comfortable shoes, jacket to cover yourself, sunscreen, trekking stick, blanket and water to hydrate yourself.
It is important that the traveler gets acclimated to Cusco and travels a few days before to avoid "soroche" or altitude sickness, here we will give you some advice.
It is good to buy food in Cusco or also in Pitumarca, those are places where you will find food or water.
Vinincunca , rainbow mountain or mountain of colors is now an important tourist attraction, visited by thousands of national and international tourists. Since it receives so many travelers each year, a contingency plan is needed to protect it so that future generations can enjoy it.
Incredible but true, the mountain exists and is in Cusco. Come and enjoy these mountains and Vinincunca with its wonderful colors.

I am founder and content creator of Lorenzo Expeditions, since 2006 I started with the Inca Jungle tour, guiding and serving thousands of tourists in a personal way to get to know Machu Picchu in a unique and authentic way.