The train to Machu Picchu is the mode of transport that most tourists prefer, so we will show you how to get to Machu Picchu by train.
We receive many questions about this incredible trip, the most common is "which way to get to the Inca Sanctuary",
We will give a very brief explanation; you will decide which of the 3, options of paths will be more viable, by train is comfortable and fast.
Traditional Inca Trail 4 days on foot is pure adventure, by car to a point that is called hydroelectric power station then only 3 hours walking.
Our desire is to make things as transparent as possible, so that you have the perfect trip.
Is it necessary to go to Machu Picchu by train?
It doesn't matter which way you choose to arrive in Aguas Calientes, going by train is optional as well as returning to Cusco. On the way back you can simply walk the 3 hours to the Hidroelectrica, then take a car to the Imperial City Cusco for 6 hours.
Train tickets, which company sells them? 
The companies authorized to perform the route are completely reliable, I want to emphasize that PeruRail is a leader in sales, because it has a good structure in their trains with comfort, flexible schedules, typical dances and other attractions. Their departures are constant, to Machu Picchu from Poroy, Urubamba, Ollantaytambo, as always has its end point in Aguas Caliente, by the way orfertam a trip with all the refinement and beauty to Puno, if you want to know Lake Titicaca.
A little note about Aguas Calientes, the Inca Sanctuary is located on the peak of a mountain, you have the option to walk up there or take a bus.
If you have booked your entire round trip train trip with Lorenzo Expeditions, don't worry, just pay attention to the timetable.
The two companies PeruRail or Inca Rail will give you 3 train options.
If you are not looking for value but just want quality service, you are in the right place, because the only distinction between the two companies is price,
The models of the wagons, gourmet food, typical Peruvian activities, comfortable seats. 
Note the details that will make a lot of difference in your choice.
The PeruRail
Expedition Train
This is the most deluxe of PeruRail's trains, as it does not serve liquids and snacks, just simple snacks along the way.
With super simple seats, it is the most recommended to go to Aguas Calientes, if you want to travel at night, the other cars are complete with glass roofs very panoramic and not economical, your goal is to enjoy nature during the journey. 
Vistadome Train
Meet the Vistadome, a great choice for those who want a little comfort on PeruRail. Its huge windows and stained glass ceilings, the cars have such splendor.
Perfect armchairs for your rest while contemplating the landscape, and acclimated space.
It offers a delicious lunch on the way to and from the Imperial City, during the trip you will enjoy typical Andean dances, and presentations of clothing made by PeruRail itself.
Please note that this train is not suitable for the night.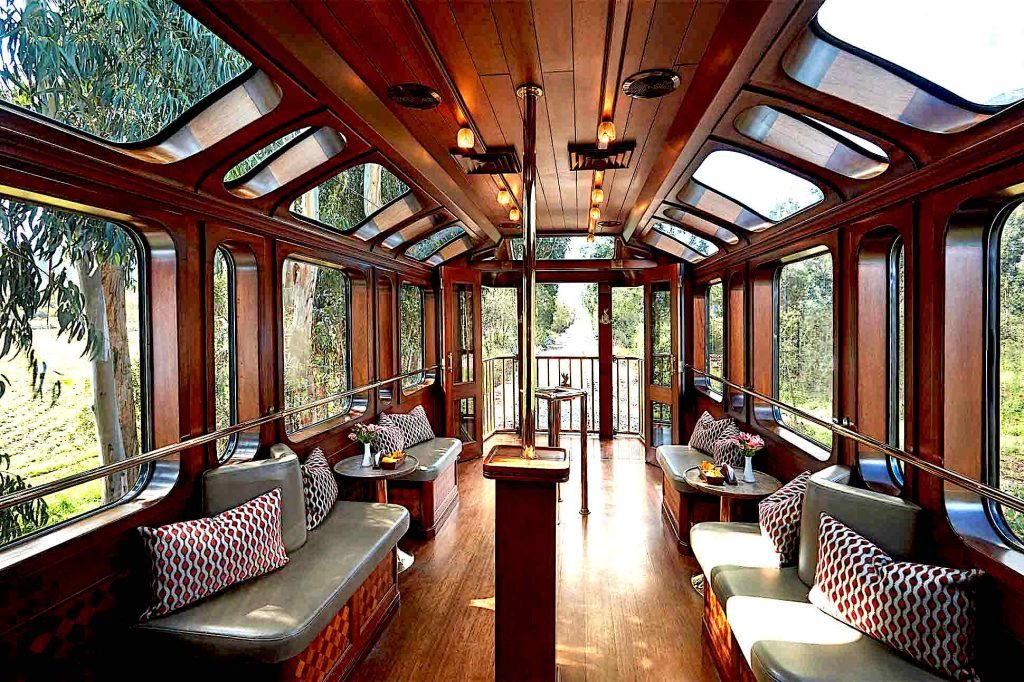 Belmond Hiram Bingham Train
A super luxurious train that will take you to Machu Picchu.
You will be enchanted by its large wagons, wine will be served and food will be perfectly designed to spoil you.
At the time indicated by the thermos, you will be able to walk safely to the Bar and enjoy.
Look how perfect, buying the ticket at Belmond Hiram Bingham already adds the bus ticket to the Inca Citadel.
Even more beautiful are the gifts and treats offered by the company, whose priority is to offer the most perfect service to its customers.
Belmond Sanctuary Lodge is located at the beginning of the Inca ruins.
Inca Rail
Business Class
Is your goal just to get to Aguas Calientes? this train is perfect for practical people, it has similarities with the Expedition Railway, as this is the most affordable class of the Inca Rail.
You will see the distinction of the train companies, the Inca Rail cares about giving a good attention to its passengers, offering them a variety of teas and other hot and cold drinks exclusively Andean.
The Inca Train is very exclusive because it only goes as far as Ollantaytambo in the Sacred Valley, and returns to Cusco, lasting approximately 2 hours.
The First Class Train
The Inca Rail is for those who like to feel comfortable, but not with much luxury (intermediate), very similar to the Vistadome of PeruRail, with its large ceilings and glass sides, this car serves meals, beautiful comfortable seats, hot and cold drinks with live sound. 
The Presidential Class Train
A train that offers privacy and comfort only for you and your friends or colleagues, this is the exclusively private deluxe Presidential Train. 
Where are the trains to Machu Picchu?
There are exactly 3 stations for the outbound departure. 
To return to Cusco there is only 1 station
Outbound Train Stations:
Ollantaytambo Station: Av Ferrocarril s / n, Ollantaytambo, Sacred Valley (Cusco).
Poroy Station: Roldan Street s/n, Poroy District, Cusco.
Urubamba Station: Av. Ferrocarril s/n, Urubamba, Sacred Valley (Cusco).
Return Train Stations:
In Aguas Calientes Station: Machu Picchu Pueblo, s / n, Las Orquídeas Neighborhood (Aguas Calientes Artisan Market, is next to it).
There is another station of the company Peru Rail, located in the Hydroelectric. To get there you take a car and make the longest way to Santa Maria.
Many passengers take the Train in Ollantaytambo. During the rainy winter the station in Poroy remains closed, due to the dangers that can occur between (November to March).
How long does it take to get to Machu Picchu by train?
The time it takes to travel by train will vary depending on where you board the train;
Poroy Station (Cusco): Exact duration 3 hours and 15 minutes.
Urubamba Station: Exactly 2 hours and 30 minutes.
Ollantaytambo Station: Exactly 2 hours or less.
Trains to Machu Picchu and schedules?
Remember that the trains have punctual schedules
Peru Rail Train Schedule
Schedules of the wagons 'Vistadome' (Ollantaytambo – Aguas Calientes)
| | |
| --- | --- |
| DEPARTURE | ARRIVAL |
| 7h05 | 8h27 |
| 8h | 9h25 |
| 8h53 | 10h29 |
| 9h15 | 10h52 |
| 10h32 | 12h11 |
| 13h27 | 14h50 |
| 15h37 | 17h02 |
| 7h35 (Poroy – Cusco) | 22h52 |
| 8h25 (Poroy – Cusco) | 12h11 |
Schedule of the 'Expedition' wagons (Ollantaytambo – Aguas Calientes)
| | |
| --- | --- |
| DEPARTURE | ARRIVAL |
| 6h10 | 7h40 |
| 7h45 | 9h15 |
| 8h29 | 9h54 |
| 12h55 | 14h25 |
| 19h | 20h45 |
| 13h27 | 14h50 |
| 21h | 22h45 |
| 6h40 (Poroy – Cusco) | 9h54 |
Schedule of the 'Sacred Valley' wagons (Urubamba – Aguas Calientes):
| | |
| --- | --- |
| DEPARTURE | ARRIVAL |
| 10h30 | 13h34 |
Schedules of the 'Hiram Bingham' wagons (Poroy (Cusco) – Aguas Calientes)
| | |
| --- | --- |
| DEPARTURE | ARRIVAL |
| 9h05 | 12h24 |
Inca Rail train schedule
Schedule of the 'Voyager' train (Ollantaytambo – Aguas Calientes):
| | |
| --- | --- |
| DEPARTURE | ARRIVAL |
| 6h40 | 8h01 |
| 11h15 | 12h45 |
| 11h30 | 13h06 |
| 16h36 | 18h09 |
| 19h27 | 21h09 |
Schedule of 'The First Class' wagons (Ollantaytambo – Aguas Calientes):
| | |
| --- | --- |
| DEPARTURE | ARRIVAL |
| 11h15 | 12h41 |
| 9h28 (Poroy – Cusco) | 12h41 |
Schedules for 'The Private' wagons (Ollantaytambo – Aguas Calientes):
| | |
| --- | --- |
| DEPARTURE | ARRIVAL |
| 6h40 | 8h01 |
| 11h15 | 12h45 |
| 16h36 | 18h09 |
How much does a train to Machu Picchu cost?
Its value will depend on each activity that exists in the wagons. The more luxury, the higher the price.
Peru Rail its values (round trip)
| | | |
| --- | --- | --- |
| How much does the train to Machu Picchu cost? | | |
| Peru Rail Train Service | Price in dollars | Price in soles |
| 'Train 'Expedition' | $ 140 | S/. 459 |
| Train 'Vistadome' | $ 190 | S/. 623 |
| Train luxury 'Hiram Bingham' | $ 950 | S/. 3115 |
| Train local (only peruvians) | $ 6 | S/. 20 |
Inca Rail : prices (round trip)
| | | |
| --- | --- | --- |
| What is the cost of the train to Machu Picchu? | | |
| TRAIN SERVICE | Price in dollars | Price in soles |
| Train 'Voyager' | $ 140 | S/. 459 |
| Train 'Vistadome' | $ 150 | S/. 491 |
| Train luxuri 'Hiram Bingham' | $ 398 | S/. 1305 |