Arriving 3 days in advance is recommended, Things to do in Cusco while acclimating, your legs and lungs will thank you.
It will also depend on the physical condition of the people, there are clients who arrive with one day to the tour and nothing happens to them on the route, but it is better to acclimatize and not take risks, remember that the hike is through high altitude mountains.
Every day of your acclimatization always drink water during the day, maybe twice as much as normal. avoid alcoholic drinks and sleep early, always take coca tea and avoid headaches. eat reasonably and above all avoid fatty and overloaded meals.
While you acclimatize, here are the indications for what to do in those 3 days and do not feel you are wasting time. there are many tours to do and learn about this beautiful Inca culture and its great legacy.
MAIN SQUARE
It is the epicenter of the city, in Quechua it is called Huacaypata. Many say that the city of Cusco had the shape of a Puma. It is one of the most crowded squares of visitors who do not stop taking pictures with every angle of the city, its natural beauty and the churches that surround it is part of its colonial decoration mixed with what remains of the Inca empire and its palaces.
Here there are many restaurants, cafes, just sit on the steps in front of the cathedral and enjoy the sunset, this is priceless.
THE CATHEDRAL
To access these colonial relics it is best to buy the ticket of the religious circuit and visit the Cathedral, the Archbishop's Palace, the Church of San Blas (40 soles), but if you want to visit only the Cathedral you can pay 25 soles.
The Cathedral was declared Cultural Patrimony of Humanity by Unesco.
SAN PEDRO MARKET
Passing the arch of Santa Clara coming from Plaza de Armas through San Francisco is the most popular market in Cusco. It is a market full of food, juices, cafes, it is so big that there is meat, chicken, cheese and the rich bread chutas. Lately by the large influx of tourists is full of handicrafts of all kinds from looms, souvenirs in ceramics, leather. silver, etc. ….
Well we could say that in the central market you can find everything for everyone.
Who did not visit the market did not know Cusco and its popular culture.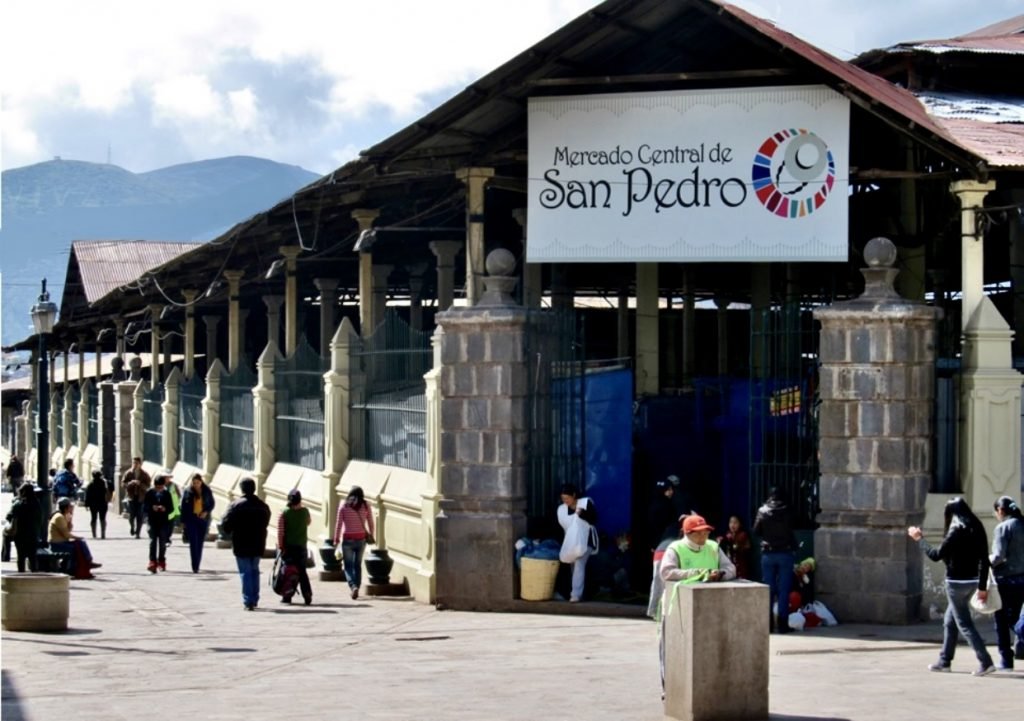 SACRED VALLEY
It is a tour that already has its good years in the tourist market offering its beautiful landscapes and its original towns like Pisac and Ollantaytambo, in Pisac Pueblo we will find its handicraft market of all kinds and for all prices, also is located the archaeological group of the same name at the top.
It is an excursion that is worth taking and it is cheap, you will also make a stop in Urubamba to take the lunch buffet highly recommended.
Many agencies organize this tour and it is easy to book it if possible a day before leaving for the tour, what is not recommended is to do the Humantay Lagoon and the mountain of colors because of the altitude at which they are located and the physical effort required, remember the Inca Trail 4 days awaits you. so it is best to acclimatize doing tours and easy walks.
SALT MINES OF MARAS
The salt mines of Maras are a large salt factory for the city of Cusco and part of Peru, there are more than 4000 salt ponds, which are harvested by different families who live around the town of Maras. Every day many tons of salt are processed even for export, there is pink salt that is very famous in the world for its healing properties especially for those who have hypertension.
We recommend taking a private tour to be able to go with few people and in small cars because the road is very narrow and accidents can happen.
MORAY
It is located very close to the salt mines of Maras, these circular terraces of different sizes are the mystery of this place because it is not known exactly what was its function, perhaps agricultural to adapt many plants brought from different places, this by the microclimate of the circles, perhaps it was an astronomical or religious place, many historians and researchers are still asking the question, every day more tourists are impressed by its circular shapes and deep into the earth.
CHINCHERO
In the last few years (5 years) or a little more, this town is characterized by the fabrics, they are purely textile manufacturers, they do the sampling from scratch, how they get wool from animals in this case of alpacas and vicuñas, makes the sampling of how they dye the wool and its production, until it goes on sale to the market all this is done in a matter of minutes for visitors to see this experience and if they wish they can buy it. Several tourist agencies have scheduled guided tours to these craft stores, but they are not always cheap, always compare prices.
Before starting the trek, the agency will have scheduled your meeting with the guide and the other travel companions (briefing).
it is very important to have this information before leaving for the great adventure.
for example the indications will be to buy water for the first day, to carry cash for any eventuality and/or tips for the porters and cookers.
Normally the tour companies will pick you up at 5 am to go to km 82 from where the great journey of 4 days to Machu Picchu the great Inca city wonder of the world begins. do not forget to make the backpacks with a day before the trip. the objects that you will not use on the trip as extra clothes can be left in your hotel all of them have a store luggage or deposit, you can also coordinate to leave it in your travel agency. Lorenzo Expeditions does have this service free of charge and we attend you 24 hours a day.
I am founder and content creator of Lorenzo Expeditions, since 2006 I started with the Inca Jungle tour, guiding and serving thousands of tourists in a personal way to get to know Machu Picchu in a unique and authentic way.