Which one is right for you?
Hiking to Machu Picchu is the dream of many travelers, but there is more than one way to get there. The classic Inca Trail allows hikers to follow in the footsteps of the Incas along the routes they built to travel through their empire, while the more remote Salkantay route offers a more Andean experience and the chance to experience wildlife. Compare your options for trekking to Peru's most famous site, from distance and cost to overnight options.
Opting for a hike to get to the citadel of Machu Picchu is a great idea, not only will it put you to the test, but you will have a wonderful and rewarding experience on the trail. These ancient trails are full of unique flora and fauna and are part of a spectacular culture that will surprise you more and more.
Deciding to hike in Peru
Taking a hiking route through the Andes to the Lost City of the Incas is much more satisfying than getting there on a rushed train ride. The most popular route is the ancient Inca Trail, which was originally part of the system of royal roads connecting the Inca Empire called Qhapaq Ñan and runs through several South American countries. This classic route will take you through numerous archaeological complexes belonging to the Inca culture while walking through diverse landscapes with beautiful views of this Punic land. The Salkantay route, on the other hand, is more strenuous and famous for its mountainous landscapes. Whichever you choose, both offer unforgettable experiences in different ways. Here is a comparison of the pros and cons to help you decide.
Differences Inca Trail vs Salkantay Route
| | | |
| --- | --- | --- |
| | Inca Trail | Salkantay Route |
| Landscapes | Mountains, Andean rainforest and Inca ruins. | Mountains, and lots of wildlife. |
| Distance | 26 miles in 4 days | 46 miles in 5 days |
| Difficulty | Moderate | Strenuous |
| Maximum altitude | 13,828 feet (4215 masl) | 15,000 feet (4572 masl) |
| Availability | Up to 200 visitors allowed per day, must reserve in advance. More customizable than Salkantay. | No permit restrictions, with an average of 50 hikers per day. More flexibility for last minute reservations for group trips than the Inca Trail. |
| Facilities | Mid-range camping or luxury glamping. Porters available to carry equipment. | Options ranging from rudimentary camping to luxury lodges. Pack mules available to transport equipment. |
| Recommended for | Physically fit travelers who value comfortable camping and don't mind a popular trail, want to hike in the footsteps of the Incas and give priority to seeing ancient ruins. | Experienced and fit hikers who want to get off the beaten path and value solitude, mountain scenery, wildlife viewing opportunities and a wider variety of overnight options. |
Inca Trail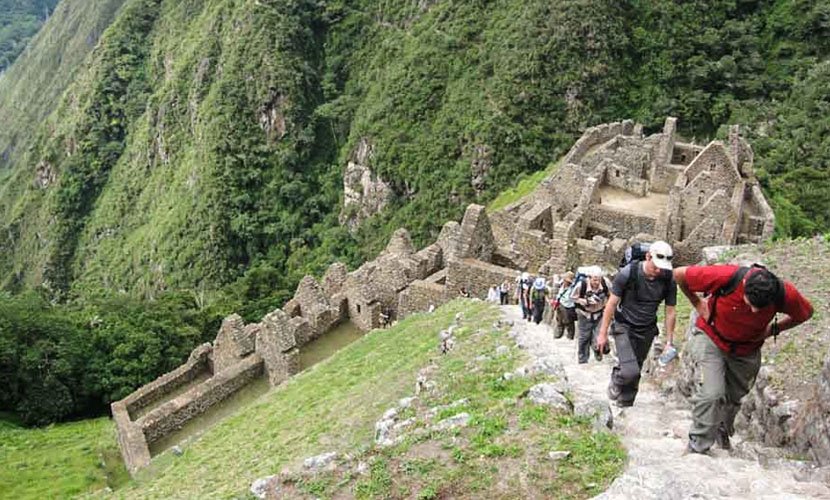 You will have the opportunity to traverse spectacular mountain trails within the Andean rainforest zone, you will visit many ancient Inca archaeological sites along this route, such as Llactapata, Sayaqmarka, Phuyupatamarca, all culminating in the highlight: the terraces of Winay Wayna and the sunrise arrival at Machu Picchu through the Sun Gate, an experience that will connect you with this ancient culture and leave you in awe of the experience.
Salkantay Route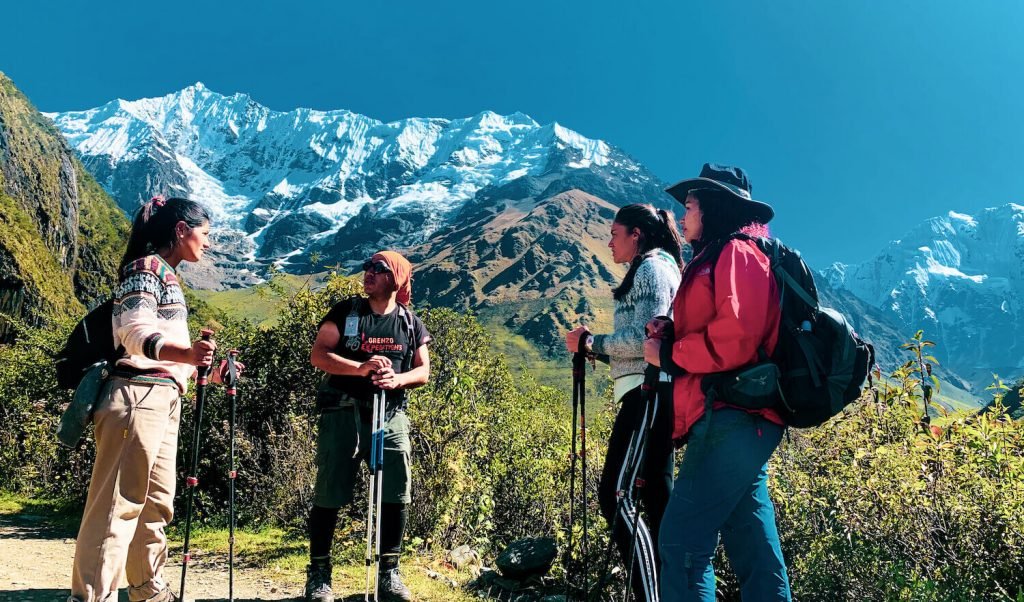 There are relatively few ruins along this route, but the mountain scenery is magical and conveys a unique peace. The route is significantly higher and longer than the Inca Trail, skirting the Salkantay glacier (6,000 meters). Unlike the Inca Trail, with its constant foot traffic, this less crowded route offers a good opportunity to see wild animals such as deer, chinchillas and spectacled bears, wildlife native to the area that is very easily observed. Please note that this route does not take you directly to Machu Picchu, but you will visit the archaeological complex of Machu Picchu the day after arriving in Aguas Calientes.
Difficulty Inca Trail – Salkantay Route
It is not enough to have the desire to hike in the Andes, you must be in good shape. Both routes require a good physical condition and, since some sections exceed 4,000 meters, it is important to spend a few days acclimatizing to the altitude in the city of Cusco.
Inca Trail
This is a hike of moderate difficulty, although it requires a good physical condition due to the long stretches. You cover 26 miles in four days, walking 6 to 9 hours most days, the hardest being the second day, when you climb and cross the Dead Woman's Pass (4,000 meters). On the last day you have to walk only two hours before sunrise to enter Machu Picchu through the Sun Gate. The abbreviated version of the Inca Trail in two days is the easiest trekking option and allows you to see some of the best places in relative tranquility and focused on visitors who do not have enough time for the classic version.
Salkantay Route
This route is more strenuous. It traverses rougher, steeper and sometimes cold terrain. It covers 46 miles in five days, almost twice as much as the Inca Trail, and climbs to an altitude of 15,000 feet. This option is more suitable for more experienced and physically fit hikers.
Costs Inca Trail – Salkantay Route
Although prices vary depending on where and when you book, the Inca Trail is more expensive and usually costs almost twice as much as the Salkantay Trek. However, for that price you get better services. The campsites are set up for you and will guarantee comfort, while the Salkantay camping is a more economical option. However, if you want to do the Salkantay Trek and sleep in a bed, it is possible to do a basic lodge trek or a lodge-to-lodge trek.
Flexibility and availability
Inca Trail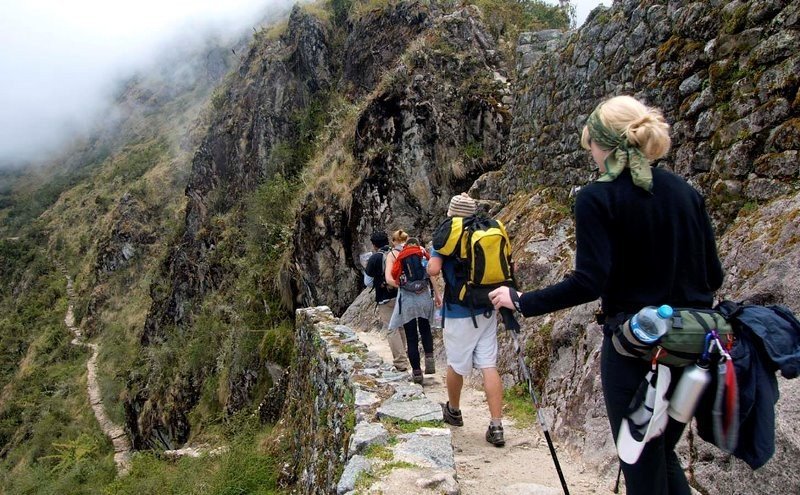 This popular route has less flexibility and availability because there is a strict limit on the number of permits allowed daily (200 per day for tourists). In order to take this route you will need to book several months in advance. Peak tourist periods, such as summer, sell out quickly (note that the Inca Trail is closed in February, the rainiest month, due to maintenance work and to protect the safety of visitors). There is flexibility in terms of the length of the trail that can be booked: the four-day option is the most popular, but can be extended to five days to allow more time to enjoy your hike. You can also opt to do just the last two days of the route, where you will find some of the most impressive ruins and the experience does not fall short.
Salkantay Route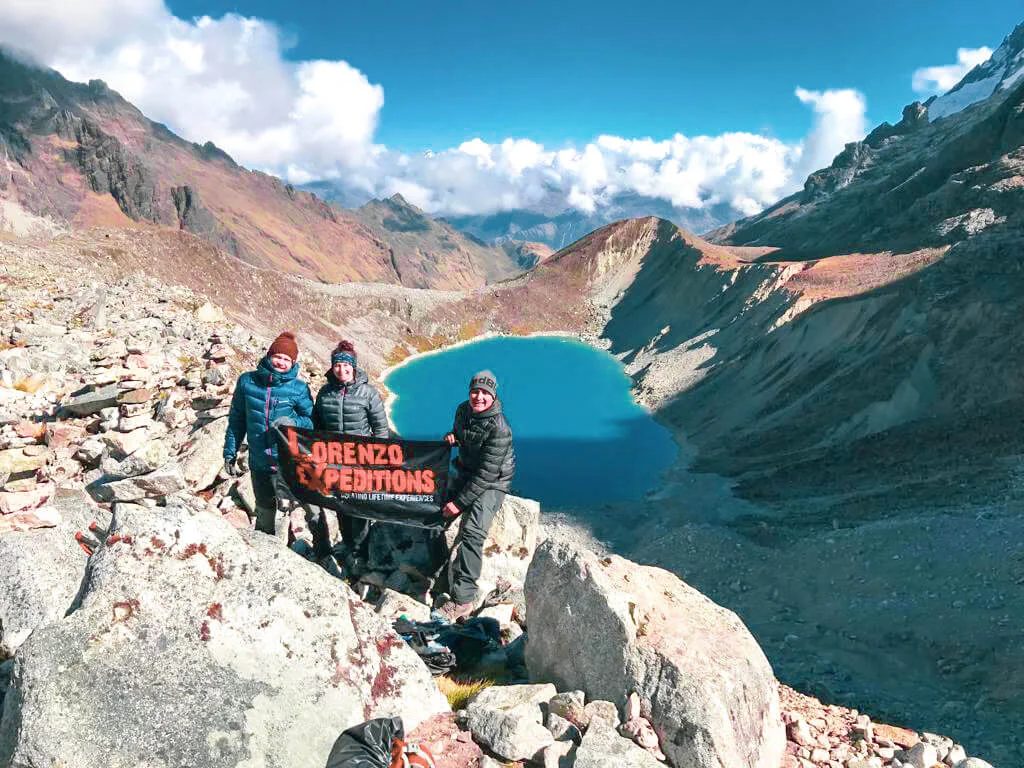 Salkantay offers much more flexibility and availability in terms of reservations. There are no restrictions, so the route can be arranged even at the last minute (although the best operators tend to fill up during peak periods). The route usually takes five days, but can be shortened to four if you are fit. However, unlike the Inca Trail, there is little flexibility in choosing which sections to walk.
Inca Trail Facilities – Salkantay Route
Inca Trail
Most of the camping excursions are medium level in terms of comfort. The campsites are set up for you and include toilets and showers. You only take what you need that day and porters are used to carry equipment up to 15 pounds (6 kilograms) per hiker. You can opt for higher-priced treks with more comfortable tents, bedding and gourmet food, a more luxurious version if you are willing to pay for it. The deluxe version of the shortened two-day Inca Trail (basically one day hiking and one day at Machu Picchu) offers hotel accommodations in Aguas Calientes.
Salkantay Route
Here the accommodation on offer is more varied, ranging from basic camping to luxury lodges located halfway along this route. The most common basic option does not usually have showers or toilets, so you have to wash in the streams and the groups install their own latrine in the tent. Pack mules are used to transport equipment instead of porters. Basic lodges offer toilets, showers and accommodation in wooden huts, while the higher category lodges are more comfortable and have better facilities.
Which is best for you?
Inca Trail
The Inca Trail is one of the most famous routes in the world and attracts thousands of hikers every year. That creates as many ups and downs as you will find on the trail itself. The upside is that by choosing this option you are traveling the original Inca trail, which allows you to see ruins that are difficult to access if not through this route. The only disadvantage that this option may have is that it has much more travelers passing through it, so your hike will be disturbed with queues and congestion.
Salkantay Route
This option is tougher, more basic and with fewer ruins to visit in between, but offers more impressive scenery to those who are fit enough to undertake it. For some, its appeal lies in the fact that it is a more authentic and complicated route. Undoubtedly, this route is quieter and offers more time to enjoy the scenery away from the crowds. There are only an average of 50 people a day on this route, compared to almost 200 tourists a day on the Inca Trail, and the lack of ruins can be compensated for with visits to Ollantaytambo and Pisac, located in the Sacred Valley.