Many tourists confuse Inca Trail 4 days and Salkantay Trek 5 days, many think they are the same or that salkantay is also the Inca Trail, but it is not, so we will explain what is the difference in between Salkantay Trek vs Inca Trail.
Inca Trail
On the other hand, we have the Inca Trail. The Inca Trail to Machu Picchu is one of the most popular and crowded tours in the world, this trail is full of beautiful landscapes, trails surrounded by mountains, cloud forests, etc. It was built by the Incas to unite their people, and unite their entire territory, which now encompasses Ecuador, Peru, Bolivia, Chile and part of Argentina. This path made of stones, especially used to reach the lost city of Machu Picchu.
Salkantay Trek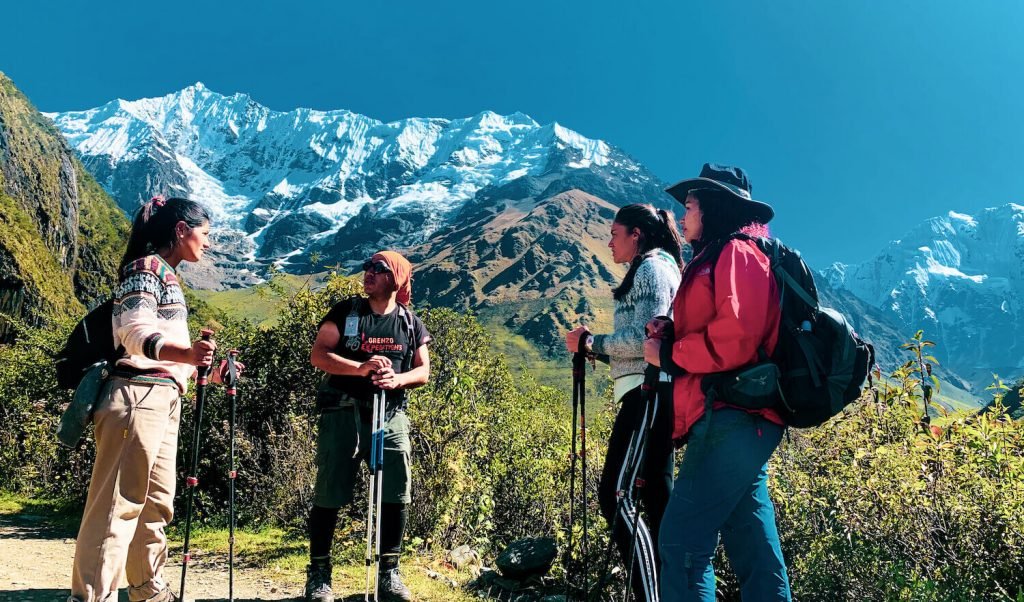 This is a great alternative to the Inca Trail. Along this route, you will be able to visit some of the most beautiful places in the Andean jungle and see the snowy Salkantay Mountain (20,905 ft). You will have the opportunity to see beautiful landscapes with a variety of endemic flora and fauna and to stop on part of the Inca Trail, Llactapata, which is a compound built on the mountain overlooking Machu Picchu.
Difference Salkantay Trek vs Inca Trail
| | Inca Trail | Salkantay Trek |
| --- | --- | --- |
| Scenery | Mountains, cloud forest and Incan ruins | Mountains, abundant wildlife |
| Distance | 26 miles over 4 days | 46 miles over 5 days |
| Difficulty | Moderate | Strenuous |
| Highest Altitude | 13,828 feet | 15,000 feet |
| Availability | Tourist permits are limited to 200 per day, and must be reserved well in advance. More customizable than the Salkantay. | There are no permit restrictions, an average of 50 hikers per day. More last-minute flexibility for group bookings than the Inca Trail |
| Facilities | Mid-range or luxury glamour campsite. Carriers available to carry the equipment. | Options from rudimentary camping to amazing luxury lodges. Pack mules available to carry gear. |
| Best For | Fit travelers who value comfortable campsites and don't mind a popular trail, want to follow in the footsteps of the Incas, and give priority to seeing the ancient ruins. | Experienced and fit hikers who want to get off the beaten track and value solitude, mountain scenery, opportunities to see wildlife and a wider range of overnight options. |
About the Scenery
Inca Trail
You will cross incredible mountain passes through cloud forests, passing through many ancient Inca sites along this route, such as Llactapata, Sayaqmarka, Phuyupatamarca, all culminating in the highlights: the terraces of Winay Wayna and the arrival of dawn at Machu Picchu through the Gate of the Sun (Inti Punku).
Salkantay Trek
There are relatively few ruins, but otherwise you are rewarded with an indelible mountain landscape. You will walk higher and longer than the Inca Trail, circling the glacier of Mount Salkantay (22,000 feet). Unlike the Inca Trail, with its constant foot traffic, this less crowded route offers a good opportunity to see wildlife such as deer, chinchillas and spectacled bears. Please note that Machu Picchu is not reached directly on the Salkantay Trail, but is viewed on the last day before arriving in Aguas Calientes. Then you will visit Machu Picchu the next day.
Difficulty
Salkantay Trek
It's essentially a moderate trek, although you need to be fit. You will cover 26 miles in four days, walking 6 to 9 hours most days, with the most difficult day being the second day when you climb and pass through the Dead Woman's Pass (13,828 feet) (Warmi ). The last day is a two-hour pre-dawn walk to enter Machu Picchu through the Puerta del Sol. The shortened version of the Inca Trail for two days is the easiest walking option and allows you to see some of the best sites in relative leisure.
Inca Trail
This trip is more exhausting. It goes through rougher, steeper and sometimes colder terrain. We covered 46 miles in five days, almost twice as long as the Inca Trail, and climbed to 15,000 feet. This option is more suitable for more experienced hikers at maximum fitness levels.
Costs of Inca Trail vs Salkantay Trek
| INCA TRAIL | SALKANTAY TREK |
| --- | --- |
| Expensive and good facilities | Better facilities for that price |
| 779 USD for classic 4 days | 679 USD for 5 days tour |
Flexibility and Availability Inca Trail vs Salkantay trek
Inca Trail
This hike has less flexibility and availability, because the Peruvian government places a strict limit on the number of permits allowed, which is 200 tourists per day. This means that you have to book several months in advance, preferably in mid-December, when the passes are released for the following year. The busiest periods, such as summer, are quickly exhausted (note that the Inca Trail is closed in February, the wettest month). There is flexibility in the length of the trail that can be booked: the four-day option is the most popular, but it can be extended to five days to allow for more time. Alternatively, you can choose to do just the last two days of the trail, which features some of the most impressive ruins.
Salkantay Trek
The Salcantay mountain route offers much more flexibility and availability in terms of booking. There are no restrictions, so you can organize your trip even at the last minute (although the best operators tend to book during peak periods). The walk normally takes five days, but can be shortened to four if you are very fit. However, unlike the Inca Trail, there is little flexibility in choosing which sections to hike.
Facilities
| INCA TRAIL | SAKANTAY TREK |
| --- | --- |
| Mid-level camps in terms of comfort. | Wider variety of accommodations. |
| Camp sites Include toilets and showers. | Most common basic option usually provides no showers or toilets. |
What route choose to go to Machu Picchu? Salkantay Trek or Inca Trail
When we have to choose or compare Salkantay Trek vs Inca Trail, sometimes will be hard to choose, but it will depend by the availability of the Inca Trail, because most people want the original path rather than Salkantay.
Inca Trail
The Inca Trail is one of the most famous hikes in the world and attracts thousands of walkers every year. That creates as many ups and downs as you'll find on the trail itself. The good news is that by choosing this option you will be walking the original trail that the Incas made, and it allows you to see ruins that would otherwise be unreachable. The disadvantage is that it can be very busy, with the often narrow road congested in a single row of walkers.
Salkantay Trekking
It is harder, more basic, and there are fewer ruins, but it offers a more impressive landscape for those who are able to embark on it. For some, its appeal is that it's a more authentic journey. It is certainly quieter and allows more time to enjoy the scenery away from the crowds. This hike averages only about 50 people per day, compared to the almost 200 tourists per day on the Inca Trail, and the lack of ruins can be compensated for by adding visits to Ollantaytambo or Pisac in the Sacred Valley.
I am founder and content creator of Lorenzo Expeditions, since 2006 I started with the Inca Jungle tour, guiding and serving thousands of tourists in a personal way to get to know Machu Picchu in a unique and authentic way.