Are you looking for essential information to plan and prepare your trip to Cusco?
Read on because in this article we will explain everything you need to know about the Inca Trail vs Inca Jungle:
Differences between Inca Trail – Inca Jungle
The 4-day Classic Inca Trail will allow you to travel the famous Inca Trail seeing ancient ruins and archaeological complexes along the way. This is one of the great attractions of this route as they are places of complicated access if they are not visited through the Inca Trail. If you are looking for a trip full of history and culture, the Inca Trail is the option for you. However, a permit is required for this route, so it is necessary to book months or even a year in advance to ensure your quota as only 200 visitors are allowed per day and during the summer months the permit requirement increases considerably.
If you are looking for an alternative way full of adventure and fun to reach the sacred site of Machu Picchu, then the Inca Jungle Trek is for you. This option is more focused on adrenaline and thrill seekers. Enjoy the wonderful climate of the Andean rainforest and be amazed by the immense Andean mountains practicing a diversity of outdoor activities such as rafting, mountain biking, hiking and zip lining across two mountains. This trek does not need additional permits, so if you are a bit impulsive there is no need to book months and months in advance, just contact your tour agency and arrange to visit the historic citadel of Machu Picchu arriving in a special way.
The Inca Trail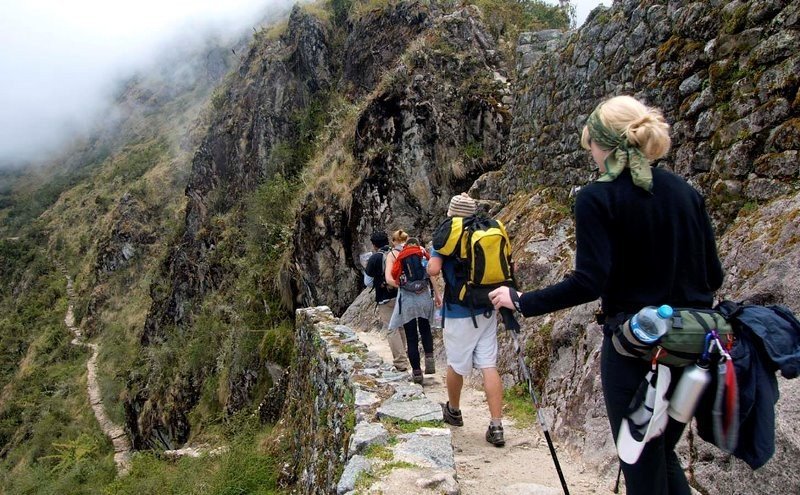 The Classic Inca Trail is a 4-day route through the original roads of the Incas, this network of roads was very important in the Inca Empire and crossed several South American countries that at that time formed the Tahuantinsuyo, this network of roads is called Qhapaq Ñan (Camino Grande in Spanish). The roads of this ancient civilization started in Cuzco and reached important places such as Machu Picchu, which were traveled in a few days by the people of this culture.
The classic Inca Trail begins in Ollantaytambo, in the so-called kilometer 88 where you will begin your adventure, you will cross several ruins and important settlements of the Inca culture, climbing mountains and disappearing into the Amazon jungle before driving through the original entrance (Puerta del Sol) to the ancient city of Machu Picchu, this road will offer a more cultural and historical experience and will relate you to this intriguing culture through its ancient routes and experiencing beautiful landscapes shaped by the diversity of flora and fauna of this area.
Planning and preparation for a unique experience
The places surrounding the trail, the trail itself and the Andean rainforest region where this trail is located are protected by the State to guarantee responsible tourism and the conservation of heritage and nature. Because of this, you will need a permit that is booked in advance to be able to do this hike. Check with your tour agency for more information on availability, reservations and requirements.
This is a hiking route that progressively increases in difficulty. Heavy cobblestone paths and emblematic Inca passes make up this historic route. You will literally be following in the footsteps of an ancient civilization. This gives meaning and pride to the hike; however, this type of route is considerably demanding and will require at least a moderate level of fitness to undertake satisfactorily.
Several tour agencies also offer variations of the Classic Inca Trail, so if you do not have enough time to hike the entire route there are variations that will better suit your itinerary. There are options to shorten the trek to suit time constraints or fitness level; lengthen it to include other historical or natural sites; or change from camping to hotels to provide a more luxurious and comfortable experience.
Inca Jungle Trek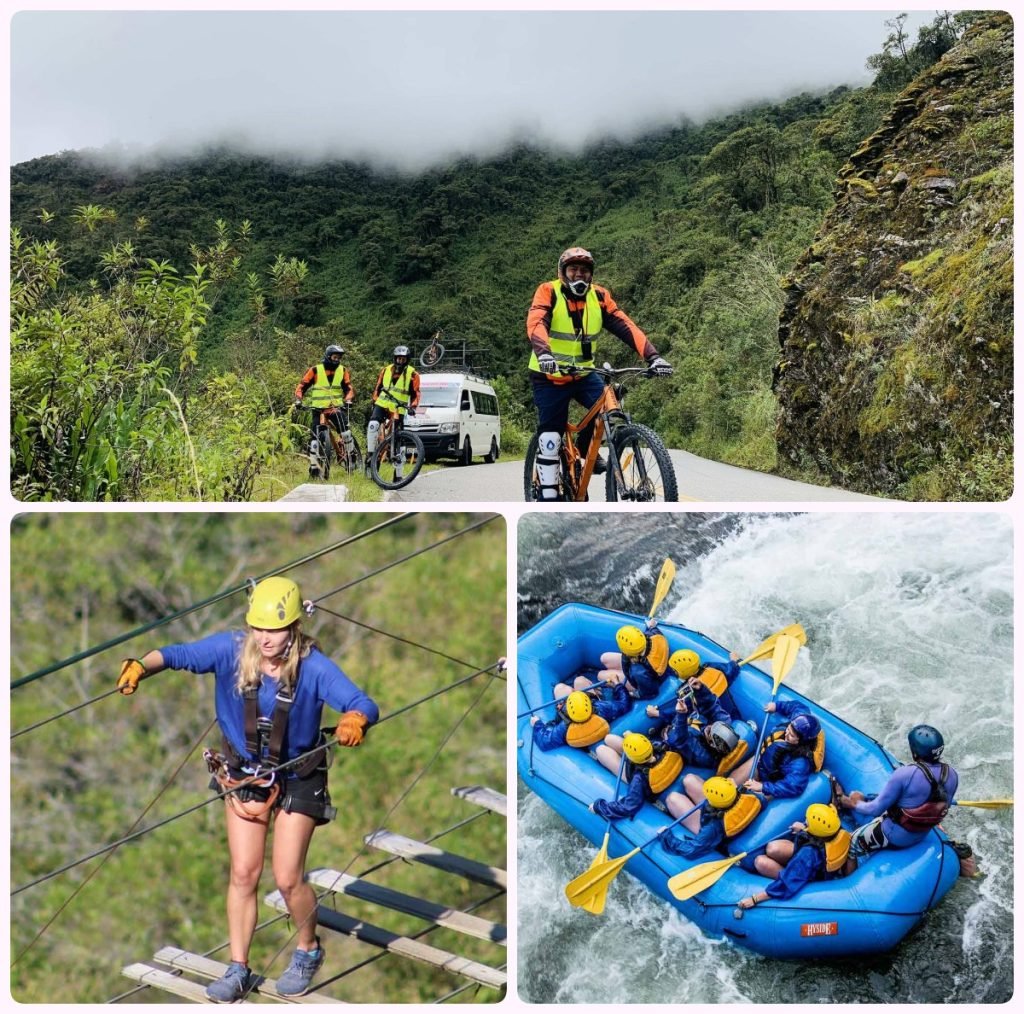 Unlike the Inca Trail, Inca Jungle Trek is a more adventurous tour that involves activities such as biking, rafting, zip-lining, hiking, which lasts four days to Machu Picchu. You will cross places of interest such as Inca ruins, coffee, coca and fruit plantations and enjoy the pleasant natural hot springs of Cocalmayo.
This option is more suited to visitors who are looking for a different way to reach Machu Picchu, spending a great adventurous time in the Andean rainforest of Cusco, enjoy your vacation with all kinds of cultural and outdoor activities as well as getting to know more about the local people of the area glimpsing unique landscapes in a fantastic climate and crown your experience by visiting the wonderful citadel of Machu Picchu. There are also variants for this route, which can be done in up to 3 days, does not require special permits and has availability throughout the year.
Activities you will do on the Inka Jungle Trek:
Enjoy mountain biking from the Andes to the Amazon area.
Go rafting level 3.5 in Santa Maria.
Enjoy the zipline adventure in Santa Teresa crossing two mountains
Guided tour in Machu Picchu