Increased altitude on the Inca Trail
The increase in altitude you will experience on your hike along the Inca Trail to Machu Picchu will depend on the trail you wish to take. There are some variations of the Inca Trail that you can follow to get to Machu Picchu, these are alternatives that you can take depending on your physical condition or the time you have available to walk the route You can do the Classic Inca Trail for 4 days or the Short Inca Trail for 2 days or even a variant of the Inca Trail for 7 days.
4-day Inca Trail Itinerary with day by day altitude increase
Day 1: Cusco – Km 82 – Wayllabamba
Your adventure will start from the city of Cusco, located at 3,399 meters above sea level, from where you will take a transport for about an hour and a half to Ollantaytambo, in this place you will have a brief stop to make the last purchases before entering the trek, and enjoy a nice breakfast in this picturesque village. Then, the journey continues by vehicle to the destination of Piscacucho, located at 2,750 masl (also called Km 82) which is the starting point for the Classic Inca Trail, once past the checkpoint the hike will begin to the next camp located in Wayllabamba (2750 masl).
Halfway, you will have lunch in Miskay, at 2660 masl, which is an original Quechua village, where you will rest for a while before continuing the trek to the first archaeological site you will visit on this trek, Patallacta or Llactapata (the largest Inca site) at 2840 masl. After an explanation from your guide about this iconic site, you will continue walking for 2 more hours to reach Wayllabamba, your final destination for the first day of trekking (first Inca Trail campsite located at 3,010 m/9,8750 ft).
Distance: 12 km/6.835 miles.
Time: 5 hours of hiking on average
Elevation gain: 430 m/1,410 ft.
Start: Km 82 (beginning of the Inca Trail) 2,680 m/9612 ft.
End: Wayllabamba Camp 3,010 m/9,8750 ft. elevation difference Inca Trail
Day 2: Wayllabamba – Warmiwañusca – Pacaymayo
This day starts very early in the morning to take advantage of the shade of the mountains and not to suffer walking under the strenuous sun. It is much more advisable to walk without rest until the first checkpoint of the Inca Trail on the second day (Warmiwañusca which means pass of the dead woman located at 4200 m.a.s.l.) which is the highest point in this entire journey. Here, you will be able to observe the varied ecological zones and the diverse microclimates of the Inca Trail, which make up the local area and that make up a much richer and spectacular ecosystem, through these days of walking you can experience the great diversity of fauna and flora that are developed in this place, this experience is unique and completely recommended for any fan or nature enthusiast.
We will cross the Warmiwañusca pass and once at the top we will see many snow-capped mountains around, another fantastic view that you should preserve with a good photograph. Later, it is customary to take a group photo before continuing down to Pacaymayo (second camping site of the Inca Trail located at an altitude of 3600 m.a.s.l.) where we have lunch for the second day and in the afternoon you can explore the surroundings on your own and enjoy the nature that this area has to offer.
Distance: 11 km/6.83 miles.
Time: 7 hours on average.
Elevation gain: 1,180 m/3,871 ft.
Start: Wayllabamba Camp 3,010 m/9,8750 ft.
End: Pacaymayo Camp 3,600 m/11,700 ft.
Day 3: Pacaymayo – Chaquicocha – Wiñaywayna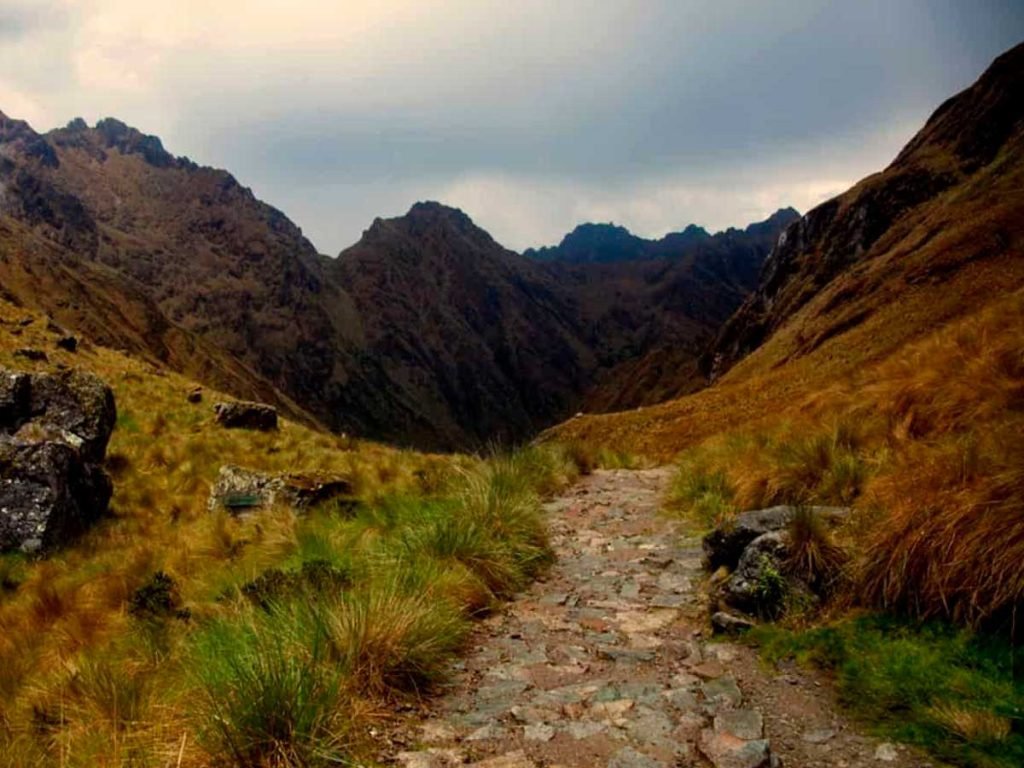 The third day of arduous trekking begins with a nutritious breakfast that will give you all the energy to get through this day, and then we will walk for 45 minutes to the Runkurakay pass (second highest pass of the Inca Trail, located at an altitude of 3,850 m.a.s.l.). On the way, we will visit the archaeological site of Runcuracay, you will learn a lot about this place and you will be able to take fantastic pictures of it. During the day hike, we will also visit the archaeological sites of Sayacmarca (3592 masl) and Phuyupatamarca (3,600 masl). After lunch, you will head to the Wiñaywayna camp located at 2,650 masl, where you will spend your last night on the Inca Trail, and then have a celebratory dinner and farewell with the porters who supported you throughout these 3 days of trekking.
Distance: 16 km/9.94 miles
Time: 9 hours on average
Elevation gain: 453 m/1,486 ft.
Start: Pacasmayo Camp 3,600 m/11,700 ft.
End: Wiñaywayna Camp 2,650 m/8,530 ft.
Day 4: Wiñaywayna – Machu Picchu – Cusco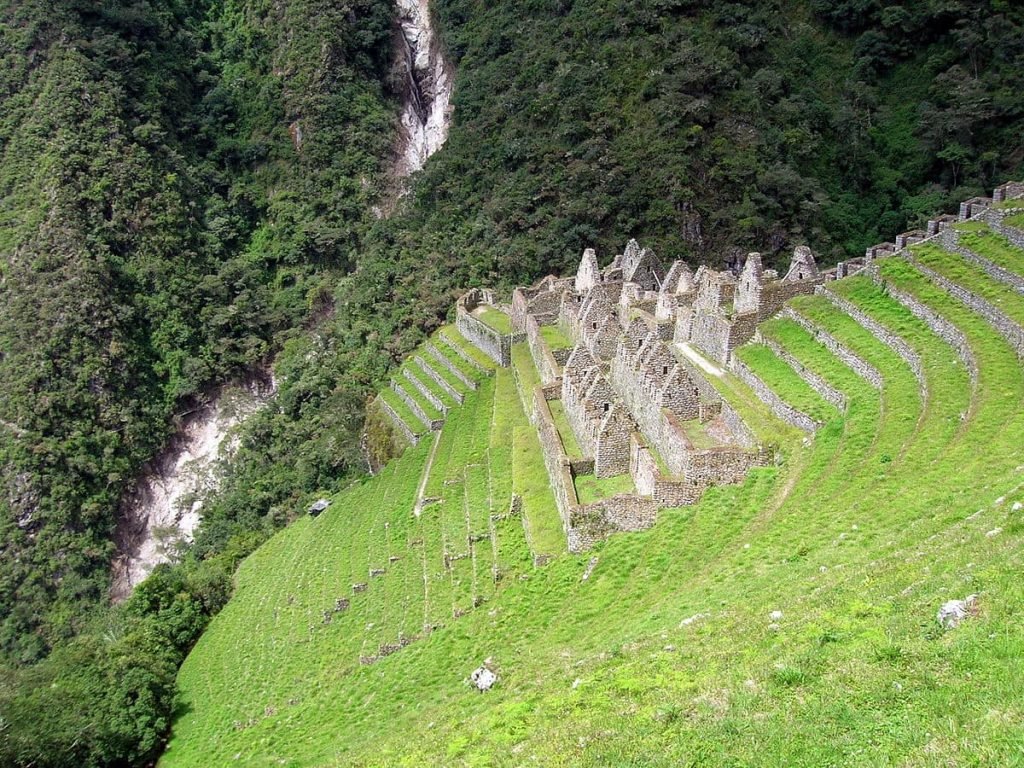 After an early breakfast in the morning, the last day of trekking starts with destination to the lost citadel of Machu Picchu. First, you will have to hike to the Inti Punku ("Sun Gate") located at 2745 meters above sea level, this is the ancient gate of the Inca Trail, where they used to control the passage of visitors, the view from this point is fantastic and offers a panoramic view of the citadel of Machu Picchu.
After a short hike up to the citadel itself, you will check in and then enjoy a 2-hour guided tour through the sanctuary-city. After the Machu Picchu tour, you will take the bus back down or if you wish you can walk part of the Short Inca Trail to Aguas Calientes where a well-deserved lunch will be waiting for you and free time to enjoy the cozy town before returning to Ollantaytambo by train and then bus back to Cusco.
Distance: 6 km/3.72 miles.
Time: 3 hours on average
Elevation gain: 90 m/295 ft.
Start: Wiñaywayna Camp 2,650 m/8,530 ft.
End: Machu Picchu 2,450 m/8,038 ft.
Details of the Inca Trail
Total elevation gain of the Inca Trail: 2153 m/7063ft.
Maximum elevation: 4,200 m (13,828 ft.)
Distance of the Inca Trail: 40 km (25 miles)