Humantay Lake vs Rainbow Mountain – Which is better and why?
What are Humantay Lake and Rainbow Mountain?
These two are tourist destinations in the surroundings of the city of Cusco that have gained great popularity in recent years for being scenic spots of great beauty and will perfectly complement your experience in the imperial city, first Humantay is a mountain lake of turquoise waters perfect for a postcard, the lake is framed by snow-capped peaks that cover it generating a unique atmosphere that will surely make you adore the Andes Mountains. When you see it for the first time, it is hard not to be mesmerized.
The Rainbow Mountain is a relatively recent addition to Cuzco's tourist route. This iconic mountain that displays beautiful colors that make up its structure, this was formed as a result of glacial retraction, a few years ago the slopes of this mountain have been discovered in beautiful layers of colors. The mountain is streaked with reds, oranges, purples, yellows and browns. The colors make Rainbow Mountain a magnet for tourists looking for unique opportunities to find the perfect postcard picture in the city of Cusco.
Humantay Lake and Rainbow Mountain: things in common
Although both are very different places, the trips to Humantay Lake and Rainbow Mountain have some points in common.
You have to walk to see Rainbow Mountain or Humantay Lake.
Regardless of the tour you choose, you will have to do some hiking in order to reach your final destination. You should note that hiking is considerably complicated by the high altitude at which both destinations are located. At both Humantay and Rainbow Mountain, you have the option of riding a horse or pack mule at least part of the way, of course you should take this as a last option as the hike perfectly complements your journey and makes your final destination much more rewarding.
Expect a crowd
Both Humantay Lake and Rainbow Mountain are popular day trips for tourists visiting the city of Cusco.
Whichever place you visit, be prepared to share the views with hundreds of people. All tour groups arrive at the lake or mountain at the same time of day.
Day trips to Cuzco start early in the morning.
An excursion to either place involves getting up before sunrise. Most tours depart between 4 and 5 am and usually include breakfast and lunch. Most of these excursions return to Cuzco after 5 pm, take this into account as it will practically consume a full day of activity.
You can visit these attractions without an excursion
There is no need to book a tour for either attraction. Both Humantay Lake and Rainbow Mountain can be reached by colectivos or cabs. However, doing these excursions on your own is not recommended and the economic benefit you will get is not necessarily cheaper. Although a half benefit you will get is that it will allow you to take your own schedules for the excursions, which means you can sleep late and miss the peak hours, although keep in mind that the later you leave the later you will return.
Which hike is more difficult, the Humantay Lake hike or the Rainbow Mountain hike?
For some, the deciding factor for their plans may be which attraction offers less difficulty. Ultimately, the hike to Rainbow Mountain is significantly more complicated than the hike to Humantay Lake.
The hike to Humantay Lake is a 4 km round trip. It takes approximately 1 hour to reach the lake. It should be noted that most of this route is a steep slope and winding, rocky and slippery roads.
In contrast, the Rainbow Mountain route is twice as long, consisting of 8 km. It normally takes about 3 hours to get to and from the mountain. Most of the route is flat, except for the steep final climb.
Humantay Lake is located at a considerable altitude of 4,200 meters above sea level. Rainbow Mountain, on the other hand, is at an impressive 5,200 masl. Regardless of your general fitness, Rainbow Mountain's higher altitude makes the hike more difficult, has less oxygen, and although the hike is flatter, you will find that you will tire more easily and in a shorter amount of time.
Both treks are done at high altitude, so it is essential to acclimatize properly and take precautions against altitude sickness, for this it is advisable to spend a couple of extra days, prior to your trip, in the city of Cusco enjoying activities of low physical demand.
Humantay Lake – Pros and Cons
| | |
| --- | --- |
| Pros | Cons |
| Beautiful landscapes formed by the lake of turquoise waters and imposing snow-capped peaks. | You won't have any unusual views on your way to the top. |
| A much easier hike than its counterpart. | You will find a large crowd of visitors around midday. |
| It is a less crowded destination for visitors. | You will have better options within destunis with mountain lakes in Peru. |
| Tours are somewhat cheaper ($20) compared to Rainbow Mountain ($35). |   |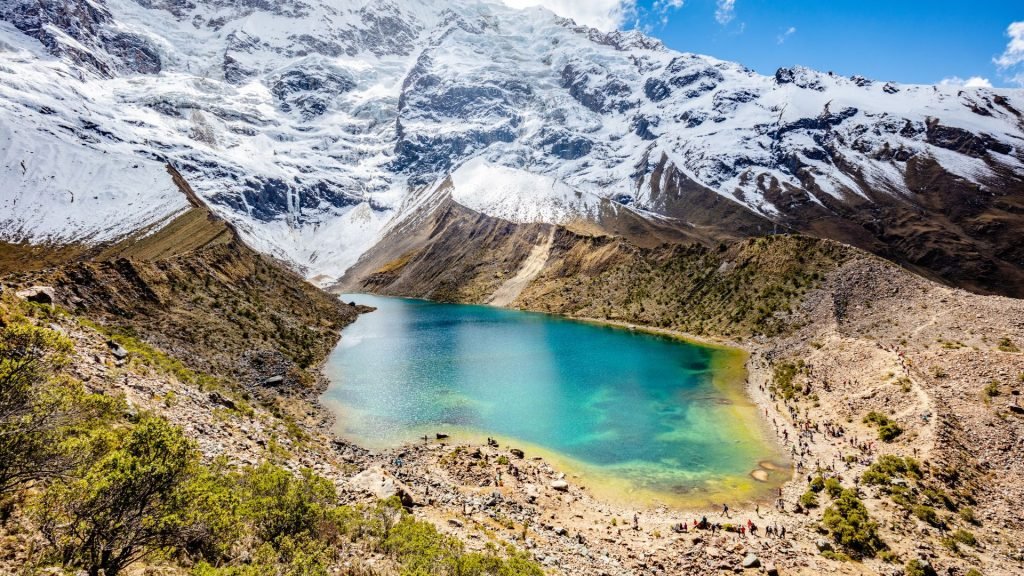 Who should visit the Humantay Lagoon?
If your trip through Peru does not include the city of Huaraz, this is a destination where you can enjoy much more colorful blue lagoons and fantasy landscapes, it is worth visiting the Humantay Lagoon instead.
Humantay is also a better option than Huaraz if you are looking for shorter and less complex hikes. If you have time and want the lake to yourself, consider spending a night in Soraypampa. Humantay Lake is most spectacular at sunrise or sunset.
Rainbow Mountain – Pros and Cons
| | |
| --- | --- |
| Pros | Cons |
| The 7-color mountain, as it is also known, is a tourist destination with a unique landscape. | The colorful mountain is a very popular destination. |
| You can combine your visit to the 7-color mountain with a trekking route through the Red Valley in Cusco. | You will need to hike at least 2 hours to reach your final destination. |
| The hike that will lead you to your final destination is composed of unique and beautiful landscapes through the Peruvian Andes. | Popularly known photos are full of filters and do not show the real image. |
| You will have plenty of opportunities to find the perfect postcard. | Although the photos you will capture are wonderful, the colors are not as vivid as you might think. |
Who should visit Rainbow Mountain?
If you can no longer tolerate visiting ruins in Cusco, taking a walk to the colorful mountain is a different and unique experience. If you are prepared for crowds and long hikes, visiting Rainbow Mountain is a great alternative.