Official regulations and our useful tips
For those free-spirited adventurers who wish to hike the Inca Trail without a guide, the idea of experiencing this trail on your own may excite you. Unfortunately, this is a dream they will have to let go of.
Hiking the Inca Trail without a guide is not an option. We all love to hike independently, to be guided by our instincts and to achieve our own accomplishments, but unfortunately, through this trail, that experience will not be possible. Also, you should be aware that there are additional costs associated with using a tour operator. However, this does not have to be a reason to be discouraged from taking this route. Doing the Inca Trail with an expert guide has many advantages.
Due to Peruvian regulations and authorities, this policy was based on good reasons. In this article, we will try to bring you up to date with this issue.
Is it possible to walk the Inca Trail without a guide?
It is not allowed to hike the Inca Trail without a guide. Since 2001, a regulation has been approved that prohibits visitors from hiking the Inca Trail on their own. All hikers must be accompanied by a registered and validated professional guide.
If you cannot walk the Inca Trail without a guide, what is the next best option?
Hire an independent guide
If you decide to hire an independent guide, you will not have to worry about the tour operator. This way, there will only be one other person with you and your companions on the trail. This also means that you will not have support staff to carry the necessary items for your camping trip. Just be prepared to carry your own equipment and food.
If you opt for a private guide, make sure they are registered with the Machu Picchu Historic Sanctuary Management Unit (UGM). Independent guides purchase permits and can take a maximum of 6 hikers as a group.
Warning: It is difficult to check the credentials of these operators alone. Ask around and find a good guide with reliable, first-hand references.
Advantages of walking the Inca Trail with a guide
Just because you can't hike the Inca Trail without a guide doesn't mean you can't enjoy a unique and memorable experience. In fact, a guide can add a lot of value to your trek, helping you learn more about the region, the ecosystem and the cultural value of the entire route you will travel.
Most of the Inca Trail guides are locals who have been working on the route for years and know it by heart. They have extensive knowledge about the history of the Inca ruins, the flora, fauna and geology of the trail, and a host of other interesting facts that will surely add a lot to your cultural exchange.
A good guide can enrich your experience with interesting stories and curious facts about the Inca Trail. If you hiked the Inca Trail without a guide, you would never find this information on your own.
It is advisable to travel and take every opportunity to spend time with the locals. In this way, you will have a much richer cultural exchange, which can leave you with great lessons for your life. Many people share the idea that the most informal conversations about the daily life of the country you are visiting are the most productive and satisfying. You will learn much more personalized information about the place you are visiting, rather than relying solely on Internet searches.
The great advantage of booking with a tour operator is that you won't have to worry about the logistics of organizing your route or the supplies needed for a good trip. A reliable company will do all the administrative work for you. This includes purchasing permits and arranging transportation. This way you can relax and enjoy the wonderful route and its dreamy landscapes without the usual headaches of organizing them.
In Peru, there are about 180 registered travel agencies that offer packages to hike the Inca Trail. This means that there are many options. The prices, quality and amenities of the tours vary, so choose your Inca Trail tour operator wisely with your budget and needs in mind.
There are some alternative routes to Machu Picchu that you can do without a guide and for a much lower cost
The Salkantay route is the most popular of the multi-day alternative routes to the Inca Trail. This 5-6 day trek covers over 46 miles (72 km) and is more difficult than the Inca Trail. No permit is required to hike this route, making it an affordable option and easier to book at the last minute. It is also possible to hike the Salkantay solo.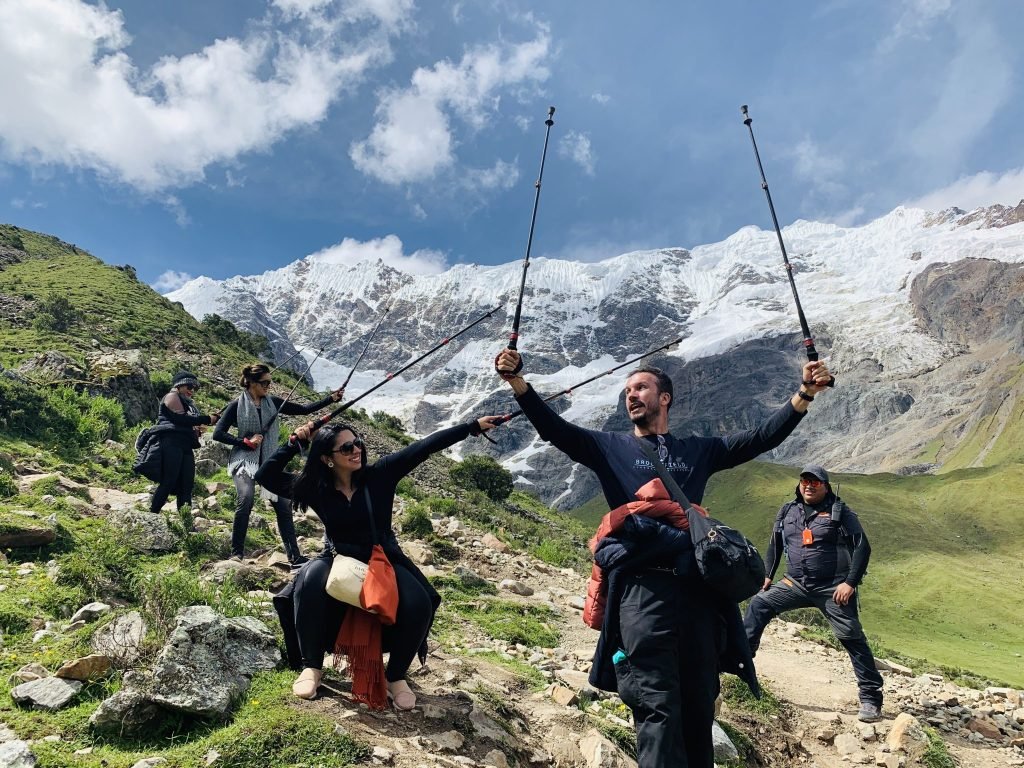 The Lares trail is the best option for those who wish to learn about the local culture. The trail passes through communities that have not been affected by modern society. You can learn about rural life and traditions that date back hundreds of years. This 33 km route is easier than the Inca Trail due to its geographical composition.
If you are looking for an even more demanding route, you can opt for the Choquequirao route. This 4-day, 36-mile (54 km) trek is considered more difficult and strenuous than the Inca Trail. With good planning, you can hike Choquequirao without a guide.
Other Inca Trail rules you should know
There are a few other rules and regulations when it comes to hiking the Inca Trail. These exist to keep the trails safe for visitors and to protect the environment.
Note: Only 500 permits are issued daily for the Inca Trail. This is the total number including guides, cooks and porters. After discounting the companies, there are about 200 daily permits available for hikers. If you wish to reserve this route, please do so months in advance because in the high tourist season they tend to sell out immediately.
The regulations also stipulate that there can be a maximum of 16 tourists per group. Operator groups can be up to 45. Sounds excessive, doesn't it? Don't panic. This number includes all staff who will be facilitating your trip. Not everyone is going on a tour with you.