Sandoval Lake in Tambopata National Reserve
If you consider yourself a nature lover, then you should not miss the opportunity to visit this beautiful place. The Peruvian Amazon is usually considered a magical and mysterious destination where you can enjoy a romantic getaway or an unparalleled adventure, a destination where you can feel free and connected with nature. When one imagines the Amazon and the jungle within Peru, one does not necessarily imagine cities and luxury accommodations, although you should know that these types of comforts are available in this destination. Exactly one of its most charming places is the beautiful Sandoval Lake. A perfect example where you can appreciate the varied and numerous fauna while marveling at dreamlike landscapes surrounded by the characteristic green of the Amazon. In this article we will seek to inform you everything you need to know about Sandoval Lake and how to enjoy a tour of its surroundings.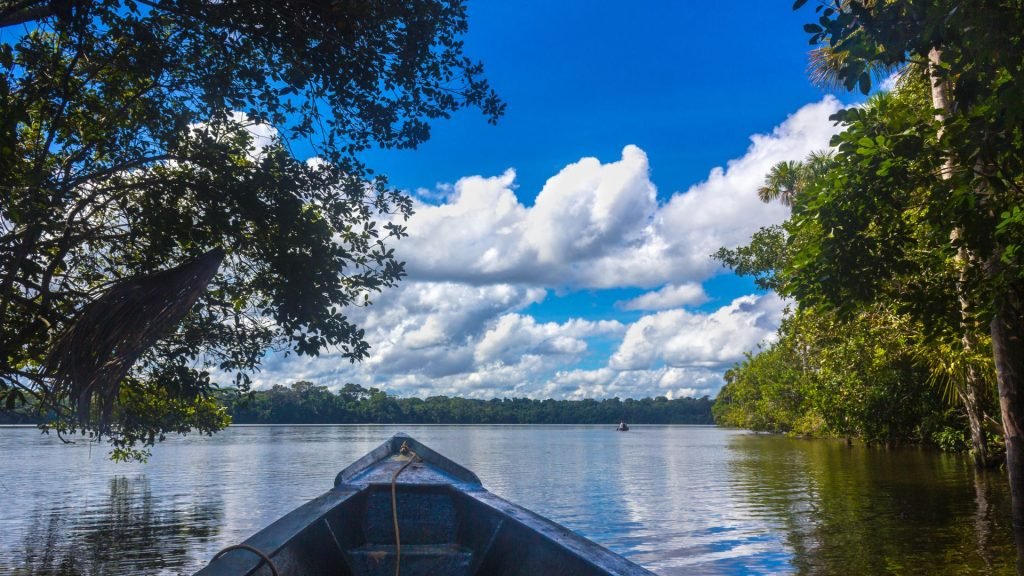 Everything you need to know about Sandoval Lake
Description
Sandoval Lake is one of the most attractive lakes within the Andean country and the entire Amazon rainforest in Peru. Through this destination you can facilitate your access to one of the areas with the highest concentration of biological diversity in the entire planet. Sandoval Lake is located within the protected area known as the Tambopata National Reserve, a few kilometers from Puerto Maldonado. This unique and beautiful destination offers one of the best experiences in the Peruvian Amazon. So, if you plan to travel to the beautiful city of Puerto Maldonado, a visit to the Lake should not be missed.
It is also considered one of the main attractions within the capital of Madre de Dios, because of this you will find a variety of tour options in its surroundings. This beautiful destination is located away from the crowded centers, this facilitates that the natural night noises proliferate and its natural landscapes take a strong role, if you want to disconnect from all the visual and auditory pollution of the city this destination is the place you are looking for, here you can easily connect with nature and leave aside the city stress that overwhelms you. In this place you will find a great biodiversity with which you will be able to coexist, observe and photograph. More than 1,000 species of birds and numerous animals of the Amazon rainforest have been recorded. In this paradisiacal destination you can find giant otters, black caimans, cranes, macaws, turtles and cranes, among others. It also serves as a refuge for the most spectacular predators in danger of extinction.
WHERE IS THE LAKE LOCATED?
This main attraction within the Tambopata National Reserve is located approximately 3 hours from the city of Puerto Maldonado, in southeastern Peru. It is part of the ecosystem called lowland rainforest that extends into the great Amazon. This is a protected area that functions as a refuge for more than 74 types of reptiles, 1,300 species of butterflies, 592 birds, 127 amphibians and 103 mammals.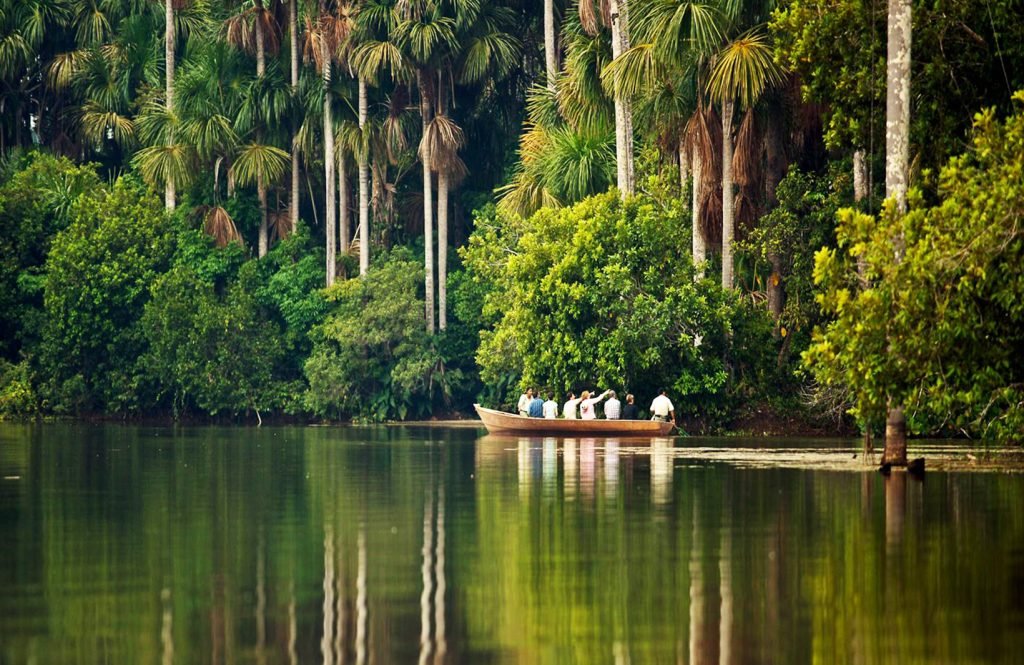 It is also among the ten areas of greatest biodiversity due to the abundance of wildlife it harbors. The area promotes the practice of ecotourism, that is, tourism that is responsible with the environment and its inhabitants. The influx of visitors is not only a source of income for the inhabitants of these areas, but also a way to raise awareness about how to preserve these areas that are home to endangered species and how to reduce the impact of man's hand on these ecosystems. Ecotourism is the practice of tourism with a responsible and friendly orientation towards the environment and the species it harbors, and here in Tambopata you can feel satisfied that your visit not only has zero negative effects on the ecosystem, but that you are also supporting the conservation and healthy maintenance of the area occupied by the Tambopata National Reserve.
HOW TO GET TO SANDOVAL LAKE?
To get to Sandoval Lake, first you have to take a flight to Puerto Sandoval Maldonado, considered the gateway to the different routes within the Peruvian Amazon. You have several options to reach this destination, for example, you can choose to do it from the Imperial City of Cusco and take advantage to complement your visit with the different tours from Cusco. To enjoy a tour inside the Sandoval Lake, it is essential to organize with a tour company that offers the service because it is required to enter the Tambopata Reserve. Upon landing in the city, our staff will advise you from your arrival to your departure, so you will not have to worry about anything, just enjoy the fantastic destination you are visiting.
After entering the Reserve, it is necessary to take a short bus ride to the Tambopata River. Your trip from here will continue in a motorized canoe. Your motorboat ride will take about 40 minutes to reach the main entrance of this beautiful place. After your entrance, you will have a 30 minute trip down the Madre de Dios River to reach a trail, from where a moderate difficulty hike awaits you. This entire trail is a visual spectacle where the real magic of your visit begins. From that moment on, you will be able to distinguish some species of animals and birds around the trail, the closeness to nature is a unique and indescribable experience.
After walking a few minutes through the narrow path, you will arrive at a pier. And depending on the weather at the time of your visit (November to April is the rainy season) you will take a rowboat to continue your journey. In the boat, you will continue along the waters to enter the heart of the lake itself. From here you will feel at one with nature, filled with peace and indescribable tranquility. These and many more satisfying feelings will be experienced throughout your visit to Sandoval Lake.
EXCURSION TO SANDOVAL LAKE
If you are fond of observing animals, plants and enjoying the vast nature that surrounds it, near the jungle city is the pristine Sandoval Lake. This wonderful meandering lake is separated from the main course of the Madre de Dios River. Its calm waters are perfect for sailing across and observing the species that inhabit it. In addition, the region is favored for being one of the most biodiverse areas in Peru.
A tour of Sandoval Lake is one of the best tours available in Puerto Maldonado. For those who are looking for sightseeing inside the Peruvian Amazon, you cannot miss this wonderful destination, the experience you will have will be unique and incomparable. During the tour, you will be able to observe and take pictures of the different howler monkeys, water turtles, caimans and the numerous birds that fill the skies of Tambopata. There are different tour options to enjoy depending on the comfort you are looking for and all options can be modified to your taste, availability and budget. There are full day, two day and up to 4 day tours to explore in depth and not miss any detail of this wonderful place.
You can embark on an excursion with an expert nature guide who will turn your visit into a moment of satisfying learning about the peculiarities of this wonderful area. On this excursion alone you will be able to spot about a hundred exotic animals. It is advisable to book in advance to guarantee your visit and not have any inconveniences at the time of your trip. It is also a good idea to visit this destination during sunrise or pre-sunset hours. Since it is during these hours when the fauna can be seen more easily and at its most active time. Even night walks will offer you an experience of the region and its animals.
WHAT TO EXPECT FROM SANDOVAL LAKE?
Enjoy sailing through a forest full of 30 meter high Mauritia palm trees. All this while large groups of macaws inhabit the skies and delight your ears with their squawking music that bathes the atmosphere. You may also choose to appreciate the playful brown capuchin monkeys as they stroll among the palm trees. You will see groups of up to 50 or more squirrel monkeys communicating and interacting with each other, as well as jumping through the trees, a unique spectacle. At sunset, you can enjoy the lake's nightlife under a star-filled sky as you search for the iconic black caimans that inhabit these waters. In addition, no visit to the lake is complete without guided walks in the surrounding area, the various nature expert guides in the area will be able to enliven the life of the jungle with their explanations and all you can learn about the ecology and ecosystems of the place. Learn about the natural history of the area as you explore the trails and appreciate the many species of birds and monkeys. You can enjoy this and much more on an excursion to Sandoval Lake.
The entire tour is surrounded by greenery and beautiful landscapes unique in its kind. In the surrounding area, you will first see a great variety of birds that will fly over the skies and enchant you with their songs. If you are lucky, you may also see the mighty jaguar stalking its prey and other jungle predators, a spectacle of nature. Sandoval Lake and the Tambopata Reserve not only offer an incredible variety of flora and fauna, but also allow you to appreciate and value the world in which we live, as you can also do your bit to cultivate and conserve the protected natural areas that are home to the last specimens of some species, you will understand the importance of preserving these shelters and your visit will contribute much to this end.
You will have the option to stay more days near the lake if you choose to do so. Lake Sandoval has a number of small lodges that offer a variety of activities during your stay. You will even have the opportunity to take a night walk, where you will be able to see a great variety of bugs and insects just as interesting. Along the horseshoe-shaped lake, there are trails to observe birds, mammals and flora. All of these activities can be done in 1 to 4 hours, so be sure to take all of these extra activities into account when booking your stay in the area, as you will not want to leave without experiencing all that this prodigious land has to offer.
WHERE TO SLEEP?
Fortunately, with the growing popularity of the region, some lodges have appeared to supply the tourist demand. Among the main lodging options are Sandoval Lake Lodge and Casa Sandoval Peru. These are some of the best lodges available and offer numerous excursions in the area.
SANDOVAL LAKE LODGE
If you want to enjoy the hiking options offered around Sandoval Lake, then you should stay at a lodge. The best thing to do is to take advantage of the proximity and stay at the Sandoval Lake Lodge. This beautiful place is built almost entirely out of floating mahogany trees. These trees have been naturally and ecologically harvested after floods carried the trunks downstream. The lodge is located in the middle of the Amazon, in Peru, and its structure consists of a large main room or shared dining room. It has 25 different rooms that are well protected, well designed and very comfortable. They have all the basic services and amenities expected to relax in their facilities.
The facilities were built based on environmentally friendly criteria and always complying with the necessary safety standards. Lake Sandoval Lodge features a traditional and rustic design. The rooms, restaurant, lobby bar and bungalows are protected against mosquito attacks. In addition, the single rooms are quite spacious and comfortable. The single, twin, double, matrimonial and family rooms are cabin-shaped. All have views of the forest and terraced gardens, where the hammocks are located. Obviously, all rooms have private bathrooms with hot water showers. But the best thing about this lodge is its food, prepared with local ingredients that will delight you in a charming atmosphere.
SANDOVAL HOUSE PERU
This hostel is located in the surroundings of the lake. Here you will find a wonderful exclusive garden where you can relax and explore the different species of flora that are grown. The property rate is all-inclusive, including transportation to and from the property. In addition to meals and various outdoor activities to keep you busy during your stay. The property offers special diet menus and packed lunches upon request. The private bathroom has a bathtub, shower and free toiletries. It is only about 3 hours from the nearest airport.
THE WEATHER AT SANDOVAL LAKE
Being in an Amazonian region, the climate around Lake Sandoval will be humid with occasional rainfall. Rainfall within the Tambopata National Reserve can be between 2,500 and 3,000 millimeters per year. But most of this rainfall occurs during the rainy season (November to April). While, in the dry season, some cold fronts from the South Atlantic can be expected. If you want to make the most of your stay in the Andean country, you can try to travel during the dry season. One of the best known facts about Peru is that the dry season coincides with the high tourist season, so be aware that you may not find availability if you do not book well in advance.
We hope this article has been of great help. Sandoval Lake is a wonderful destination to enjoy bird watching and other exotic species. You can enjoy unique scenery as well as many tours, excursions and boat rides around the area. This wonderful destination is waiting for you, if you want to practice responsible ecotourism this is the destination you are looking for.