The entrance fee to visit Machu Picchu may vary depending on nationality, age and type of ticket selected. Below, I will give you a general estimate of entrance fees to MachuPicchu, based on the information available up to my cut-off date in September 2021. It is important to keep in mind that these figures may be subject to change, so it is recommended to consult the most updated information before planning your visit.
Different ticket options for access to Machu Picchu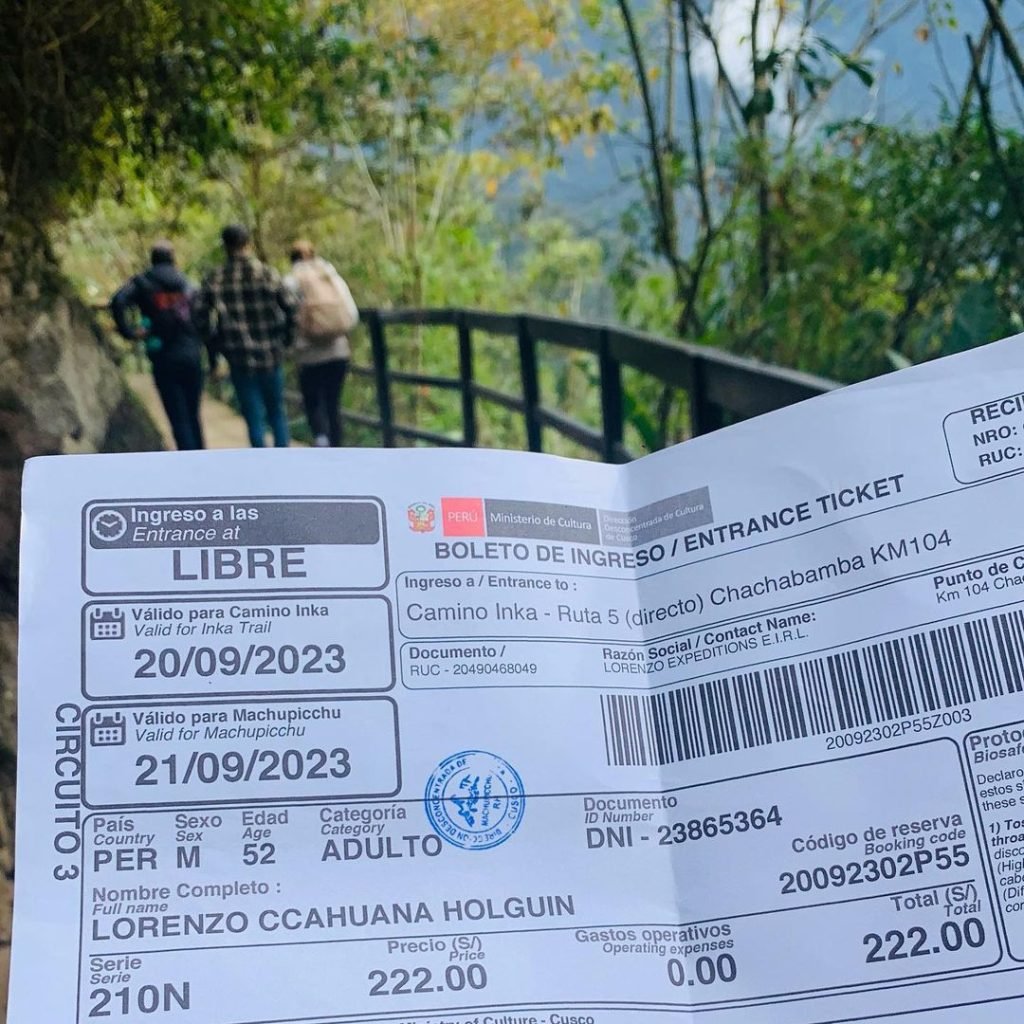 1. Ticket to Machu Picchu:
The basic ticket to Machu Picchu allows entrance to the Inca city and the main area of the archaeological site. The approximate cost of the general admission ticket is around US$ 60 to US$ 70 for adult foreigners.
2. Machu Picchu + Huayna Picchu Mountain Ticket:
This ticket includes the visit to Machu Picchu and the possibility to climb Huayna Picchu Mountain, which offers impressive views of the Inca city. The price of this option can vary between US$ 75 and US$ 85 for adult foreigners.
3. Machu Picchu + Machu Picchu Mountain Ticket:
This ticket allows you to visit MachuPicchu and climb to the top of Machu Picchu Mountain, which offers incredible panoramic views. The estimated price for this option is around US$ 75 to US$ 85 for adult foreigners.
4. Machu Picchu + Museum Ticket:
This option includes the visit to the archaeological site of Machu Picchu and access to the MachuPicchu Museum, located in Aguas Calientes, a town adjacent to the site. The approximate price is between US$ 70 and US$ 80 for adult foreigners.
There are also discounts for students, retirees and Peruvian citizens. To benefit from these discounts it is necessary to present valid documentation.
It is important to note that due to the COVID-19 pandemic, there may be some restrictions and regulations. We recommend that you consult updated information on ticket availability, reservations and security measures related to the pandemic before planning your visit to Machu Picchu.
Remember that MachuPicchu is a highly sought-after destination and places are limited, so it is advisable to book your ticket in advance to guarantee your visit on the date you want.
Where the money is invested
Revenues to MachuPicchu are used for various purposes related to the conservation, maintenance and development of the site. These are some of the main areas in which revenues are invested:
Conservation and preservation:
A significant portion of the proceeds from entrance fees goes to the conservation and preservation of MachuPicchu. This includes maintenance of archaeological structures, restoration of areas damaged by time and tourism, and protection of the natural environment surrounding the site.
Monitoring and research:
They allocate a portion of the funds for monitoring and research programs at MachuPicchu. These activities contribute to a better understanding of the site's history, archeology and ecology. They also help in making informed decisions for its long-term conservation.
Infrastructure development:
They also use the raised funds to improve and develop the tourism infrastructure around MachuPicchu. This includes the construction and maintenance of trails, bridges, signage, toilets and other facilities needed to accommodate and facilitate tourist visits.
Education and awareness:
They allocate a portion of the funds for educational and awareness programs for tourists, local residents, and neighboring communities. These initiatives aim to promote responsible visitation. They also inform about the historical and cultural importance of MachuPicchu and encourage conservation of the site.
Benefits for the local community:
A portion of the money raised goes to the local community, contributing to the socioeconomic development of the region. This may include the creation of employment opportunities, infrastructure projects and improvements to public services.
It is important to note that Machu Picchu is a UNESCO World Heritage Site. It requires significant investment for its conservation and sustainability. Entrance fees play a key role in this process. They make sure that future generations can enjoy and protect the site. By purchasing a ticket to MachuPicchu, visitors contribute directly to the conservation of this historical and natural treasure.