These tours through Puerto Maldonado and the Amazon will offer you incredible opportunities to fill your stay in the Amazon rainforest with pleasure as well as to learn all you need to know about this wonderful land, its customs and the diverse fauna that compose it. You will have the opportunity to experience some of the most captivating scenarios that exist within the Amazon rainforest; such as the macaw clay lick where hundreds of parrots and macaws converge daily to eat clay from the river banks and it is truly a unique spectacle not to be missed.
Another very interesting option to opt for is a visit to Sandoval Lake, where dozens of caimans, turtles, giant otters and piranhas converge. Or you could also make a visit with more activities, which include an extreme adventure experience flying over the treetops, for example.
Puerto Maldonado tours are an incredible and affordable option located within the Peruvian Amazon rainforest. Take inspiration and decide to create your own adventure trips, choose the routes you are going to travel and the destinations you are going to visit and embark on the adventure in these tours that include a diversity of amenities. Visit these unique travel destinations that will provide you with a special trip filled with fascinating and diverse places within the Amazon such as the Tambopata National Reserve to see the wonders that Puerto Maldonado Peru has to offer.
Puerto Maldonado Tours and Expeditions
The city of Puerto Maldonado is one of the main gateways to the jungle of Peru and offers countless opportunities to observe wildlife, which will captivate all nature lovers. A few minutes by boat from the city of Puerto Maldonado you will find many wild species in their natural habitat, which you can visit to photograph and learn more about the diversity in this area of the Amazon.
From the beginning there are a lot of interesting things to see: beautiful plants with brightly colored flowers, macaws perched in the trees, hundreds of butterflies and a variety of species of monkeys, including the tamarin monkey, howler monkey, monk, among others.
You will learn to recognize the primary and secondary forests that make up the area, we will also see the huge Brazilian nut trees, one of the most important economic pillars of the region. You will learn why Sandoval Lake is considered one of the most impressive and beautiful places.
Accompanied by expert naturalist guides, you will be able to explore the secrets of Peru, the Amazon rainforest and its exotic animals; you will have the opportunity to observe capybaras, caimans, caterpillars, etc. If you are lucky you may even spot the jaguar families that inhabit the area. Peru's wildlife is also spectacular in this area, with its colorful flowers and giant trees.
The Perfect Environment
Peru is blessed with coastal regions, highlands, mountains and Amazon jungles, all of them a paradise for nature lovers and adventure seekers. Bird watching, sighting of bird species and observation of their population in the rainforest is also an ecotourism activity that is part of these tours, it is known that these activities are growing in popularity, especially in recent years so it is a great time for your visit.
As an additional activity you will be able to visit one of the few Indigenous Communities that live deep in the jungle, isolated from the rest of the world, this will certainly be a memory you will never forget.
Some of the villagers will be happy to openly show you their lifestyle, customs and traditions. Now you are ready to live the perfect Amazon experience. Choose your travel itinerary to the Amazon Rainforest and travel to Puerto Maldonado in Peru.
This area is known for having the greatest biodiversity in the world and a paradise for exotic wildlife, indigenous communities and, of course, for nature lovers. As an important fact you should know that more than sixty percent of Peru is covered by the Amazon rainforest, but the geographical conditions and amenities make Puerto Maldonado one of the top destinations when looking for this kind of adventure.
When traveling to Peru, it is essential to understand that, regardless of its geographical position which is mostly located in a warm zone, Peru has very variable climatic characteristics. This is due to the existence of the Pacific Ocean and the convergence of 2 maritime currents, whose waters reduce the thermal extremes typical of the Andean mountain range, which in turn forms protective barriers against the cold northern winds. In addition, once you travel to Peru, you will understand that the Peruvian Amazon rainforest is at the mercy of the humid and medium atmospheric currents of the Pacific Ocean.
Because of its location so close to Brazil and Bolivia, this Puerto Maldonado location is the perfect tropical getaway for those looking for an Amazon jungle adventure. These tours have many activities, places to visit, choose from a variety of lodges and accommodations. Many of them built in the middle of the jungle with rustic features and made of local materials that will offer great comfort for your stay in this beautiful place. The bungalows are spacious and offer many amenities from backpacker style cabins to more luxurious accommodations.
The region around Puerto Maldonado is home to two magnificent natural reserves where wildlife is more dense, the Tambopata National Reserve and the Manu National Park, in these places several species converge and can be visited as well as studied although with many restrictions because it is a protected area by the State.
We recommend the following most contracted tours for your trip through this beautiful place located within the Amazon Rainforest of Peru:
Eco Jungle – 3 Days / 2 Nights
General Description:
Enjoy the wonders of the Peruvian Amazon without the hassle of trip planning. This organized three-day, two-night small group tour from Puerto Maldonado takes you on a variety of rainforest tours, from a visit to Monkey Island to a zip-line ride and a visit with a family.
Travel through the Amazon rainforest on a multi-day tour.
Small group (Maximum 10 visitors): It will be a more personal and specialized experience.
You will see places full of biodiversity, such as Monkey Island.
You will learn about the local flora and fauna from your expert guide.
Operated by: Monte Amazonico Lodge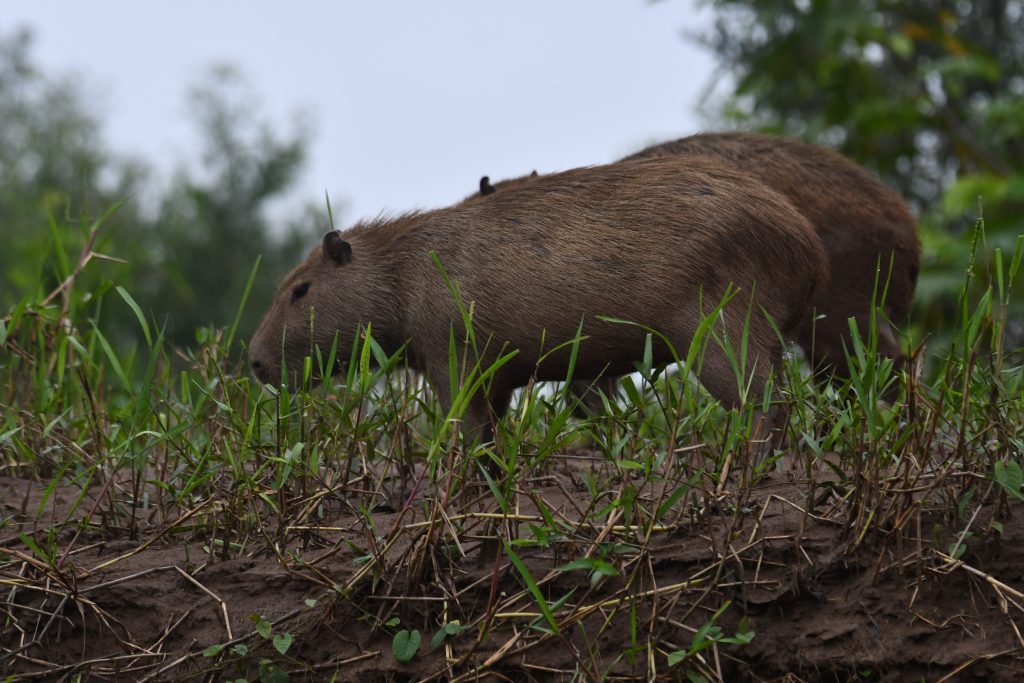 Tambopata Jungle Adventure Tour 4 Days
General Description:
Immerse yourself in the vibrant flora and fauna of the Tambopata rainforest on a 4-day adventure tour. There is no better tour for animal enthusiasts, with the itinerary offering possible sightings of sloths, monkeys, caimans and, if you're lucky, giant otters. The action-packed excursion also includes ziplining, piranha fishing, kayaking and a night hike. A guide is always available to provide commentary and point out interesting facts about the wildlife. Enjoy a small group of a maximum of eight people. Visit destinations that most tourists overlook. Have eight meals prepared with local supplies during the tour. Sleep comfortably in a lodge in the middle of the jungle.
Operated by: Palotoa Amazon Travel
3-day adventure in the Amazon rainforest at Hacienda Concepción
General Description:
Discover the natural splendor of the Peruvian Amazon rainforest on an exciting three-day tour of the Tambopata National Reserve from Puerto Maldonado. Enjoy comfortable and colorful accommodations at Hacienda Concepcion and immerse yourself in the unique jungle environment. Hike exciting nature trails alongside an expert guide, discovering diverse wildlife as you walk; navigate the secluded and serene Sandoval Lake in search of sinking birds; and ascend into the dense treetops on Inkaterra's pavilion walk tour, scanning the canopy for languid three-toed sloths. Discover the nocturnal nightlife on a sunset tour and enjoy the comfort of all-inclusive accommodations, food and transportation on this spectacular small group tour (numbers limited to only 8 people).
3 day ecological tour through the Peruvian Amazon jungle at Hacienda Concepcion.
Motorized canoe ride on the Madre de Dios River from Puerto Maldonado.
Visit Amazon streams and listen for nocturnal animals on a sunset river cruise Walk to Sandoval Lake and paddle a canoe in search of giant river otters, caimans and macaws in the Tambopata National Reserve.
Follow your guide on the Anaconda Walk over the lush marshland habitat Full meals, complimentary pisco sours and roundtrip airport transfers included.
Small group tour with a maximum of 8 people guarantees a personalized experience.
With only eight visitors and excellent activities for children at Hacienda Concepción, this tour is perfect for families.
Operated by: VIPAC Travel
Sandoval Lake National Preserve, hiking and canoeing in search of wildlife
General Description:
Canoe and hike through the Sandoval Lake National Reserve and Tambopata National Reserves on this full-day guided group trip. This trip departs daily at 8 a.m. and begins with a transfer from your hotel. You will spend time looking for animals, including monkeys and birds, that occupy this area. Explore both by water in the canoe and then take a nearly hour-long hike for a different perspective.
Book your stay at the variety of hotels in the area; see the list.
Stay safe in your canoe using the life jackets provided.
Enjoy an included lunch on the trail today.
Learn all about the area from your expert local guides.
Operated by: Charlie Pena