Month by month weather chart in Machu Picchu
Everything you need to know about the weather in Machu Picchu. Before traveling to any destination it is important to know the weather conditions of the place, to avoid unforeseen events and to make the best decision regarding the experience you are looking for. In the following article we will inform you about all the important facts you need to know before learning your fantastic trip to these wonderful ruins full of history of the Inca culture.
Weather in Machu Picchu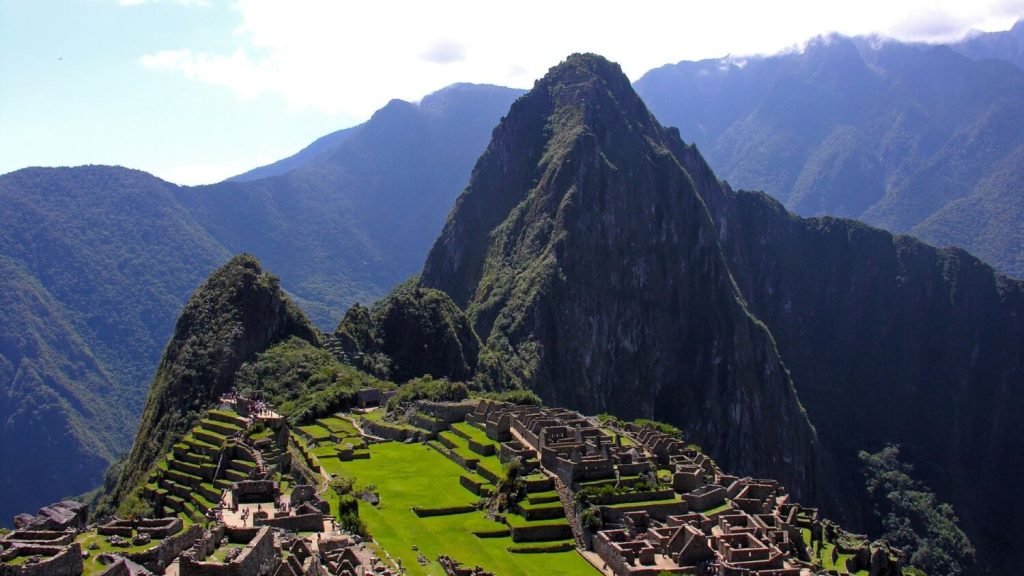 Located in the middle of the Andean rainforest in Peru is an incredible feat of ancient architecture. Machu Picchu is located within the Andes Mountains, high in the Sacred Valley and is characterized by a somewhat unpredictable weather, sunny winters and rainy summers are part of the general weather of these subtropical highlands.
Two other important factors are the proximity of the site to the equator and its altitude of over 2,430 meters. The average maximum temperatures throughout the year are quite constant and warm so it is not a risk to feel cold in the surroundings. Although this cannot be ruled out at all, when the month of May arrives the temperature drops significantly.
This place is also characterized by having more than 100 days of rain per year, the maximum annual rainfall is 1803.4 mm (71 inches). Most of the rainfall occurs from the months of October and November, until March. Occasionally thunderstorms pass through the mountainside and, although very rare, you should not be surprised if hail does fall.
One of the positive features is that during your visit to Machu Picchu you can enjoy 2,460 hours of sunshine per year, a very pleasant sun that allows you to enjoy your visit to the citadel, although you should always be cautious and protect yourself from overexposure. The dewy mornings tend to be characterized by thick fogs. As evening falls, the sun breaks through and illuminates the ruins. This tends to happen more frequently during the month of April, which precedes the local dry season.
Weather and Tips for your Machu Picchu Trip
Peruvian seasons vary as much as the landscapes of this diverse country. The temperature in Lima is not indicative of that of the Amazon jungle or the Andes Mountains. In fact, even the weather in Cuzco and the Sacred Valley is not an indicator of what you should expect in this area. So what is the best time to go to Machu Picchu?
The ultraviolet rays are much more powerful due to the high altitude, always remember to protect yourself with a good sunscreen (greater than 60 SPF), hat and sunglasses. Finally, although extreme temperatures are uncommon and the terrain is not too difficult, it is important to dress in several layers of clothing when cold weather is forecast and to wear good walking shoes, which are a must at any time of year. What is the best time of year to visit Machu Picchu?
When planning your ideal vacation it is important to know the weather in Peru. The best time for your Machu Picchu vacation depends entirely on your travel preferences and the experience you are looking for in this beautiful destination. In reality, each season has its own advantages and the perspective with which you make the decision to travel.
Rainy season in Machu Picchu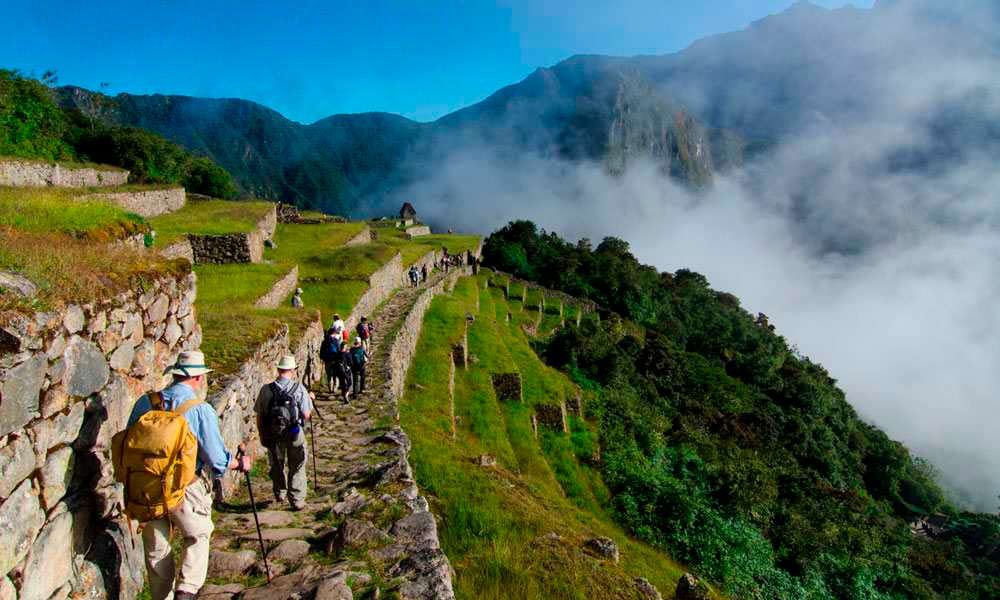 The rainy season in Machu Picchu occurs during the summer of the southern hemisphere, this happens between the months of December to March. The highest probability of rainfall, starting in January, coincides with the tourist season of lower attendance. Cloudy days can be misleading, as the sun's rays are still strong on your trip, it is advisable to always protect yourself in the best way against the sun.
December
December marks the beginning of summer here in the Machu Picchu area of Peru. Although it has the warmest temperatures, it is also the time when you may encounter heavy rains. Thunderstorms are always a possibility during the day, as the sky is prone to change from one moment to the next. You may be wondering, is it safe to visit Machu Picchu with so much rain? Not to worry, the answer is yes! The trails may become more slippery, although if you wear good walking shoes this should not be a problem. The only thing that could happen is that you will tour the ruins soaking wet.
December monthly averages:
Nighttime vs. daytime temperatures: between 13°C and 26°C (55.4°F and 78.8°F).
Precipitation: 121 mm (4.8 inches)
Humidity: 60%.
Daily sunshine 6 hours
UV Index 12
January
This month has the main characteristic of having cloudy skies in the early morning, these will later give way to warmer temperatures towards the last hours of sunshine. This can be useful when taking the perfect photo of the ruins. January's milder weather is interspersed with heavy rain and hazy horizons. Taking advantage of daylight is crucial, as it can be sporadically overrun by clouds in the afternoon and impair your view of the citadel.
January monthly averages:
Nighttime vs. daytime temperatures: 55°F and 77°F (12.8°C and 23.9°C).
Precipitation: 138 mm (5.4 inches)
Humidity: 62
Daily sunshine 5 hours
UV Index 12
February
Rain continues in the area to which Machu Picchu belongs as February averages around 20 days of rainfall. It may not be the best time to hike Machu Picchu, as wet trails and cloud cover is to be expected. But, it is important to remember that when they dissipate the sun will be very powerful and will suffocate visitors. Wearing appropriate clothing is important to protect yourself from its intensity and at the same time not to suffer from the immense heat. The Andean rainforest will offer you warm afternoons and humid nights, crazy weather but very cozy.
February monthly averages:
Nighttime vs. daytime temperatures: 55°F and 77°F (12.8°C and 24.9°C).
Rainfall: 5.6 inches (141 mm)
Humidity: 65
Daily sunshine 5 hours
UV Index 12
Important reminder – Although Machu Picchu remains open, the Inca Trail, which is an alternative trekking route by which you can reach Machu Picchu, is closed during the month of February due to annual routine maintenance along this route, in addition it is also closed because persistent rain can make the trail unsafe for travelers. It may not be the most popular time for your Machu Picchu hike, but you are in luck! While conditions remain safe, there are some alternatives to the Inca Trail that you can also opt for that will provide unique experiences such as the Inka Jungle Trek.
March
March is considered the rainiest month of the year in relation to the amount of rainfall that occurs during this month. Temperatures begin their slow decline during this period, while humidity maintains a higher heat index. If you decide to travel during this time, be prepared for cloudy skies that come and go during the day. However, once the skies clear, there is plenty of sunshine that illuminates the ruins of Machu Picchu. Like all months of the rainy season, March is beneficial if you are looking to avoid the massive crowds and long lines that will detract from your trip. You may get a little wet, but you will have much more free space while touring the site in addition to enjoying the pleasant green landscapes that are already beginning to show caused by the constant rains.
Monthly averages for March:
Nighttime vs. daytime temperatures: 55°F and 77°F (13°C and 25°C).
Rainfall: 151 mm (5.9 inches)
Humidity: 62
Daily sunshine 6 hours
UV index 12
Transition to dry season:
When precipitation begins to decrease, the weather in Machu Picchu changes dramatically, the saturated mountainside welcomes lush vegetation and much sunnier afternoons.
April
April is still considered a transition period, you will notice a noticeable decrease in the amount of rainfall in the Inca citadel. There are only 9 days of the month in which it will rain in the afternoon and into the evening. As the cloudiness reduces, you may feel like climbing Machu Picchu Mountain, a hike within the complex that offers a unique reward with its wonderful view of the citadel when one reaches the top. Although, you will notice an increase in other travelers doing the same hike as the peak tourist season approaches.
April monthly averages:
Nighttime vs. daytime temperatures: 54°F and 77°F (12°C and 25°C).
Rainfall: 62 mm (2.4 in)
Humidity: 61
Daily sunshine 7 hours
UV index 12
Dry season in Machu Picchu
The dry season in Machu Picchu coincides with the peak tourist season. Visitors flock to the flourishing mountain as the likelihood of rain remains minimal for the next few months and allows you to explore the ancient ruins with less inconvenience.
May
May is considered the entrance to the dry season here in the Peruvian Andes. You will notice that your days become much warmer and brighter, while the sunset brings with it cooler temperatures in the mountains, goodbye to the cold nights. There are many benefits of the recently passed rainy season. One of the best is the contrast between the emerald terraces and the colossal gray stones of the ruins. In addition, many days offer ideal conditions for your incredible hike up Huayna Picchu mountain.
Monthly averages for May:
Nighttime vs. daytime temperatures: 52°F and 77°F (11°C and 25°C).
Rainfall: 23 mm (0.9 inches)
Humidity: 57
Daily sunshine 8 hours
UV index 11
June
June is the driest month on average for your trip to Machu Picchu, with only 2 days of precipitation on average. Precipitation is at its annual minimum, so the chance of enjoying a clear day at the site is almost guaranteed. The afternoons are warmer and the nights are cooler, in short, the perfect weather. Although tourism starts to pick up in May, June is the month with the highest number of daily visitors. So, although the weather is more pleasant, you will share the experience with many more people who decide to take advantage of their mid-year vacation to visit this wonderful destination.
Besides June is an important date for the city of Cusco, it celebrates its anniversary and with it the festival of the Sun, or Inti Raymi, a festival that dates back to Inca times where this deity was worshipped; the streets are filled with music, there are many colorful shows and Cusco as well as Machu Picchu becomes a big party.
Monthly averages for June:
Nighttime vs. daytime temperatures: 48°F and 77°F (11°C and 25°C).
Rainfall: 17 mm (0.7 inches)
Humidity: 48
Daily sunshine 8 hours
UV Index 10
July
Considered the coldest month of the year, July is typically sunny during the day, which is perfect for sightseeing. However, the nights get cold quickly and are usually freezing, it is advisable to travel with several layers of clothing for the night. The weather in Machu Picchu can be unpredictable, so although it is not common, hail storms have also been recorded at this time of year. Also, don't be fooled by the increased sunshine. It is still advisable to wear layers of clothing, as well as hats for protection from temperature fluctuations.
July monthly averages:
Nighttime vs. daytime temperatures: 48°F and 77°F (9°C and 25°C).
Precipitation: 0.9 inches (22 mm)
Humidity: 45
Daily sunshine 8 hours
UV Index 10
August
August also falls within the winter season in the southern hemisphere. Rainfall is becoming less frequent. Warm days and pleasant sunshine are the norm. The effects of low humidity increase the likelihood of bright, clear views of the Machu Picchu ruins. It is the perfect opportunity to take the famous photo with the Huayna Picchu mountain towering over the ancient stones. This is considered one of the best times to visit Machu Picchu in terms of weather.
Monthly averages for August:
Nighttime vs. daytime temperatures: 10°C and 25°C (50°F and 77°F).
Rainfall: 0.9 inches (24mm)
Humidity: 43
Daily sunshine 8 hours
UV Index 12
September
This month is popular for having the mildest weather of the year, September continues the trend of sunny and partly cloudy days giving way to cool nights, without too much cold. Humidity within the Andean rainforest also begins to increase, bringing with it an increase in rainfall that you may notice. Along with this, thick fog spends more time enveloping Machu Picchu Mountain and there are times when it obscures its visibility by a large percentage.
Monthly averages for September:
Nighttime vs. daytime temperatures: 52°F and 79°F (11°C and 26°C).
Rainfall: 1.7 inches (44mm)
Humidity: 51
Daily sunshine 7 hours
UV index 12
Transition to the rainy season
After several months of decreased rainfall and drier weather, Machu Picchu will not look as lush and green as it did in April. However, like any other time of the year, this rainy season has its own advantages.
October
The call of the approaching rainy season becomes closer in October as the average rainfall almost doubles from the previous month. Skies remain cloud-stained while daily humidity increases considerably. However, the sun breaks through just enough to warm the afternoons and give cool nights. Not only does rainfall increase during this month, but the number of tourists also drops significantly.
October monthly average:
Nighttime vs. daytime temperatures: 54°F and 77°F (12°C and 25°C).
Rainfall: 75 mm (3 inches)
Humidity: 51
Daily sunshine 7 hours
UV Index 12
November
With the arrival of the rainy season, November does not skimp on unexpected early morning drizzle and cloudy skies at midday. Temperatures in Machu Picchu gradually increase as does rainfall. As the average number of visitors decreases, many businesses are hoping for a final push before the low tourist season. For those looking to travel on a tight budget, you might get lucky and find some good deals during these months.
November monthly average:
Nighttime vs. daytime temperatures: 55°F and 79°F (13°C and 26°C).
Precipitation: 86 mm (3.4 inches)
Humidity: 53
Daily sunshine 7 hours
UV Index 12
Helpful Hints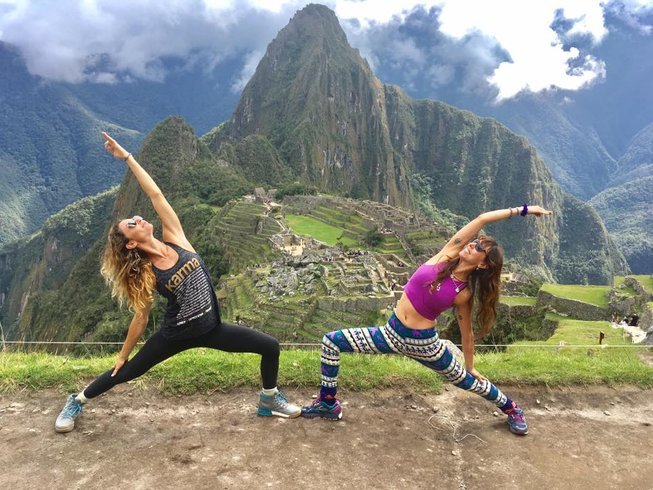 As with any seasonal change, certain months of the year are prone to more mosquitoes. Whichever month you choose as the best to visit Machu Picchu, remember to stock up on sufficient repellent in case they decide to attack.
Daytime and nighttime temperatures fluctuate throughout the year, regardless of when you travel. Dressing in layers, wearing a good pair of shoes, protective hats and sunglasses will ensure that you are prepared for all weather conditions and enjoy your visit without inconvenience.
A rain poncho is a must. Despite the exhaustive explanation of rainfall month by month, there is no guarantee of the weather you will encounter on this beautiful mountain. Remember that these are general guidelines and that Machu Picchu's weather does not always follow the rules and is rather unpredictable.
The dry season registers a peak of tourist activity, but also offers a higher probability of reaching the Inca citadel on a clear day. On the other hand, there is likely to be more rainfall in the rainy season. You will have more room to move around and explore the ruins at your own pace, without having to wait in lines or with overcrowded roads. However, the most important thing to remember is: There is no bad time to visit Machu Picchu! It all depends on your preferences. This UNESCO World Heritage Site. It will offer you a unique experience no matter what month you start your adventure, Machu Picchu awaits your visit!