Tambopata National Reserve is a gem for expedition and exploration enthusiasts within the Amazon rainforest. It is a must-see destination for Peru's fanatical travelers and nature and wildlife lovers from around the world. Follow us through this blog to learn more about the history, ecology and diversity of the Reserve.
What is the Tambopata National Reserve?
Tambopata National Reserve is composed of 274,690 hectares (1,061 square miles) of preserved and protected land in southeastern Peru. The Reserve has a wide variety of habitats, including lowland ecosystems of Amazonian rainforest, riparian forest and meandering rivers. Three rivers run through the reserve: the Malinowski, Tambopata and Madre de Dios.
Due to its status as a protected reserve and its protected location separated from civilization and its pollution, the biodiversity it possesses is incredible. The reserve is home to more than 1,000 species of butterflies, 100 species of mammals, some 600 species of birds and hundreds of species of trees and plants. In fact, this reserve and the surrounding region is one of the most biodiverse places on the planet.
In the Tambopata National Reserve, the following have been recorded
1200 species of butterflies
632 species of birds
180 species of fish
169 species of mammals
103 species of amphibians
103 species of reptiles
17 plant associations by forest type
1255 plant species
The Reserve and its surroundings also have their own cultural background. Originally home to the Ese Eja indigenous people, many indigenous families still have their homes in the buffer zone of the Reserve itself. Within the boundaries of the reserve, the only human settlements are a few ranger stations and our Tambopata Research Center lodge, known as the TRC. The TRC is in the Reserve because the lodge was established before the area received National Reserve status in 1996. This makes the TRC the most remote lodge in South America.
How was the Tambopata National Reserve created?
Since the 1990s, several biologists and conservationists began lobbying to protect the Tambopata area from urban development. They were passionate about preserving this area because it was (and is) one of the last and largest remaining areas of virgin rainforest. As such, Tambopata is one of the few areas that contains a wide variety of ecosystems such as lowland rainforests and foothill rainforests, which connect to higher altitude cloud forests and humid savannas. In addition, very few people lived in the more remote areas of Tambopata. Conservationists realized that the region could act as an important corridor between Manu National Park and the jungles of Bolivia. The area was also home to healthy populations of tapirs, jaguars and other felines, giant otters, harpy eagles, many types of macaws and other animals that had disappeared from other parts of the Amazon, making it vitally important to conserve and preserve the area.
Initially, the area that includes today's Tambopata National Reserve and nearby Bahuaja Sonene National Park was known as the "Tambopata-Candamo Reserved Zone" as a previous form of protection. Although the "reserved zone" status gave the area some protection, it left the window open to changes in land use, so the area remained at risk. Conservation organizations carried out further studies to help grant the area a more permanent protected status, which showed that protecting the region was extremely important for biodiversity and its conservation, and could work in conjunction with local cultures. These studies helped build a strong case for changing Tambopata's status from "reserved zone" to "national reserve", a more official and permanent protection. Thus, the Tambopata National Reserve was born.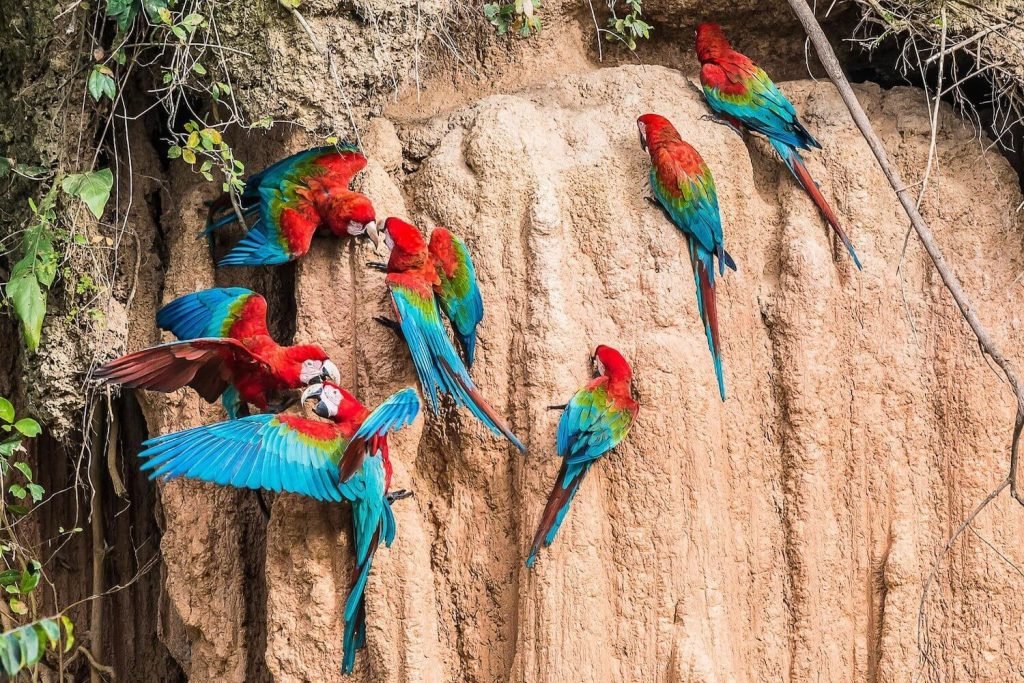 What else should I know about Tambopata travel?
Now that you are more familiar with the Tambopata National Reserve, perhaps you would like to know how to get there from your country or visit it during an adventure trip in Peru. You can book guided tours that will offer you this experience in an area of great biodiversity. Tambopata is a fascinating region with its own history, culture and ecology, the reserve is not the only and exclusive place with fascinating species to see, you can find a lot of information about it very easily.
Tambopata is seasonal, and has a great variety of lodges and tours, there are all kinds of accommodations for all types of travelers, many of these lodges are immersed within the Amazon rainforest and made with local materials with a rustic construction that will guarantee you the best experience to become one with nature.
Finally, Tambopata has become a top tourist destination for its natural beauty and the incredible biodiversity of the jungle, the great diversity of animals that you can see, photograph and even live with them is very wide and an experience not to be missed.