What shoes should I wear to hike the Inca Trail?
Hiking tip: Also, the most important thing about shoes for the Inca Trail is that they are worn and adapted to your walking shape and pace. Don't wait until you get to Cusco to buy a new pair of boots. Buy your hiking shoes a few months in advance and wear them on some training hikes.
Tennis shoes or sneakers are a poor choice of footwear for taking the Inca Trail route. Therefore, it is best to use shoes with a good grip for the sandy trails and the many stone steps you will encounter along the way. Another factor to consider is your comfort in terms of cushioning and ankle support. Wear suitable hiking boots or a good pair of trail running shoes, but most importantly, be comfortable in the shoes you are wearing, not brand new so that they are not blistering or too worn to lose grip and security.
A personal tip is to also buy a few pairs of good sport or hiking socks. You should never forget an essential pack of band-aids or medical plasters when you go hiking in case you get blisters, especially when you are wearing new hiking shoes.
Trail Running Shoes or Hiking Boots: Which is better for the Inca Trail?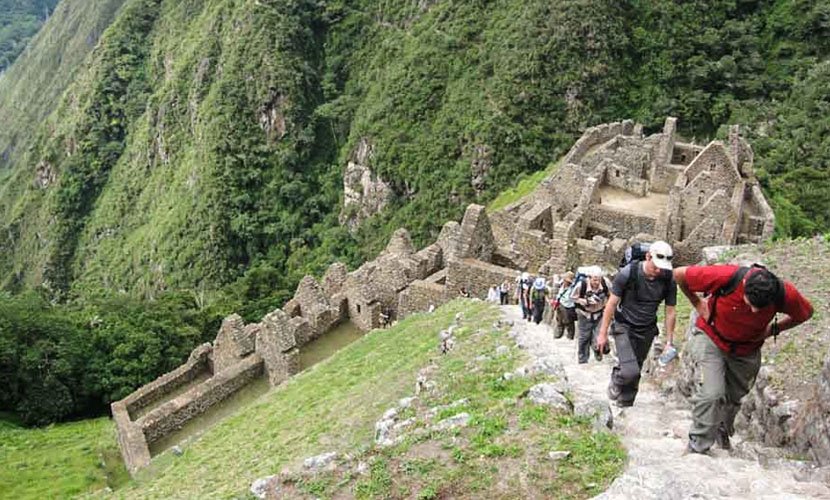 There was a time when heavy-duty boots were the only option for serious hiking. But those days are long gone. Of course, there are fantastic, modern, lightweight hiking boots out there. A pair of rugged boots is still the first choice for most hikers.
On the other hand, the market for trail running shoes is expanding all the time. These lighter-weight shoes are surprisingly comfortable for long, arduous hikes. They take up less space in the backpack and can be cleaned and adapted for walking around town. In addition, trail shoes have an equally good grip on rough terrain which is mainly the route you should expect along the Inca Trail.
Advantages of using classic hiking boots
There are several advantages of using classic hiking boots on the Inca Trail:
Offer good ankle support
Waterproof options available between models
Look aesthetically pleasing
Strong uppers are highly resistant to rock damage and snagging on the ground
Cons of classic hiking boots.
That said, there are some cons with wearing classic hiking boots on the Inca Trail such as:
They are significantly heavier than trail running shoes.
They do not offer good breathability
They only have a single function and are pigeonholed into this.
Usually need some care
Advantages of trail running shoes for hiking:
Just like classic hiking boots, there are some great advantages of wearing trail running shoes while hiking the Inca Trail are:
It is important to keep in mind that they are lightweight, during long treks they will not mean additional weight.
Multifunctional, they adapt to various needs.
Good breathability, your feet will thank you for it.
Easy to care for and some are even machine washable.
Cons of trail running shoes for hiking
That said, there are also some disadvantages of wearing trail running shoes while hiking the Inca Trail such as:
They are not waterproof, they will not adapt to rainy climates.
The uppers are more easily damaged so you have to walk carefully on rougher terrain.
Not all models will offer you ankle support for all those stairs you'll have to deal with on the Inca Trail.
What to look for in footwear for the Inca Trail
Whatever type of footwear you choose for hiking the Inca Trail, there are a few things to keep in mind:
Durability
Fit
Ankle support and waterproofing
Durability
First of all, hiking boots or shoes should be durable. In South America, imitations of well-known brands abound. It is best to buy good quality boots or shoes at home or from a reputable store where you know you will be sold original manufacturer quality footwear. Your footwear should also have good stitching, strategic padding and a thick sole (with good grip), which are all important for Inca Trail trekking.
Fit
Just as important as quality is fit. After going through dozens of hiking boots and trail running shoes, I can attest that not all shoes of the same size fit the same. Therefore, your first option should be to go to the store and try on the pairs yourself and thus make the right decision with sizing. Make sure you walk around a bit to get an idea of how they feel on the move, the most important thing is your comfort.
If you really have to buy shoes online for the Inca Trail, measure your feet carefully (width and length). Compare size charts and read ALL product reviews. The arch and heel height of the shoe make a big difference in walking comfort.
Ankle support and waterproofing
A good Inca Trail boot should also offer ankle support. This is especially true if you are susceptible to ankle injuries. So it is important to keep this feature in mind on this specific route as you will have to climb large amounts of stairs that are not easy to navigate and good ankle support will simplify the hike.