The Poroy train station is an important starting point for the vast majority of travelers who will visit Macchu Picchu, it is located in the district of Poroy, department of Cusco.
A place that preserves all the culture and tradition of Cusco, offering visitors a spectacular natural landscape, decorated with adobe houses, which maintain the style of ancient Andean civilizations. This district is located at 3499 meters above sea level and is known for its religious spirit and the incredible production of handicrafts that can be found in the town's market.
Location of Poroy Station
Poroy is a district near Cusco that is 10 minutes from downtown and this has one of the most important train stations that goes to the station of Machu Picchu, located in the district of Machu Picchu Pueblo from there, buses are used to reach the wonderful fortress of Machu Picchu.
Poroy Train station is located approximately 20 minutes from the center of Cusco and most tourists arrive there by bus, cab or private transport service.
To travel from the station of Poroy (Cusco) to the other train station in Aguas Calientes in Machu Picchu we recommend buying the tickets in advance at www.perurail.com. Train tickets can also be purchased at the ticket office in Poroy (Cusco) station, but no later than 30 minutes before departure. Payment can be made by credit card, debit card, or cash (soles and US dollars are accepted).
Know all the details about PeruRail's train service. Also, in the section "Choose a category" you can see the station service by season and schedule.
From Poroy station (Cusco) to Machu Picchu station
A trip from the station of Poroy (Cusco) to the station of Machu Picchu takes approximately 3 hours and 30 minutes. The station of Poroy (Cusco) is open from May to December and usually closes around January to April, due to weather conditions. During these months, reinforcement work is done on the railroad tracks and, for safety reasons, to avoid possible contingencies as a result of landslides, PeruRail manages the Bimodal Service (Bus + Train).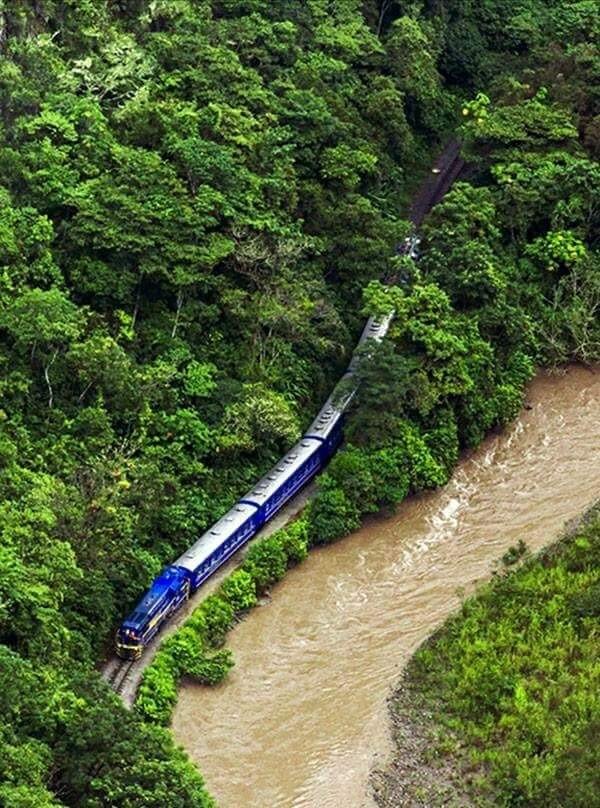 During this period:
Passengers who use the bimodal services of PeruRail Vistadome and PeruRail Expedition board a private bus at the station of Wanchaq, 5 minutes from the historic center of Cusco, and arrive at the station of Ollantaytambo arriving in two hours. From this train station, tourists board the train to their final destination: Machu Picchu Station. The return trip is the same in reverse.
Passengers using the Belmond Hiram Bingham bimodal service board a private bus at the Wanchaq station, 5 minutes from the historic center of Cusco, and arrive at the Belmond Río Sagrado Hotel. From this hotel, they will take the Belmond Hiram Bingham train for the trip to Machu Picchu station. On the return journey, passengers are dropped off at their accommodation in Cusco city center.
The train called Belmond Hiram Bingham runs every day from Monday to Sunday except the last Sunday of each month.
Dare to unfold an adventure in Machu Picchu leaving from Poroy station and enjoy the beautiful landscapes towards this Inca sanctuary.
I am founder and content creator of Lorenzo Expeditions, since 2006 I started with the Inca Jungle tour, guiding and serving thousands of tourists in a personal way to get to know Machu Picchu in a unique and authentic way.