Maras Salt Mines: Everything you need to know
The amazing Maras Salt Mines have been producing this necessary mineral on a massive scale for over 500 years, even in times before the Inca Empire! Here's everything you need to know if you want to visit this iconic site in the Peruvian highlands.
Located just an hour from Cusco, hidden within the Sacred Valley, are these surreal salt ponds, known as Minas de Sal de Maras, or locally as Salineras de Maras.
Composed of more than 3,000 ponds, owned by 600 local families, they make up the picturesque Maras, all connected through an impressive subway network of canals that fill these saltwater pools. Over time, the intense sun slowly evaporates the water, leaving behind the salt that is then extracted using ancestral techniques by local family members.
History of the Maras Salt Mines
According to historians very little is known about these pre-Inca salt ponds. Evidence suggests that the salt mines were built somewhere between 500 and 1100 A.D. by the Wari civilization. By the time the Incas gained control of the territory, they saw a great opportunity in the mines and began to oversee production. However, the ownership and management of the ponds were given to different families living in the nearby community, who still retain full control of their ponds having passed from generation to generation until present times.
Salt was a very important mineral for the Inca empire. All that was extracted from the salt ponds was used for human consumption, livestock and other uses such as food preservation and even human mummifications.
Salt production
Today, salt production has not changed and remains exactly the same as it was 500 years ago. Each pond measures approximately 14 square feet (35 square meters) and many vary in shape. When the ponds are full of salt water, the stream is closed. Once the water evaporates, the remaining crystallized salt is carefully extracted with shovels and wooden rakes by local family members in charge of the harvesting work. Once it is all extracted, the streams are opened, the ponds are filled with salt water and the process is repeated again.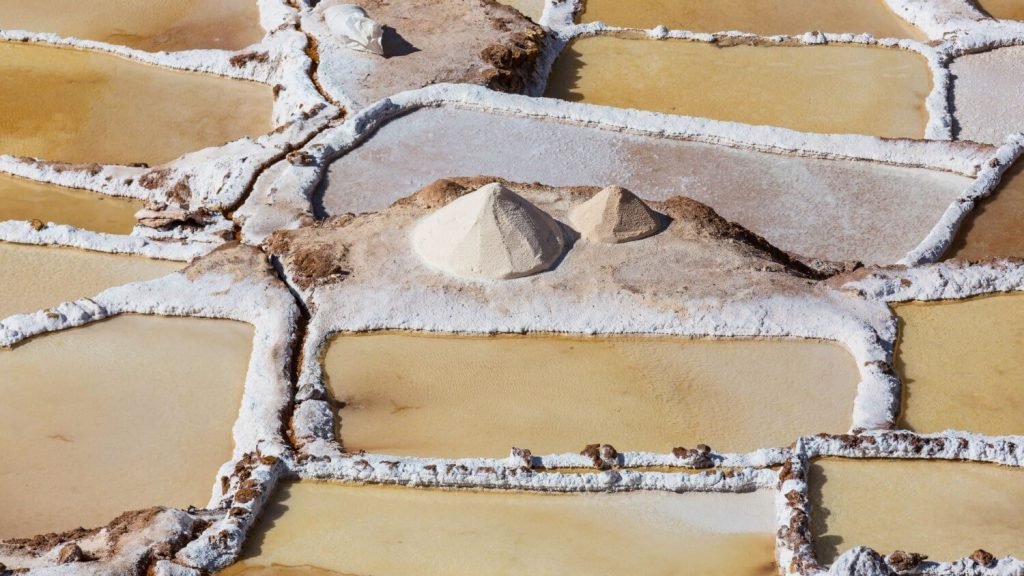 How to get to the salt mines of Maras
Located approximately 32 miles from Cusco, there are several ways to get to the Maras Salt Mines:
With a tour
The most popular way is with a tour. Most options pick you up directly from your hotel/hostel in a private minivan and usually combine the excursion with a visit to the nearby ruins of Moray. On the Maras excursion, you will enjoy a visit to the salt mines with an expert local guide who will teach you everything there is to know about Maras. Once you have taken stunning photos and perhaps purchased some of the different salts as souvenirs from the local store, you will be taken back to your hotel/hostel back in Cusco city.
If you want to spice up the excursion a bit more, there are fantastic ATV tours to Maras and Moray. You will have a more adventurous experience touring the Sacred Valley until finally arriving at the salt mines for your guided tour.
Local transportation
If you wish to go on your own, as the locals would do, there are a few more steps to take. From Cuzco, you can take a colectivo (shared cab) to Urubamba, you must inform the driver that you are getting off in Maras. Although the colectivos "fix" destination points, sometimes you can ask the driver to let you off in between. Once there, take a 15-minute cab ride to the salt mines.
Taxi privado
Finally, there is the option of hiring a private cab driver to take you to the site, wait for you while you explore the salt flats and then take you back to your initial destination. Although this has the advantage of going at your own pace, it is the least popular way because it is more expensive.
Summary
The Maras Salt Mines are a must visit in Cusco. Its beauty is breathtaking, and we are sure you will leave with more than one bag of salt, it is a very pleasant experience for visitors and is a cultural icon of the vestiges of the Inca tradition, a destination that can not miss on your list.