It is common to think that the Inca Trail is very easy to hike because thousands of people of all ages hike it every year, but the truth is that it is not a simple hike, and now we will explain why. You should keep in mind that it won't be enough to just get off the couch, fly to Peru, put on some good hiking boots and get going. There are a few things you should know before you hike the Inca Trail to Machu Picchu.
First of all, if you're reading this, you're probably planning to take on Peru's most famous high altitude trekking route. This route is definitely considered exciting, as it could also be the moment you make the decision to head out on the adventure of a lifetime. Secondly, to make it clear from the beginning, the Inca Trail is not easy. This is a route that will demand a lot of effort and above all that you are in very good physical shape. Considering the totality of the route to be covered, the distance of the Inca Trail is about 26-28 kilometers, more or less the distance of a marathon, but in complicated conditions due to the geographical environment.
That said, there is no doubt that people of all ages and abilities manage to hike the Inca Trail every year. It is even commonly completed by people over seventy years old. If they can do it, so can you. The only thing you need to do is to prepare properly before you start, and follow the advice we will give you below.
What you should know to tackle the Inca Trail
Trekking routes that are at altitudes above 2,500 meters above sea level are considered high altitude trekking routes. Cuzco, the city located in the South American country of Peru, from which you will start the Inca Trail, is located at 3,400 meters above sea level. The Inca Trail is a high altitude trekking and, at higher altitudes, the body starts to behave differently because while at higher altitudes oxygen starts to be lacking and bodies that did not experience this previously often feel sick.
Also, at higher altitudes, the air is less dense and breathing becomes more complicated. Basically, you are likely to notice that your heart beats a little harder, that you become short of breath a little faster and that you get tired sooner than usual after exercising. Our priority should always be to avoid altitude sickness or also known locally as Soroche. The main symptoms experienced during this malady are headaches, nausea, loss of appetite and excessive tiredness. Once you are in this situation, it is time to stop exerting yourself and rest; ignoring the symptoms of altitude sickness can lead to serious health complications. However, altitude sickness can be prevented and controlled, there is nothing to fear if you act with caution.
Preparing for the Inca Trail: Climate and Health
The climate must also be taken into account. Peru is a warm and sunny country, so during the day temperatures on the Inca Trail are usually around 20 °C (70 °F). If you are there during the wet and rainy season (approximately mid-October to mid-April), conditions are warmer, more humid and rainy. The flip side of the warm days is that it is bitterly cold at night. Keep in mind that the way to spend the night along the Inca Trail is in campsites and tents at specific locations along the trail and that, by nightfall, the temperature can drop to zero degrees, so you will need layers of warm, thermal clothing to make it through the night warm and comfortable.
An upset stomach is a condition that does not distinguish between any person, it could be something you ate, bad water, or even nerves, excitement or euphoria. With this in mind, you should carry enough toilet paper rolls to stock up on during your tour. It is also worth carrying anti-diarrhea tablets, just in case.
Is the Inca Trail complicated?
The Inca Trail to Machu Picchu is not an easy hike. It is a trail of more than twenty-six miles, with steep climbs and descents, numerous strenuous "stairs" built centuries ago by the Incas themselves, uneven terrain that is difficult to negotiate, patches of cobblestones, and challenging curves. Despite all this muddle your reward will be to observe some of the most breathtaking natural and historical sights on the planet.
It should be noted that, although it is not a walk in the park, the Inca Trail is not a trek of exaggerated difficulty. No special skills or equipment are needed to complete it and, as long as you are in good physical shape, you will not have major inconveniences traversing this route; it is rare that someone is forced to abandon the Inca Trail does not usually happen. That said, you will find it difficult, tiring and a little hard in some sections but if you have good preparation, this trail will not mean much discomfort, and the reward you will get at the end when you enter the historic citadel of Machu Picchu through the Sun Gate, will be one of the most rewarding feelings you will experience in your life.
Alert
The part that most people consider the hardest is during the second day of trekking when you cross the highest altitude point on the route: the charmingly named "Dead Woman's Pass". Here you'll reach an altitude of almost 4,200 meters, with a lung-busting ascent in no time thanks to a lung-busting staircase. Once overcome, the rest is a much quieter descent. In any case, a little less tiring.
Don't forget that any challenge you face while hiking the Inca Trail will be more than rewarded by the sense of accomplishment you will feel and the awe and wonder you will experience when you finally see Machu Picchu with your own eyes.
How do I prepare to hike the Inca Trail?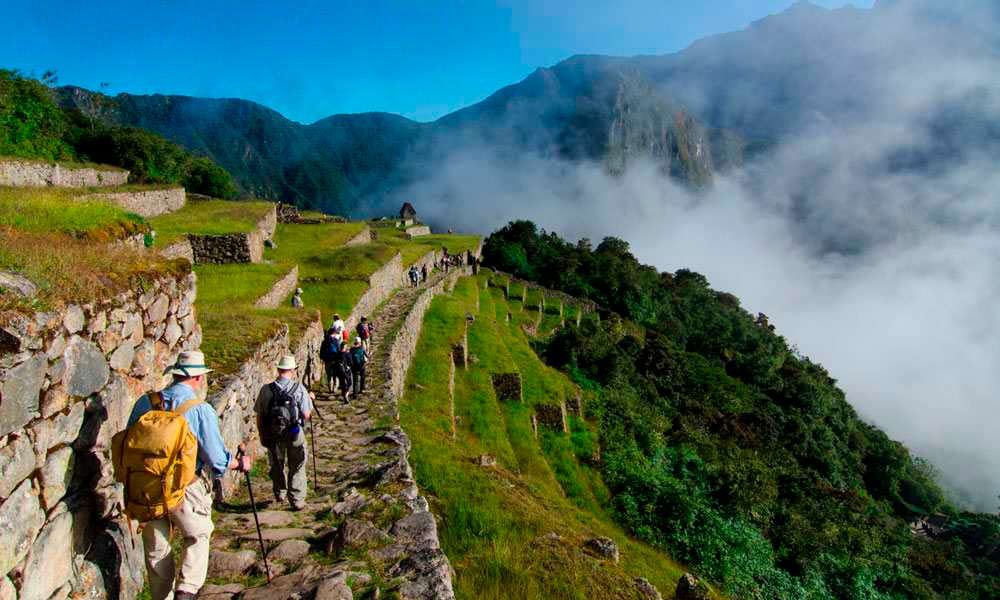 On a typical four-day Inca Trail trek you will have to walk about ten to twelve kilometers per day over terrain complicated by the geographical features of the area. Before leaving for Peru, you can start by increasing the length and difficulty of your hikes at home. Do hikes that include several ascents and descents, and carry a full backpack on your back and it will be enough to cover this distance.
What you are looking for is to increase your overall strength and endurance (put your leg muscles to work!) and to be able to cope with the lower oxygen levels at high altitude (for this it is highly recommended to acclimatize very well before taking the route, spend a few days in Cusco City and its high altitude until your body gets used to it and you will not be inconvenienced during your trek). This means it's time for aerobic exercise: jogging, running, cycling, walking or swimming regularly in the months leading up to your trip to Peru will help you manage oxygen when air is at its most scarce.
Each workout should leave you feeling like you got a good workout, maybe panting a little, but not rolling around on the floor desperately panting. If that happens, you're pushing your body too hard. In any case, keep up the exercise for a decent period of time and you'll be fit for Peru.
By the way, while you're doing those practice hikes, it's worth breaking in your new boots if you've bought them, so they'll be comfortable when you're on the Inca Trail. No one likes blisters when using new footwear for long distance hiking.
Arrival day and acclimatization in Cusco
So you've gotten in shape for the Inca Trail, and you've just landed in Cusco before your trip, here's what to do next.
Our best advice is to relax, take a couple of days of relaxation in the city of Cusco or in the Sacred Valley of the Incas, both of which are excellent tourist destinations and are located at significant altitudes to help you with your acclimatization and let your body get used to the change of atmosphere. Here are some things you should do to help yourself in this process. Avoid alcohol in large proportions (do not have excesses), focus on your breathing and breathe more deeply than you normally would, stay hydrated and do not overexert yourself.
As an additional recommendation coca leaves and coca tea can be purchased throughout the city of Cusco, many use them to combat altitude sickness because of its property to help better assimilate oxygen into the blood. You should also take painkillers (aspirin, paracetamol or whatever) for headaches and probably some medicine against nausea, just in case.