Is it possible to reach Humantay Lake from Aguas Calientes?
It is technically possible to go from the town of Machu Picchu (Aguas Calientes) to the Humantay lake. However, it is the reverse route from Salkantay Trek to Machu Picchu.
The difficulty is quite high and there are no tour operators that do this route that would require at least 4 days of walking, making camps at night. The altitude to face is from 2093 m (Aguas Calientes) to 4600 m (Salkantay Pass).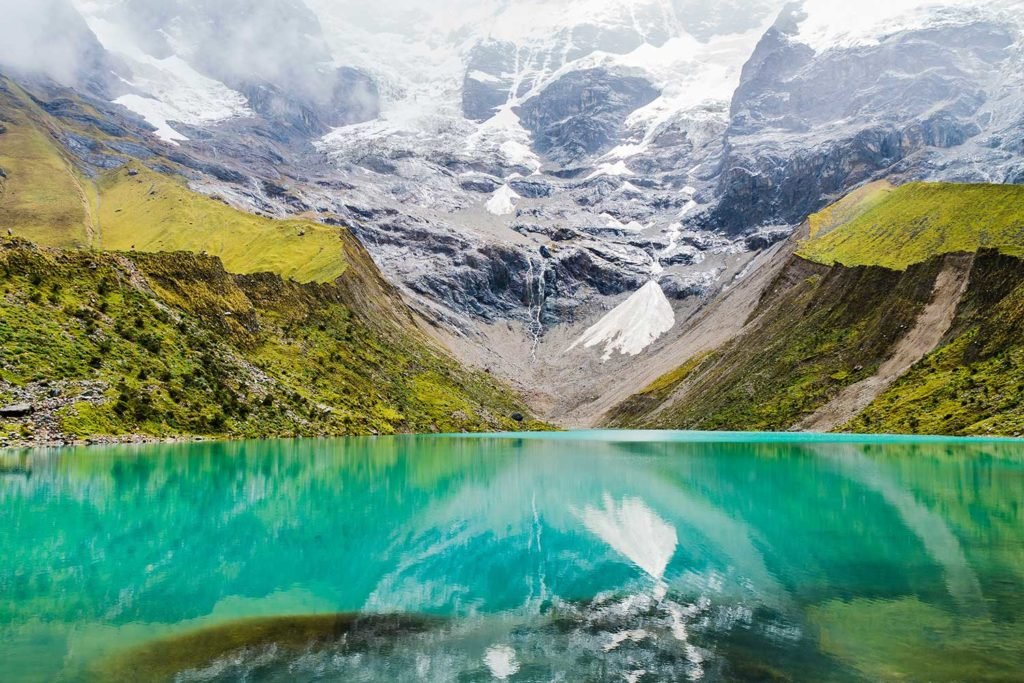 Humantay Lake
In the Vilcabamba mountain range, at the foot of the Humantay mountain, is the fascinating lagoon of the same name, at an altitude of 4484 m. or 14711 feet. The Humantay mountain is one of the highest in the Cusco region (5910 m or 19389 feet), which in recent years has become the destination of hikers visiting southern Peru.
To reach the Humantay lagoon, of glacial origin, one must go from the city of Cusco to the town of Soray Pampa, which is located at 3,900 meters above sea level, near another spectacular mountain: Salkantay . Then, you must take a walk of approximately 2 hours through a high Andean road where you can observe multicolored landscapes in which the local cultivated areas predominate and harmonize with the snowy peaks.
from Soraypampa
The Incas worshipped the mountains as protective gods and called them "apus". Apus Salkantay and Ausangate are the same as brothers, each has his family, the wife of Apu Salkantay is the mountain Veronica, their children are the (mountain Humantay or Tukarhuay) younger son and the (Yanantay or Coyllur) younger daughter.
There is not much difficulty to do the hike. The trip to Soray Pampa, starting point of the hike, is by bus. When you arrive at this place you start walking around 1.8 km. The distance is short, however the slope goes from 3900 m. to 4484 m. (Beware of soroche, altitude sickness) It is necessary to stop continuously to breathe. To arrive at the lagoon of Humantay takes from 2 to 4 hours round trip from Soraypampa.
I am founder and content creator of Lorenzo Expeditions, since 2006 I started with the Inca Jungle tour, guiding and serving thousands of tourists in a personal way to get to know Machu Picchu in a unique and authentic way.