Throughout the year millions of people visit the imposing and mysterious Inca citadel of Machu Picchu in Peru. But getting to the enormous agricultural terraces, intricate stone constructions and epic views from the top of this UNESCO World Heritage Site citadel in the mountains is not cheap, and involves more complicated logistics than usual. Here's how to get to Peru's most famous destination.
When to go to Machu Picchu?
Machu Picchu is open all year round. October to April is the official peak rainy season, but due to the location and climate in the rainforest it can rain at any time. Although the peak tourist season is during the months of July and August, you should always expect crowds, not for less we are talking about a wonder of the modern world. Sundays can be the busiest, because that is when free admission is allowed to local people of the province of Cusco, plus the daily quota is 2,500 paying visitors.
How to acclimatize to the altitude?
It is likely that the place you are coming from is at a much lower altitude than the city of Cusco (3,000 meters) or Machu Picchu (almost 2,000 meters). Unless you have booked a trip to Machu Picchu that requires an overnight stay in Cusco, we recommend that you immediately take the train from Cusco to Aguas Calientes (officially called Machu Picchu Pueblo), the town located at the foothills of the mountain that houses the Inca citadel. Spend a night or two feeding at the relatively low altitude of Aguas Calientes, at about 1,600 meters, and then explore Machu Picchu before returning to Cusco.
You can also spend time elsewhere in the Sacred Valley, which, by nature, is lower in altitude than the surrounding mountains. This will help minimize the unpleasant or even dangerous effects of altitude sickness, which often include headache, fatigue and nausea. Avoid excessive alcohol consumption and excessive physical exertion while acclimatizing and drink plenty of water or coca tea, a traditional Cusquenian drink that can help with the discomfort of altitude sickness, being well hydrated helps significantly to lessen the effects that can force you to have bad experiences.
Although you should not be too afraid of this discomfort, it is always good to be cautious and take appropriate measures so that your experience is not disturbed by these contingencies, if you have a few days prior to your visit to Machu Picchu do not hesitate to enjoy a few days in the city of Cusco, which despite being located at a high altitude, the climate is pleasant and has a lot of tourist destinations that will nourish your experience where you can soak up culture of great interest about this historic South American city.
How to get from Cusco to Machu Picchu
The easiest way to get from Cusco to Machu Picchu is to take the train to Aguas Calientes. It is a magnificent journey in all the splendor of the word, and depending on the comfort you seek for your train you can enjoy even more of this experience that lasts approximately 3.5 hours on the tracks that border the Urubamba River in the Sacred Valley, you will not regret the spectacular visuals that appear dreamlike landscapes.
Some tips about the train
Cusco's train station is located in the nearby town of Poroy. The entaxi ride is cheap, but you should allow at least an hour to get from the city center to the station. Traffic in Cusco can be brutal and the endless road works make it even more congested.
There are three train companies to choose from: Inca Rail, Peru Rail and Belmond Hiram Bingham. The Hiram Bingham service is on a magnificent brass and polished wood train that includes a unique culinary experience during the journey. It is also much more expensive than Inca Rail or Peru Rail, which offer comfortable passage on different types of trains, including trains designed with panoramic windows for slightly more expensive fees.
Whichever train you choose, book as far in advance as possible. In some months, tickets sell out weeks in advance due to high visitor turnout.
If train tickets from Cusco are sold out, all is not lost. Try to buy a ticket to Aguas Calientes departing from the town of Ollantaytambo, in the Sacred Valley, or vice versa. Cabs and minivans are plentiful between Ollantaytambo and Cusco (just over an hour each way). If you have time, plan to spend the night in Ollantaytambo to visit the town, which still preserves many streets and buildings built by the Incas, as well as the archaeological complex of the same name. Arrive as early as possible to enjoy the sunrise light and get ahead of the tour buses.
You can also stay overnight in the town of Urubamba, a 20-minute drive from Ollantaytambo, which has numerous luxury and boutique hotels, such as Tambo del Inka, a Luxury Collection Resort & Spa; Sol y Luna, Relais & Châteaux; and Aranwa Sacred Valley Hotel & Wellness and give your stay all the comfort it deserves.
Trekking to Machu Picchu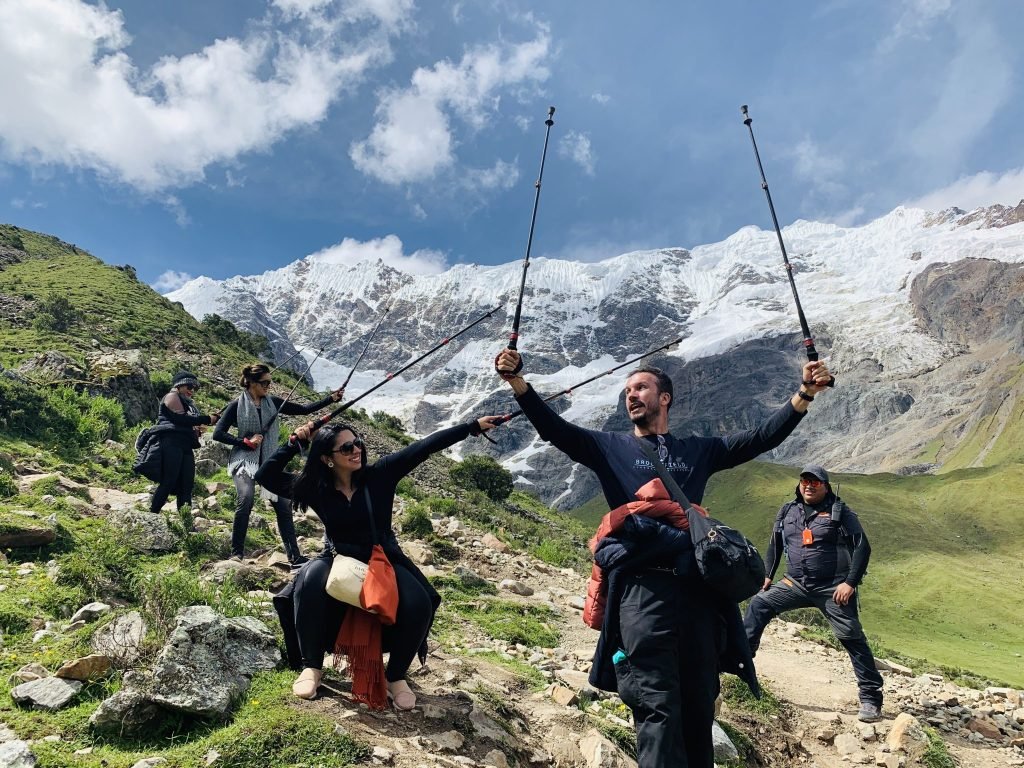 The other way to get from Cusco to Machu Picchu is by walking as part of organized treks that consist of several days trekking to Machu Picchu. Thousands of people trek to Machu Picchu every year. Here we explain how.
The most famous way to reach Machu Picchu is along a stretch of one of the hundreds of roads that the Inca empire built as it expanded along the Tahuantinsuyo, this network of roads is called Qhapaq Ñan (translated as main road). Dozens of tour agencies offer excursions along the Inca Trail to Machu Picchu, with different durations and accommodations (although all require camping). Please note that the Inca Trail leading to Machu Picchu is closed during the entire month of February each year for road maintenance.
For those who want a less crowded experience or want to see and experience other aspects of Peru on their way to Machu Picchu, there are several hiking alternatives: the second most popular way to reach Machu Picchu is by going around the great mountain of Salkantay, one of the most iconic peaks of the Peruvian Andes, at 6,000 meters high. Many tour companies offer excursions ascending Salkantay Mountain, but Apus Peru, a well-established and well-regarded Cusco tour company focused on sustainable and responsible tourism, offers an express excursion, which cuts a day from the normal itinerary for those who wish to push their physical limits on their way to Machu Picchu.
Travelers interested in archaeology should consider the Choquequirao route with an extension to Machu Picchu. This itinerary includes a spectacular (but very tough) hike through the rugged Apurimac Canyon and exploration of the Choquequirao archaeological site before reaching Aguas Calientes and exploring Machu Picchu.
Mountain Lodges of Peru's Lares Adventure offers a perfect combination of Andean trekking and cultural encounters with Quechua communities before reaching the town of Aguas Calientes to explore the citadel. Other tour companies offer treks through the Lares region, but only this itinerary includes luxury accommodations in their own lodges and full service along the way.
The Inca Jungle Trek combines hiking, biking, rafting and zip-lining on the way to Machu Picchu, this is an ideal and recommendable option if you are looking for a much more entertaining and adrenaline adventure with outdoor activities and living with nature along different landscapes of the Andean rainforest, the company Lorenzo Expeditions E. I.R.L. is the creator of the route and through 18 years of experience offers the best experiences in adventure and trekking with the guarantee that the visitor will enjoy the adventure of a lifetime.
You can also go by car (most of the way) to Machu Picchu from the city of Cusco to the village of Hidroeléctrica (around this place there is a hydroelectric plant). From there you have to take a three hour hike to Aguas Calientes and then to Machu Picchu. Many tour companies in Cusco offer this route in private vans for one or two days.
Machu Picchu: Tips for the visit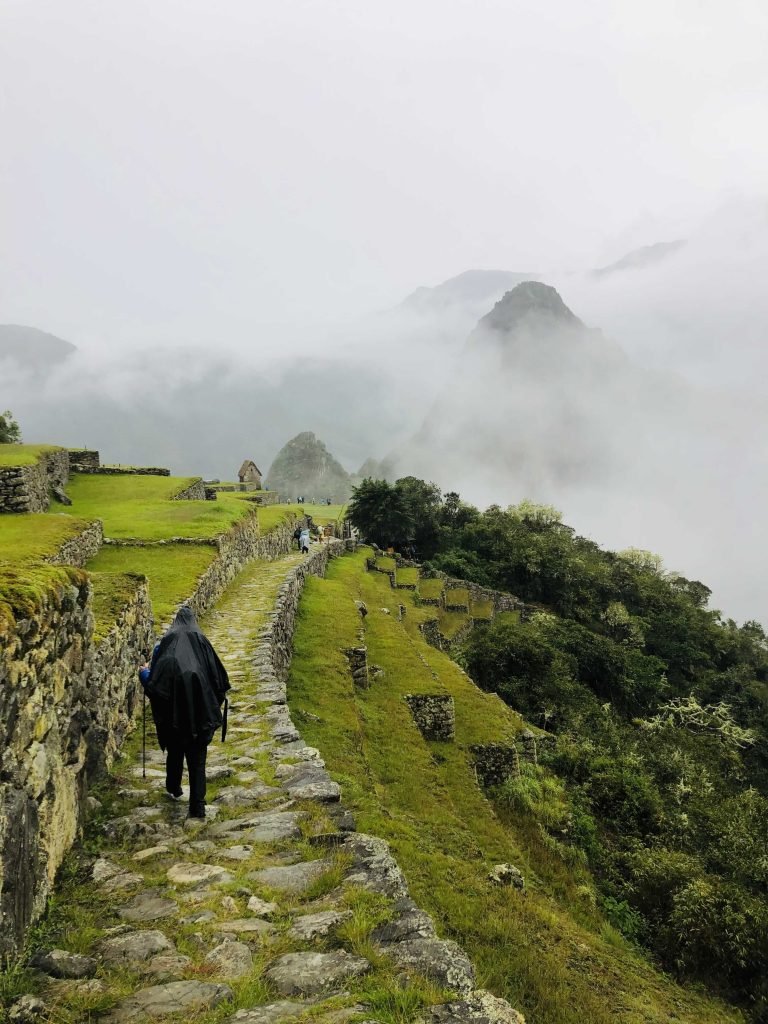 Tickets: You can purchase your tickets for the wonder from the state website although you should note that you will be required to hire a local guide before entering the site. (There will be many waiting at the gates of Machu Picchu.) If you book a tour package through a tour operator or hotel, entrance tickets should be included, although you should always check if it is this way. As of 2019, all entrance tickets are timed, allowing entry on time, and you are allowed to stay at the site for up to four hours.
Bring: water and a poncho for the rains, although it looks like a nice sunny day, the weather is unpredictable here. And speaking of sun, remember that the ozone layer over Peru is compromised. That, combined with the altitude, makes the sun extremely strong here, so wear a hat and use plenty of high SPF sunscreen. Insect repellent is also a must. And carry some one sol coins in your pocket. You will need them to access the only restroom at the entrance to the site. To go to the restroom or buy food, you will have to go out the door, so carry your passport and ticket. You will need to show both to re-enter the citadel.
Do not carry: Drones, umbrellas or trekking poles as all are prohibited in MachuPicchu. Travelers who need sticks or poles for mobility can bring them, but only if they have protective rubber tips on the ends.
Don't get lost: Just outside the entrance gates, there is a station with poor signage where you can get the Machu Picchu stamp in your passport, if you can't find it ask about it.
Bus: You can take a very steep 90 minute hike to the citadel from the town of Aguas Calientes or you can take a 30 minute bus. You will have to buy the ticket at the ticket office in the town of Aguas Calientes, although you can do it the same day of the trip. Buses leave approximately every 15 minutes starting at 5:30 a.m., and people start lining up much earlier. The queues to get on will be long in both directions.
Avoid the crowds: When you arrive at the Citadel, steer clear of the crowds heading for the main structures and head for the Keeper's House. This is an area slightly above the main part of the compound and is usually less crowded as people rush towards the heart of the compound. Stop here to enjoy the beautiful view of the citadel and get your bearings for the next step on your tour.
In the morning or in the afternoon? There is no perfect time to visit Machu Picchu; nowadays, the site is crowded at all hours and the weather is unpredictable. However, during the rainy season mornings are more likely to be cloudy and the view obstructed. Depending on how you take it, the fog can either ruin your visit or add a complexion of mystery. Afternoons may be somewhat less crowded, as hikers will have to return to the train station to return to Cusco.
Huayna Picchu Peak: You will need a separate ticket to climb this peak located in the complex, and you will need to book it in advance: there are a limited number of tickets per day. The view of the Inca ruins is a highlight for many, but be aware that some sections of this strenuous trail are very narrow and steep, making it difficult to climb. You will have the option to start climbing at 7.00 or 10.00. Choose 10:00, as there is a better chance that the clouds will have dissipated by that time.
Machu Picchu Mountain Peak: This also requires a separate ticket – and good knees.The trail is almost entirely stairs and parts narrow and steep. You will have the option of starting your ascent at 7 a.m. or at 9 a.m. It is a bit more challenging than Huayna Picchu peak but much more rewarding when you reach the top and the view will make it all worthwhile.
Free Citadel Hikes: Although both Huayna Picchu and Machu Picchu Picchu require entrance fees and additional costs, anyone can hike to the Sun Gate (about two hours round trip on a relatively quiet trail with few stairs) for fantastic views of the entire site. You can also make the short hike to the Inca Bridge (less than an hour round trip on an almost level trail) to see a precarious stretch of trail, part of the Inca Trail, which the Incas built along a rock face.
Guides: Guides are necessary at Machu Picchu, whether you are on an organized touror traveling independently. Hire one outside the gates or make a reservation in Aguas Calientes.
Stay for lunch: There is a cafeteria and a bar with a lovely terrace just outside the entrance gates, but the Sanctuary Lodge's buffet lunch is your only restaurant option. It's very good and recommended if you're willing to pay the price.
Tips for traveling to Aguas Calientes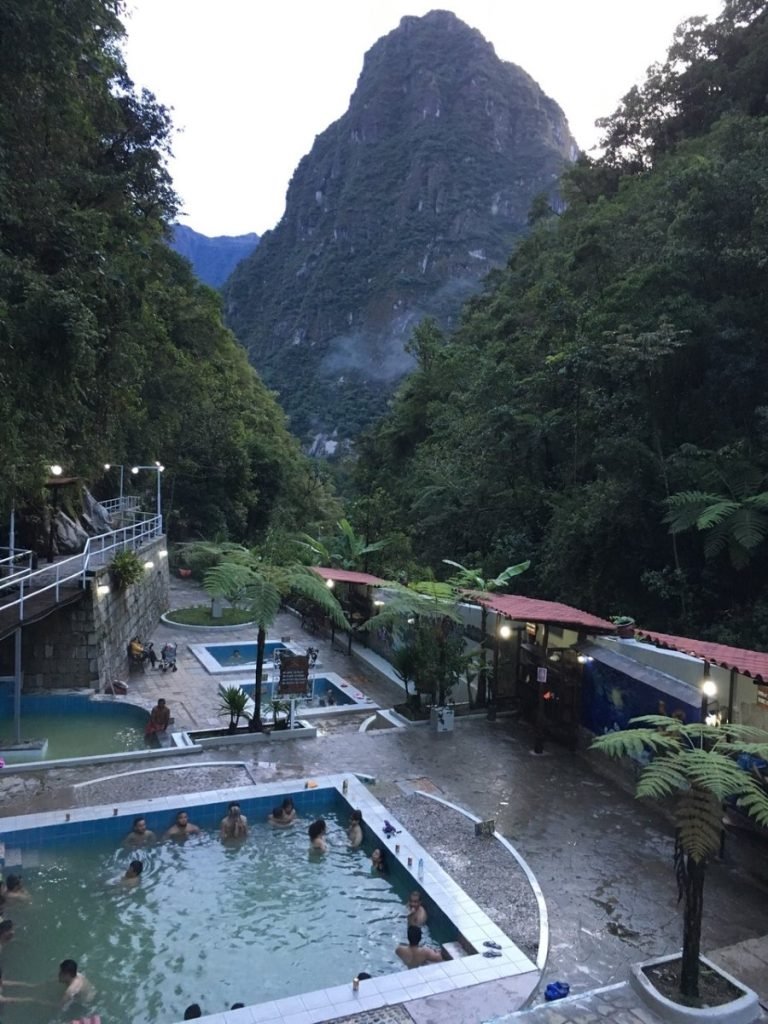 Where to stay in Aguas Calientes
For a luxurious stay, you have two main options in town: the elegant Inkaterra Machu Picchu Pueblo resort, located near the train station, and the SUMAQ Machu Picchu Hotel, a boutique property with avant-garde design near the foot of Machu Picchu Mountain. But there are also dozens of mid-range options, plus very affordable hostels for backpackers.
You can also stay right on Machu Picchu's doorstep at the Belmond Sanctuary Lodge, with easy access to the site, but far from the restaurants and stores of Aguas Calientes (a grueling 90-minute climb down the mountain or a harrowing 30-minute drive).
Where to eat and drink in Aguas Calientes
In general, Aguas Calientes isn't exactly on the cutting edge of Peruvian cuisine. But walk along Av. Pachacutec, you'll find several low-key bars and restaurants, some with a selection of Peru's burgeoning craft beer production. There are also upscale restaurants in the two luxury hotels, which are open to non-guests.
What to do in Aguas Calientes
Aguas Calientes owes its name to the thermal baths with medicinal properties to the north of the city, which are open to the public for a small fee. You can also buy souvenirs mainly handmade by local people in the large handicraft market near the train station. Although Machu Picchu is the main attraction, of course, you can also visit the butterfly sanctuary known as the Mariposario de Machupicchu.
Tips for traveling to Cusco
Don't skip the city of Cusco. Its pre-Columbian buildings have earned this city UNESCO World Heritage Site status, and its cobblestone streets, magnificent hotels, museums, nearby archaeological sites and relaxed atmosphere make it worth spending at least a couple of days here and seeing as much as you can.
Where to stay in Cusco
Cusco has more than one great full-service hotel, such as Inkaterra La Casona, an 11-suite hotel in a 16th-century mansion; Belmond Hotel Monasterio, in a former Jesuit seminary; the museum-like JW Marriott El Convento Cusco; and the stately Palacio del Inka, A Luxury Collection Hotel. If you prefer a contemporary boutique, try El Mercado or Atiq Hotel Boutique.
Where to eat and drink in Cusco
Mil, is the restaurant of Virgilio Martínez, Pía León and Malena Martínez, prominent in the Peruvian gastronomic scene, gained worldwide renown thanks to the success of Central, which was named the best restaurant in the world in The World's 50 Best 2023. In addition to Kjolle, another project of this trio, which ranked 28th in the same list. However, Mil restaurant, located in Cusco, is another outstanding restaurant that is currently ranked 44th on the list of the best restaurants in Latin America.
Cicciolina, is a classic that looks like a local hangout, where international and Andean dishes are served in an open kitchen. At the tapas bar you can order from both the tapas and dining room menus.
Kion, from the growing Cusco Restaurants group, is an elegant place to enjoy Cantonese cuisine. The décor is period Chinese, the flavors subtle and the ambiance festive.
Chicha is the first restaurant in Cusco from international Peruvian chef GastónAcurio of Astrid y Gastón. Located on the second floor of a colonial building, the restaurant offers Andean haute cuisine (alpaca carpaccio, quinoa with duck) in an open, bright and well-lit space.
The Cholos pub, near the main square, has a dozen Peruvian craft beers on tap, and its owner, Peruvian Rodrigo Cardenas, is a connoisseur of them all.
What to do in Cusco?
Cusco is replete with historic sites from both Inca and colonial times: don't miss the opportunity to visit the impressive Coricancha (also spelled Koricancha or Qorikancha), an Inca temple dedicated to the sun converted into a Spanish church; the Inca ruins of Sacsayhuaman; and Cusco's cathedral. Stroll through the streets of the modern San Blas neighborhood, people-watch in the Plazas de Armas and shop in the San Pedro Market. All places steeped in culture and history that will complement your trip in a way that is second to none.