Relax your body and mind after your visit to the citadel of Machu Picchu or after doing the Inca Trail in the different hot spring waters in Cusco.
The medicinal thermal waters help to disappear the diverse corporal ailments and allow to take out the stress due to the mineralization of the water and its temperature. The hot spring of Cusco, which extend from the Sacred Valley to Machu Picchu, come from subway layers of the earth that are at a higher temperature than they emerge to the surface.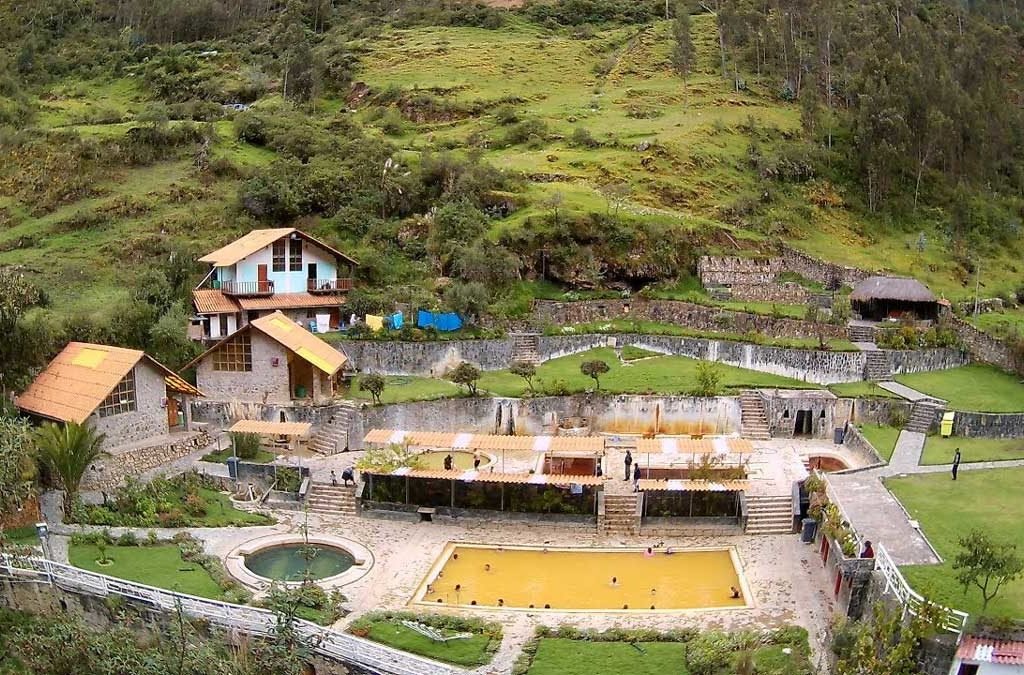 The Hot spring waters in Cusco
To relax completely in the waters of the springs of Cusco, do not forget to drink:
– Swimsuits
– Towel
– Flip-flops
– Toiletries
Everything ready? Join us in these three hot springs circuits in Cusco that you can't miss:
The thermal waters of Lares
They are located half a kilometer from the city of Calca – Cusco. There you will find a pool 5 meters wide and 5 meters long with a temperature of 12 °C to 18 °C that has healing properties that calm rheumatic pains, skin conditions, and are able to cure intestinal disorders and conditions, relieve metabolic diseases and chronic polyarthritis.
This circuit can be visited all day long. The value of the entrance ticket is 2 soles per adult and 1 sol per child.
The waters of the Santa Teresa spring – Cocalmayo
There are many options for hot springs in Cusco, however, the Santa Teresa hot springs are a favorite among tourists because the complex of crystalline waters was built on the slopes of the mountain and on the banks of the Urubamba River. Access to the hot springs is at kilometer 135 of the old Cusco – Quillabamba railroad line. It can be reached by bus, train and bicycle.
It has three pools, of different sizes and depths, which are supplied with medicinal water that goes between 40ºC and 44ºC. These medicinal waters have properties to treat skin ulcers, bone pain and rheumatism.
The thermal waters of Santa Teresa can be visited every day of the week from 5 to 11 p.m. The entrance fee is 10 soles (USD3.00) for foreigners, 5 soles (USD1.5) for nationals and 1 sol (USD0.35) for locals.
The hot spring in Machu Picchu
The town of Machu Picchu, formerly known as the town of Aguas Calientes, was named for these thermal waters that have medicinal properties. The water varies between 38ºC and 46ºC, and has medicinal properties that help treat rheumatism, as well as kidney and joint diseases.
Entry hours are from 5 a.m. to 8 p.m. and entry fees vary according to nationality, foreign, national or regional: 10 soles (USD3.00), 5 soles (USD1.5), and 3 soles (USD0.80) respectively.
This thermal complex in Cusco also has a bar where visitors can enjoy all kinds of drinks and enjoy them in the pools, so that your relaxation is complete. In the same way, it has the necessary basic infrastructure, such as bathrooms and places to change clothes.
Now you know that Cusco has many magical and mystical places to visit. If you want to enjoy a relaxing and unforgettable moment, do not hesitate to visit one of these circuits on board of our Expedition. We are sure you will love it!

I am founder and content creator of Lorenzo Expeditions, since 2006 I started with the Inca Jungle tour, guiding and serving thousands of tourists in a personal way to get to know Machu Picchu in a unique and authentic way.