Hiking the Inca Trail in the rainy season | 7 tips for success
The rainfall that occurs in the Sacred Valley of Peru during the rainy season is such that, in February, hiking the Inca Trail is impossible. In fact, the trail is closed for restoration and maintenance, and due to the intensity of the rains, this month is used to reduce accidents and avoid damage to visitors.
When is the rainy season on the Inca Trail?
The rainy season on the Inca Trail usually begins in mid-December and ends in mid-March. January and February are the months with the highest rainfall, between 120 and 160 mm per month.
However, it is important to keep in mind that in high altitude locations the weather is highly unpredictable and you may encounter any weather regardless of the time of year you visit the Inca Trail. It is best to be prepared for any conditions, and equip yourself to reduce the inconvenience.
Hiking the Inca Trail in the rainy season
The Inca Trail to Machu Picchu is an arduous 4-day hike over 42 kilometers in the best conditions. Hiking the Inca Trail in the rainy season involves slippery rock steps, strong winds and muddy trails that occasionally produce landslides on the route. Not to mention soggy clothes and poor visibility caused by fog.
Of course, with only 500 people (including porters) allowed on the 4-day Inca Trail to Machu Picchu each day, hiking dates fill up fast. The ideal months of May through August fill up the fastest and if you do not make your reservation well in advance it is likely that you will not find places available for these times.
IMPORTANT: You can still visit Machu Picchu in the month of February, not through the Inca Trail because it closes during that month, but Machu Picchu remains open to visitors. You can visit it through alternative trekking trails such as the Inca Jungle Trek or the Salkantay Trek, or also by train. It is advisable to guarantee your entrance to Machu Picchu by purchasing tickets or a day tour from Cusco months in advance.
Hiking the Inca Trail to Machu Picchu requires a large investment of time, money and effort. It is something you will want to prepare adequately for, not only to be able to complete it as painlessly as possible, but also to be able to enjoy the experience along the way. After all, it is a once-in-a-lifetime event that you will never forget.
1. Book with a reputable Peruvian company.
Doing the Inca Trail with a local independent company is a great way to give back to the country what you have invested in your experience, and make sure you will have a great, well-organized trek. Can you imagine having leaky tents and sleeping bags that are not warm enough at night, or food that is not nutritious and tasty? Better invest a little more and have an experience where you only have to focus on enjoying the views and the unique landscapes of the route.
The big international travel companies sell tours along the Inca Trail, but the reality is that ONLY local Peruvian companies are authorized by the government to hike it. Therefore, even if you book with a reputable international travel company, you will end up doing the Inca Trail with a local company. They will only wear uniforms bearing their name, and you will probably pay extra for the same service.
2. Consider the welfare of the carriers when choosing a company.
Probably if you pay more than average for a trek along the Inca Trail you will have a better service compared to other companies. This may be reflected in better and newer camping equipment, the fact that they include mattresses, work with a smaller maximum group and have transparent labor policies with their porters reflected in the fair treatment they give them, which is vitally important when booking a tour.
If you pay the minimum to climb Machu Picchu, somewhere they are cutting costs and it is usually the porters who pay the price. The company may send one less porter, which means that the remaining porters carry much more weight than allowed. Or even worse, they will not be provided with sleeping bags, proper backpacks or proper meals, in short, the workers are being abused.
It is definitely something you will see along the Inca Trail, porters using straps, instead of real backpacks, and carrying inhuman amounts of weight on their backs. Be sure to find out about porters' welfare, laws and regulations before booking, either through an international travel provider or directly with a Peruvian company.
3. Hire an extra porter
If you can afford to make this decision it can benefit you a lot in the Inca Trail experience. The extra porter can carry your sleeping bag, your sleeping mat, any extra clothing you don't need to carry and anything else you would like to give him/her (up to 7 kg), after which all you have to worry about carrying is a single small backpack that is easy to manage for the entire trek. Unless you enjoy the sense of accomplishment that comes with completing strenuous physical challenges, you should consider hiring an extra porter.
When hiking the Inca Trail during the rainy season, the stone steps are slippery and, at some points along the route, you may experience strong, wet winds that complicate your trek. Especially when you reach the highest point, known as the Paso de la Mujer Muerta (Dead Woman's Pass), with a loaded backpack, it will be a very difficult stretch to cross.
In addition, it is important to take into account that by hiring an extra porter, you will be giving income and work to one more person who probably really needs it.
4. Take time to acclimatize to the altitude.
Unless you have terrible knees or some kind of extreme respiratory complication like asthma, for most people it is possible to finish. And if your will and commitment is strong enough, it is possible even with those difficulties.
It is common to see people of all shapes, sizes and ages hiking it, and yes, they all made it to the end and were able to successfully visit the beautiful citadel of Machu Picchu. It is not necessary to be in top physical shape to finish the Inca Trail.
It is important to be prepared for the weather and the geographical features of the route, the most advisable is to take a few shorter hikes of one or two days with the same demands, so you can have a small taste of what it is like to walk in the high altitudes of Peru. On these mini-excursions, you will definitely notice the impact of less oxygen in the atmosphere. You will get used to the difficulty in breathing and you will notice that your muscles get much more tired than usual.
Most tour companies recommend spending at least one or two days acclimatizing to the altitude, but if you can afford it, consider spending a whole week in Cuzco before trekking the Inca Trail, to be sure and also enjoy one of the most enjoyable tourist destinations in the world, a city full of history and culture that will leave you amazed the more you explore it. Undoubtedly, this will be of great help to face the Inca Trail trek without mishaps.
5. Carry high quality rain gear, quick-drying clothes and extra socks.
A rain jacket is a must to keep you completely dry and protect you from the wind. Sometimes it will rain so much that without one that fits the circumstances you will be completely soaked. You don't want to end the day with wet clothes and, without hot showers at the campsites, the night will be very unpleasant. Keep in mind that it gets very cold in the Andes at night.
Quick-drying pants will also be an absolute necessity. With these pants you will notice that despite the ease of getting wet on the trail, they will dry very quickly during the rest of the trek. Unless you want to carry several pairs of pants during the Inca Trail, this is definitely the best investment to make.
You should take at least 4 pairs of socks on the trip and if you can a few more, ideally you should use a fresh pair for each day but unexpected circumstances will always present themselves. Even if you wear wellies , your feet will thank you for the refreshment you will give them by changing socks.
6. Get trekking poles
You should know that poles reduce the impact of hiking on knee joints and leg muscles since using them will take much of the weight load on your body from your arm and shoulder muscles.
A landmark study published by Dr. G. Neureuther in 1981 showed that the use of "ski poles" while walking reduces the pressure stress on the opposite leg by approximately 20%, and reduces the body weight supported by the legs by approximately 5 kg with each step. On a slope, the reduction increases to 8 kg, which translates to tons of weight reduced in a 4-day hike! Something you will be thankful for when you are on the trail.
Having walking poles while hiking the Inca Trail will be like having an extra pair of feet, they will give you much needed stability and balance, especially when walking on wet, slippery and uneven rocks. They will also make it much easier to reach down some of the oversized steps.
Along the Inca Trail, to avoid degradation of the environment, only rubber-tipped poles are allowed, which can be easily rented from the travel agency or purchased in Cusco.
7. Manage your expectations
Finally, the best thing you can do to successfully hike the Inca Trail in the rainy season is to manage your expectations.
You need to be aware that you will be wet and soaked for much of the 4 days and have extra preparation accordingly. Recognize that you probably won't have the classic view of Machu Picchu at the end of your hike because of the mist, and don't be disappointed if it turns out that way.
Hiking the Inca Trail is breathtakingly beautiful, regardless of the season, and you will feel even more satisfaction when you realize that you have just successfully hiked 42 km in less than ideal conditions.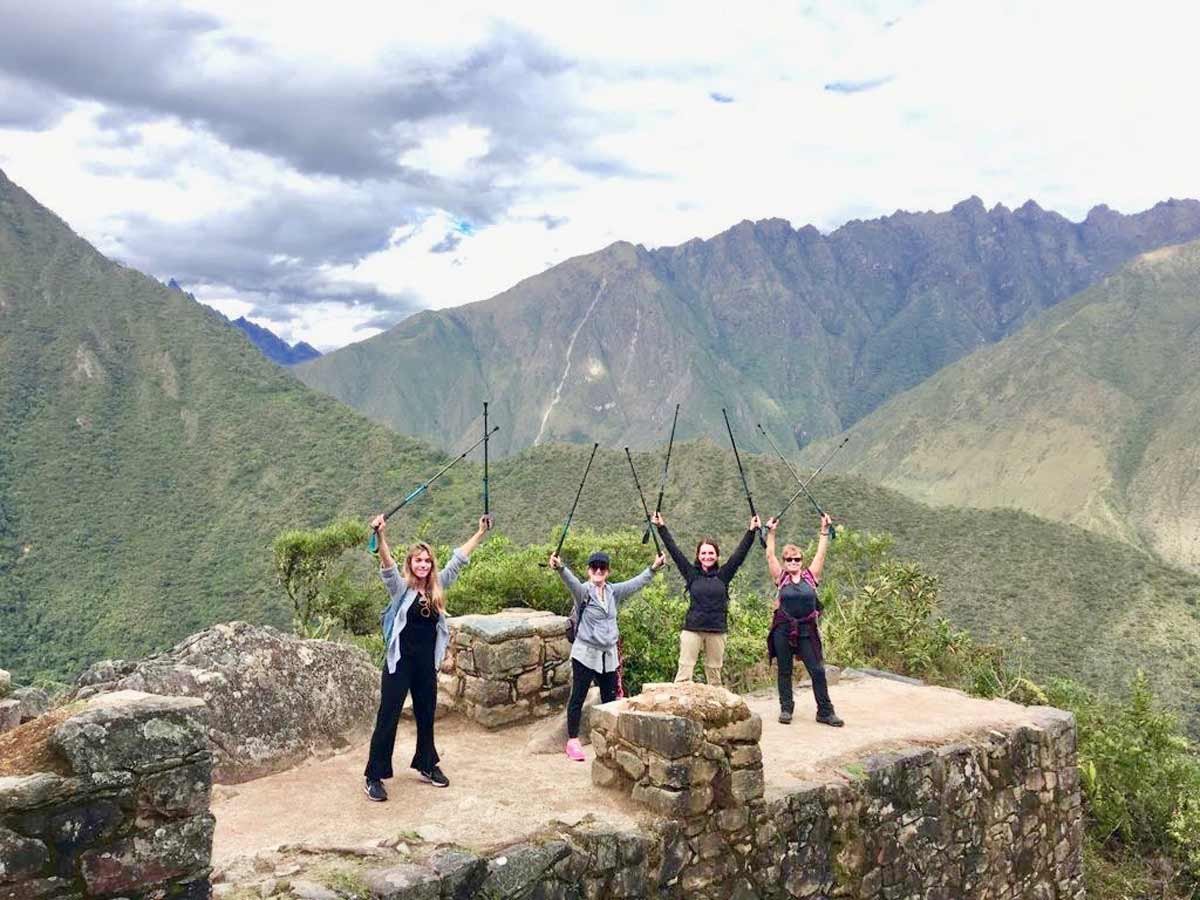 Hiking the Inca Trail: Essential information and frequently asked questions
Is it worth doing the Inca Trail?
Hiking the Inca Trail to Machu Picchu is a unique experience you will never forget. The hike itself is incredibly beautiful, and its end point, Machu Picchu, is even more magical and rewarding for the effort it took to get there.
Is it possible to walk the Inca Trail without a guide?
In 2001, it was forbidden to walk the Inca Trail without a guide to protect the integrity of this ancient route. You must hike it with a licensed tour operator.
Are showers and restrooms available on the Inca Trail?
Showers are only available at Wiñay Wayna (at the end of day 3), but you will only find cold water. There are squat toilets without toilets on the Inca Trail, but they are few and far between. The best option is to go outdoors. Come prepared with toilet paper, hand sanitizer and wet wipes. Also remember not to litter in the middle of the trail, and always cover your waste.
Is it difficult to walk the Inca Trail?
It depends on your physical shape and the way in which you face great demands of energy and effort. It is 42 km, has more than 10,000 steps and you have to overcome high altitudes while walking the Inca Trail.
Doing the Inca Trail to Machu Picchu is one of the most memorable things you will ever do in your life. What are you waiting for?