Sandoval Lake, a magical place in Puerto Maldonado
Lake Sandoval, located in the Tambopata National Reserve, is one of the most beautiful lakes in the entire Peruvian Amazon. We have decided to write this article to give you an overview of the wonders you can find in this iconic lake in Tambopata.
Many people consider it as a mirror that reflects the blue sky in its clear and calm waters, this place is well known because when navigating through its calm waters your trip becomes a journey of relaxation and unique comfort, where you can enjoy the wonderful views of the Amazon as well as the species that inhabit the area. This is Lake Sandoval, and reaching this natural paradise is just a simple drive from the city of Puerto Maldonado, northwest of Cuzco, just a 50-minute flight away.
Sandoval Lake can be home to different animal species that coexist in harmony. You will be able to observe the giant otters, or river otters, which are found on the surface very frequently, which also invade the area with the help of the loud sounds of their herd, a very tender experience that you must live if you visit the Peruvian Amazon.
You will also be able to observe many species of birds that come to the shores of the lake, among them macaws and parrots that, with a cheerful chattering, end the local silence but decorate it with their songs and squawks, transporting you to the middle of the Amazonian paradise. According to studies, up to 1,000 species of birds can be found around Lake Sandoval, making it an ideal place for bird watching.
Overnight stay at Sandoval Lake
At sunset you can't miss a walk along the lake shore and relax watching the sunset, which brings with it the arrival of several flocks of birds in search of a night's rest, a spectacle of colors and sounds. A bird that will call your attention for its prehistoric appearance is the Hoatzing, with red plumage and a particular crest, you can find all kinds of wonders in the place.
In the last hours of the day, bats, frogs and grasshoppers will appear, creating an orchestra of sounds. Other animals that will appear at night are turtles, monkeys, herons or cranes and the black caiman, definitely look for animals to observe in Tambopata at night, it is a completely different experience.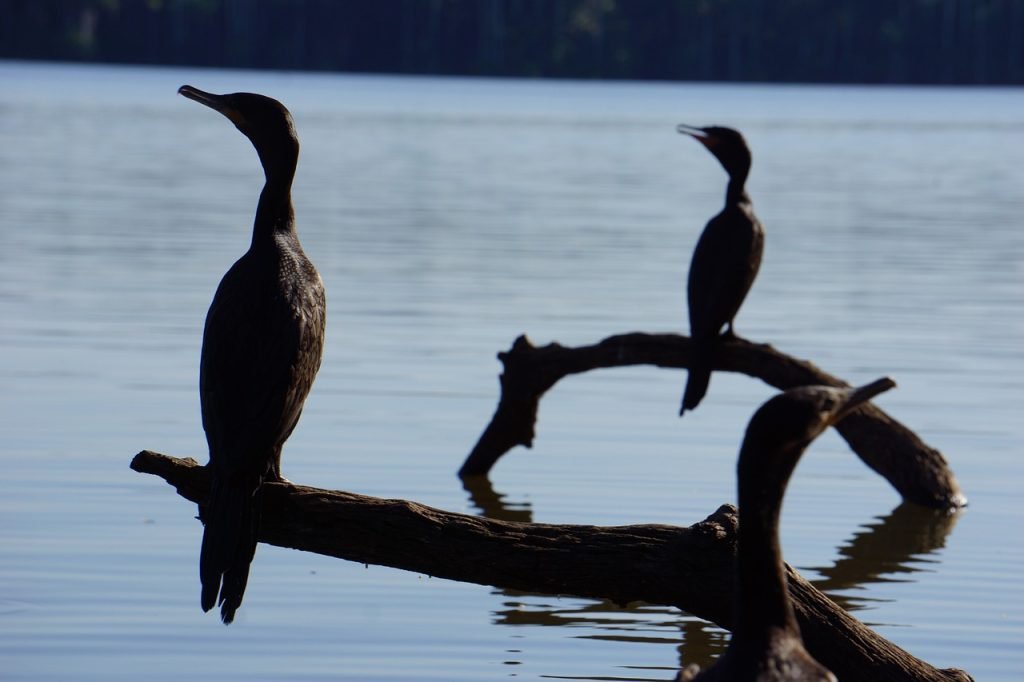 Fishing in Sandoval Lake
In the waters of Lake Sandoval you will find a great variety of fish, one of the most appreciated by the locals is the Paiche, a large freshwater fish used to prepare delicious local dishes. Given this variety of fish, which includes almost 6500 different species, fishing in Lake Sandoval is a great option as an activity to complement your stay in the place.
Flora in Sandoval Lake
Among the vegetation surrounding the lake are the aguajales that reach up to 30 m high, you will also find ancient Lupuna trees that are composed of huge fins, chestnut trees, cedars and many other forest species, these have a job of shelter for many species of animals, forming a balance between flora and fauna most impressive of the Peruvian Amazon.
Sandoval Lake Tourism
Despite being located in a reserved and protected area, ecotourism is possible at Sandoval Lake through sustainable and responsible tourism practices. The lake is shaped like a horseshoe, and maintains its intangible beauty thanks to the conservation efforts of the Tambopata National Reserve.
It is no exaggeration to say that those who have been to Lake Sandoval compare it to a natural paradise of immense calm and uniquely beautiful species. The climate should not be an impediment to visit. You should expect high humidity, with an average temperature of 25°C, a generally pleasant climate for a visit.
You can find lodges around the lake, such as the Sandoval Lake Lodge, a beautiful place located on the shore of the lake, built with wood from trees that fell into the river by the natural action of erosion, in order to maintain sustainability policies aimed at ecotourism and reducing the carbon footprint.
In short, visiting Sandoval Lake is a unique experience that you cannot miss while in Tambopata, we hope this article has been of great help for you to know a little better what you can find in this wonderful paradisiacal destination located in the Peruvian Amazon.