How to visit this incredible destination?
Tambopata
The Tambopata National Reserve is the dream place for any nature lover. It is one of the most biodiverse areas in the beautiful country of Peru, and even in all of South America.
The Tambopata National Reserve is located south of the Madre de Dios River in the districts of Tambopata and Inambari located within the province of Tambopata, in the department of Madre de Dios. It covers an area of 274,690 hectares and its most common ecosystems are aguajales, swamps, pacales, and riparian forests, where the natural characteristics of these ecosystems allow the local population to take advantage of the natural resources.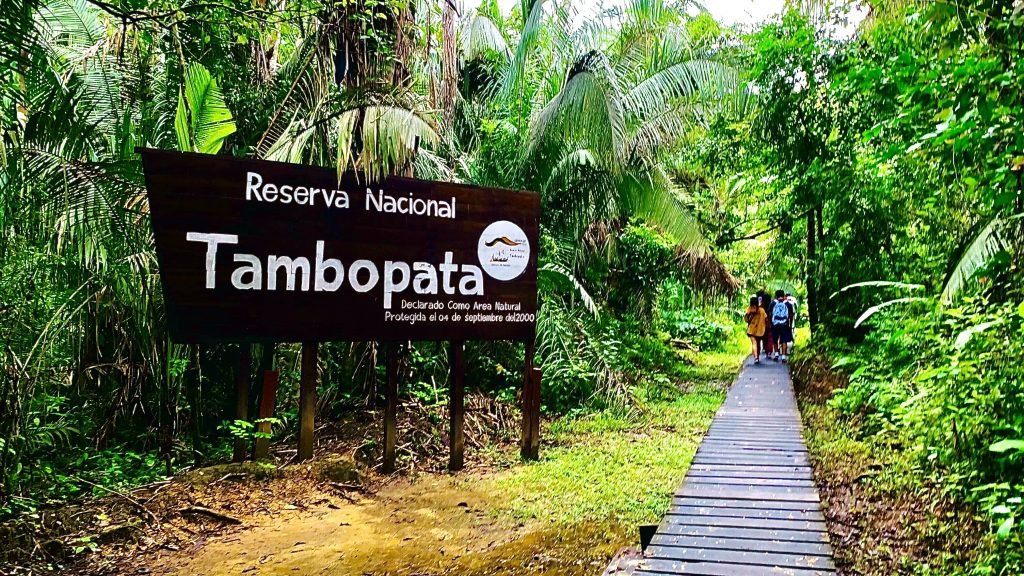 Tambopata is home to 632 species of birds, 1200 species of butterflies, 169 species of mammals and hundreds of species of trees and plants. On the other hand, it is also home to many local indigenous communities, such as the native community Ese Eja, with thousands of indigenous families residing within this community.
We present here the best known tourist routes in the Tambopata National Reserve.
Sandoval Lake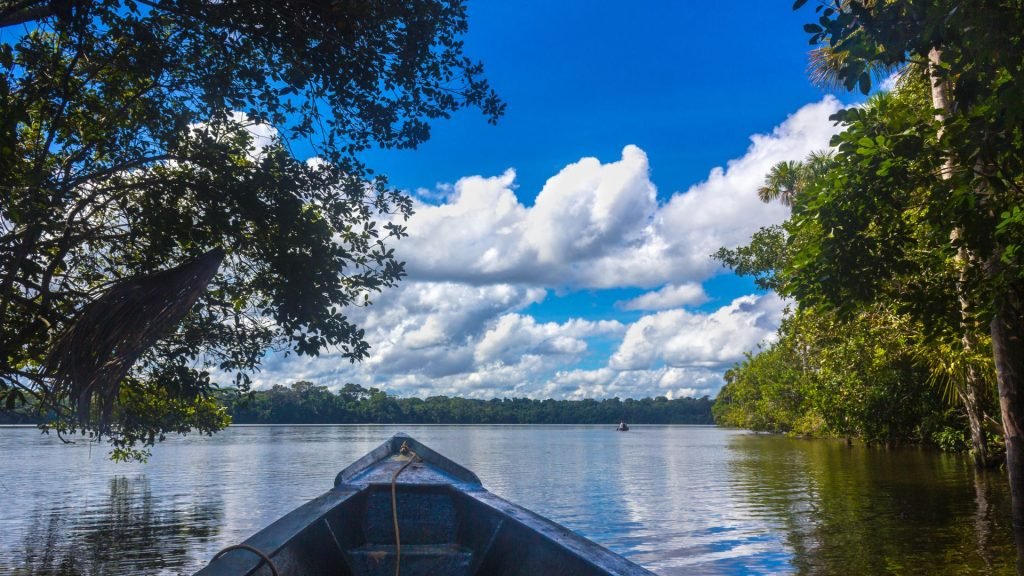 The Sandoval lake, this is the most sought after destination for tourists heading to the Tambopata National Reserve and just visiting it on your own will show you why this is so. If you are looking for a relaxing moment full of peace and connection with nature, this lake is the perfect destination. It is considered the most beautiful lake in the Peruvian jungle with 3 km long by 1 km wide and a depth between half a meter and 3 meters, a destination that mixes the grandeur of the Amazon with the tranquility of the calm waters of the lake.
In its waters inhabits a large family of giant otters that can be seen hunting or resting on the trunks, which is a very beautiful experience. It also has an observation tower for the visitor to have a panoramic view of the whole place, due to its richness composed of mangroves and palm trees you can observe a large number and variety of birds that make the place a true paradise and you can not help but be surprised watching them fly over this territory, really a colorful spectacle for visitors.
Macaw Clay Lick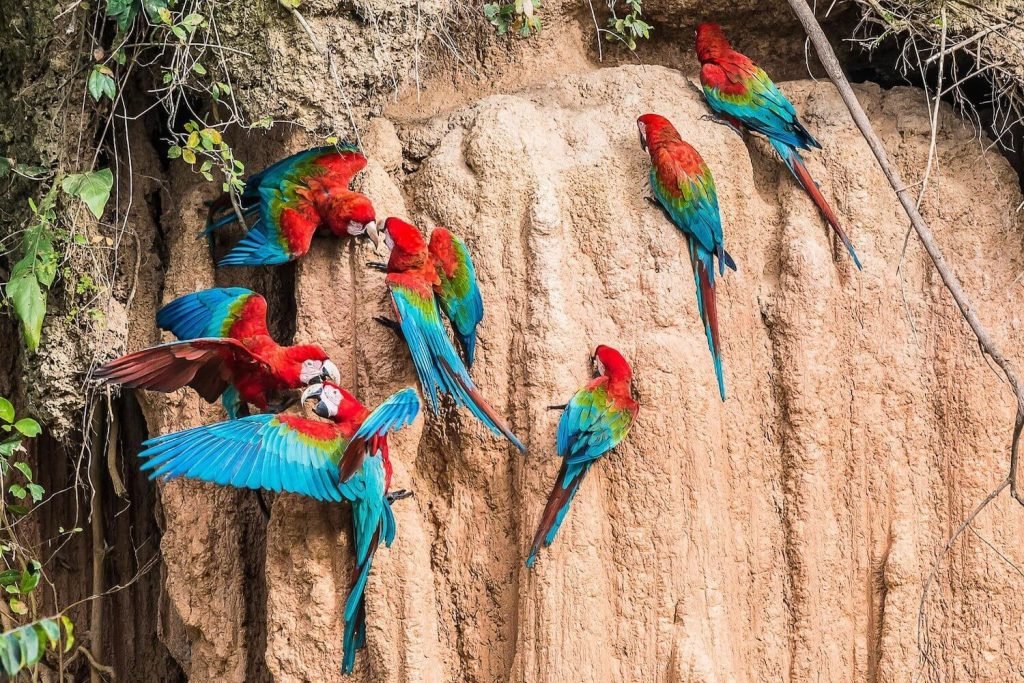 It is very popular to see in popular photos a place where a large number of birds especially Macaws converge on a clay wall and together they form a unique show of colors, which you can enjoy by visiting this clay lick. Don't miss the opportunity to have the experience live and turn it into one of your photos that your friends will definitely envy.
This visit to the Macaw Clay Lick offers an impressive spectacle of color and sound (it will be even more special if you visit between 5:30 and 9:00 am). The clay licks are low cliffs caused by river erosion that expose mineral salts and organic components that are used by the great diversity of macaws and parrots to supplement their diet, which is why a large number of these birds seek out this area known to contain the precise minerals they need for macaws to grow big and strong.
There are several clay licks, but the best known and most frequented by travelers are "El Chuncho" and "Colorado", its access is through the river (canoe) and along the way you can also enjoy the diversity of nature observing sachavacas, ronsocos, squirrels, monkeys and many more variety of species that inhabit the area.
Indigenous communities
The best thing about traveling is getting to know new cultures and traditions, even better when you can get to know them and share their experiences. The communities that inhabit this reserve are accustomed to visitors and many of its members are part of the protection programs of the Tambopata National Reserve, as well as places where the same indigenous members will live with you and teach you their customs.
We will be able to share their traditions and culture in a respectful way, living a very pleasant experience. Among these communities are the Eje Esa, the Harakbut and the Matsigenka, among others.
Activities
The Tambopata National Reserve offers programs of all kinds and for all types of travelers: Specialized tourism, family tourism, programs for children, adventure tourism, botanical tourism, etc .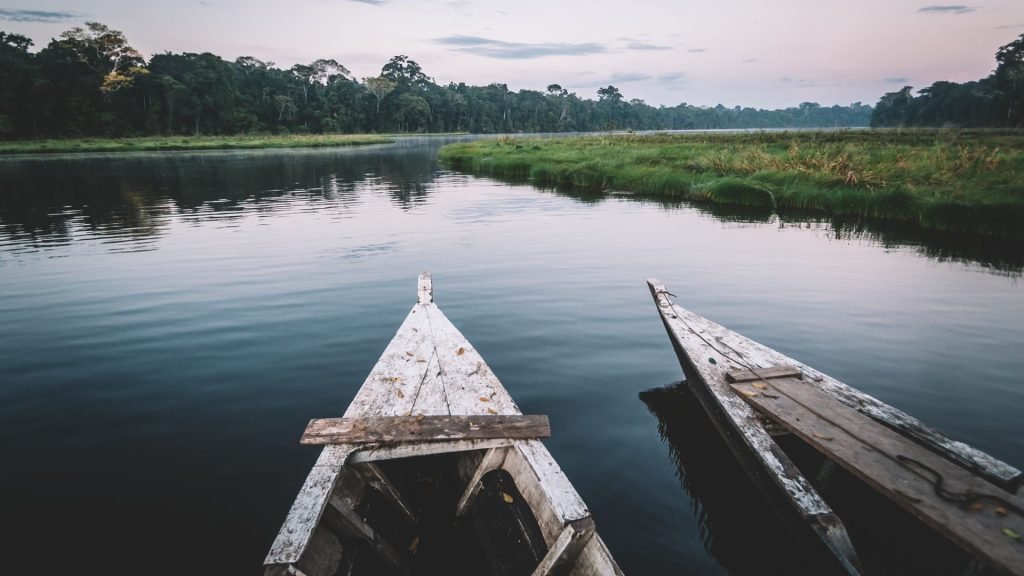 The Tambopata National Reserve offers everything a nature and adventure lover likes: hiking, river walks, river wolf hunting, piranha fishing, talks for children about biodiversity and respect for nature, night walks, observatories, bike rides, etc. By doing some research you can learn more about the Lodges that offer lodging in the area and what activities are included with your reservation.
How to visit and what should I consider for a healthy experience in the Tambopata National Reserve?
The first thing you should do is find out about the lodges, research centers and lodges that offer complete sustainable programs within the Tambopata National Reserve, where you can enjoy your stay knowing that your visit will not have a negative impact on this ecosystem since the vast majority of lodges have a zero pollution policy, renewable energy and zero carbon footprint.
Remember that it is important that your trip does not generate a negative impact, but that it helps us to promote responsible tourism.
We as travelers have a great power "Your trip with the right company not only gives you a spectacular experience, but also contributes to the reserve is sustainable and protected, a large majority of the accommodations and the attention given to the visitor is included within their payroll of workers to members of the local community, which ensures that tourism is beneficial to all.
The starting point is the city of Puerto Maldonado (From Lima and Cusco can be reached by plane). Once there, a representative of the Lodge where you have made your reservation, will be waiting for you to transfer you to your respective accommodation and thus begin the program you have purchased.
Tourist programs in the jungle are usually all-inclusive, so it is important that you take with you only what you need for excursions and personal medication. Electric power at most lodges is provided by generators that are turned on in the morning, around lunchtime and for dinner. When you arrive at your lodge, the staff will inform you of the hours when electricity will be available to charge your devices. Don't forget that 110V voltage will not work in Peru, in Peru we use 220V.
Climate in the Tambopata National Reserve
The climate in general is hot and humid. In Tambopata National Reserve, the average daytime temperature is between 78°F and 93°F (24°C and 31°C). The nighttime average is between 66°F and 78°F (20°C and 24°C).
Most travel agencies or Lodges have an office in Puerto Maldonado where you can leave the luggage you do not want to carry for the expedition in the jungle, this way you will not have to carry additional luggage during your stay in the Amazon jungle. Also a great tip is to carry spare batteries (we recommend carrying 3 spare batteries). Make sure you have enough space in your memory, because most people take more pictures than they expect.