Highlights – Inca Trail – Machu Picchu
The short Inca Trail trek, also known as the 2-day trek along the Inca Trail is a shorter variation of the classic trek, intended for visitors with less time available to enjoy the highly recommended full trek. Inca Trail, the complete trek starts at km 82 of the Ollantaytambo trail, and it will take you 4 days of trekking to reach the lost citadel of Machu Picchu.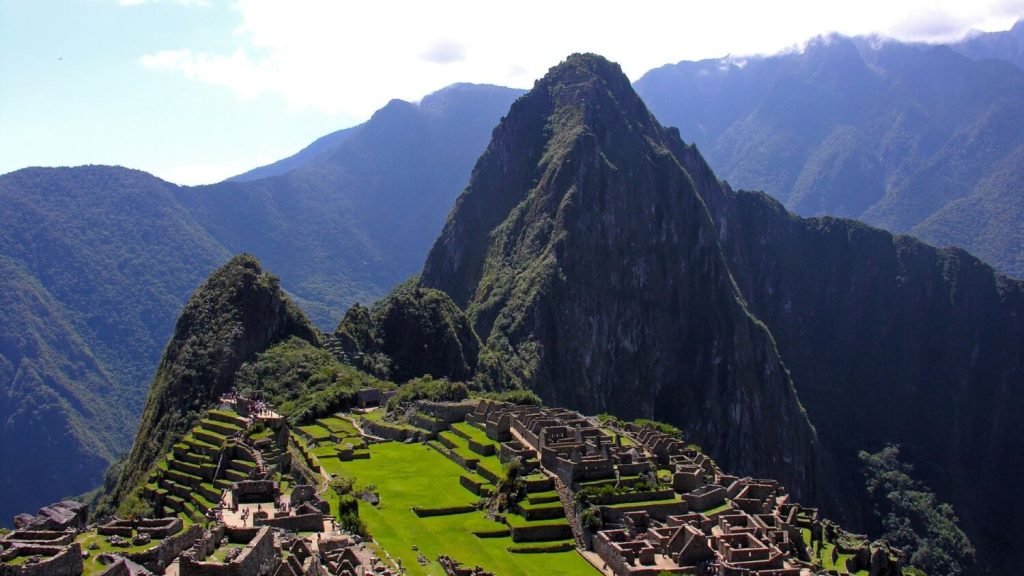 This shorter version of the well-known route includes one day of arduous trekking, and the second day dedicated entirely to visiting and getting to know the historic citadel of Machu Picchu. Recommended mainly to people who do not have enough time or the necessary experience to face the full tour, since the 4-day hike through the Inca Trail is one of the most sought after routes by travelers from all over the world, and one of the best rated worldwide by professional hikers, the experience offered by walking this ancient route built by the Incas is unparalleled.
Archaeological destinations
You will also visit 4 archaeological destinations on the route, this will complement your experience knowing the historic citadel of Machu Picchu, archaeological complexes that will expand your knowledge about this ancient culture and unravel the mysteries that compose it, sites such as Chachabamba, Wiñaywayna or the Sun Gate, also known as Intipunku. Besides being a route composed of great historical and cultural richness, the views and passages that compose it are not far behind, it is a unique experience of connection with the unique ecosystems that make up the Andean rainforest where you can find a variety of species of orchids, flowers and birds of all kinds, yes, the one day hike will be challenging and strenuous, but it will be completely worth it once you meet your goal of reaching the historic citadel of Machu Picchu by this ancient route.
A full day of trekking along the Inca Trail to Machu Picchu
If you decide to opt for the short route of the trail, your journey will begin at km 104 of the Ollantaytambo road, you will start by taking a train from the town of Ollantaytambo early in the morning to this point.
Itinerary overview
Day 1: Inca Trail – Sun Gate – Machu Picchu (Distance traveled: 15 km / 8 miles)
Day 2: Machu Picchu! (You will be back in Cusco at 8:30 PM)
Complete Itinerary
Day 1: Inca Trail – Puerta del Sol – Machu Picchu
Your tour company will pick you up at 4 am and you will have to take the 6: 10 am from Ollantaytambo station, during your trip you will enjoy wonderful views of the sacred valley and the Urubamba river that will accompany you on your journey, as you get closer to your destination you will notice slight changes in the climate and landscape passing to green forests typical of the area where you will begin your journey through the Inca Trail route of 2 days, your train ride will conclude after an hour and 45 minutes at km 104.
Your journey will continue with a delicious, but also energizing breakfast that will help you face the long day of trekking that awaits you, then you will have to present the relevant documents to begin this route.
Chachabamba
After a short walk you will visit the first archaeological complex that you will find on this route, Chachabamba, which is the first checkpoint to enter the Inca Trail itself, your visit will be accompanied by an extensive explanation by your guide about these interesting ruins, then the hike will continue for about 3 hours to the most famous point on the entire Inca Trail, known as Wiñay Wayna.
From this point you will have fantastic views of the Machu Picchu valley and the majestic Urubamba River, and you will be able to live with the great variety of species that make up this ecosystem. You will be able to see wonderful waterfalls, waterfalls of long meters and even the Machu Picchu mountain itself in the distance. You will notice that the route is not completely flat, but is also composed of steep ascents and descents that will complicate your journey, but don't worry if you follow the recommendations and advice of your experienced guide you won't have any inconvenience crossing this iconic route.
Exploring Wiñay Wayna on the Inca Trail
Once in Wiñay Wayna, you will have enough time to take a tour along this complex and the temples, waterfalls, gardens, watchtowers and terraces that compose it. After your rewarding visit to this checkpoint, you will only walk a short distance until you reach the lunch spot, where you will recharge your batteries and prepare for the rest of the trek.
La Puerta del Sol: The Magic Entrance to Machu Picchu
Your hike will continue along complicated uphill and downhill stretches for about an hour until you reach the iconic classic entrance to the citadel of Machu Picchu, the Sun Gate. From this point you will have wonderful views of the iconic citadel as well as the surrounding peaks. From this point the hike to the citadel takes about an hour, once here you can enjoy and take some pictures with Machu Picchu in the background. After resting all the walked, you will have to take a bus that will take you to your camping point in Puente Ruinas, this will take approximately 20 minutes.
In the evening it is customary to have a small ceremony with the chef and the porters who accompanied you during this short journey but who surely lived pleasantly, this ceremony is focused on the gratitude for their service as they will return to Cusco after this point, not before offering you the last meal of your journey, breakfast the next day. If you wish, there is also a variant of the Inca Trail of 2 days, but with an overnight stay in a comfortable hotel in the town of Aguas Calientes, consult with the travel company that will organize this trip.
Distance covered: 15 km / 8 miles
Meals: included
Altitude: the hike starts at 2000 masl, the highest point of altitude is the Puerta del Sol at 2720 masl. The camping site is located at 1900 masl.
Climate: Warm and humid.
Day 2: Machu Picchu (The lost city of the Incas) and return to Cusco.
Your day will start early in the morning where you will have time to prepare your luggage, daypacks and to enjoy your freshly made breakfast. You will take a 30 minute walk to the bus station to be one of the first in line to go up to Machu Picchu (sometimes there is a 20-30 minute wait in line to board the bus, especially during peak tourist season).
Exploring Machu Picchu: From Dawn to Return
The first buses will leave at 5:30 a.m. and arrive at 6:00 a.m. at the Machu Picchu citadel. Once again, you need to have your original passport at this checkpoint in order to use your ticket to enter the historic citadel. Your tour guide will take you to the perfect spot to enjoy the sunrise over the mountains and get some amazing photos (weather permitting).
You will then have a private walking tour of the ruins of Machu Picchu with all its fascinating history. You will also have free time to explore Machu Picchu on your own. If you have booked a permit to climb Huayna Picchu or Machu Picchu Mountain this additional route will begin at 10:00 a.m. However, there are many other things to see around Machu Picchu. There is the Inca Bridge, the Sun Gate, and you can even walk around the temple and residential areas of Machu Picchu and mingle with the llamas. You will have to take the bus back to the town of Aguas Calientes to have lunch in this picturesque place and take the train back to Ollantaytambo. From here you will be transported by private van back to Cusco to return to your hotel.
Highlights: Arrive early to Machu Picchu to enjoy the sunrise at the citadel.
Temperature: Warm and humid
Meals: Breakfast only
Included Train: Tourist class expedition.
Important information for your trip – Inca Trail – Machu Picchu
How to get to Cusco
Cusco's airport currently only accommodates domestic flights within Peru. All international air travelers must disembark in Lima as their first stop and go through customs. Even if your flight to Cusco is the same day by the same airline, you must pick up your bags in Lima and then check them in again. The best way to get to Cuzco is by plane, for which you have several airline options. LAN is usually the most expensive, but has more flight options and schedules. Expect weather-related flight delays or cancellations.
Due to Cusco's high altitude it tends to be difficult to land and any unexpected weather will stop air traffic. You can always travel by bus, but the journey can be long and tedious, especially from Lima. Buses in Peru are very well maintained and comfortable. This option is highly recommended if you are coming from a city closer to Cusco such as Puno. Buses from Lima take an average of 20 hours to arrive.
Luggage storage
Any extra luggage you have with you can be left safely in Cusco, either at your hotel or with the tour agency that is in charge of planning your trip, for the duration of your trek. Generally you will be offered the option to store your luggage on the morning you begin your trek and it is returned once you return to Cusco. Make sure your bags are labeled so that they are easy to locate.
Altitude
As soon as people book their trip to Peru, specifically Cusco, they begin to wonder about altitude sickness. The air at high altitude contains less oxygen than at sea level and forces your body to work harder to get oxygen so many bodies feel symptoms of high altitude sickness. Over several days at high altitude, your body adapts to the lower amount of oxygen in the air and you can enjoy your trip normally. For this reason, we always recommend spending at least two days in Cusco before beginning any trek that transits the Andes. Cusco is a wonderful city with plenty to do so if you have more time to acclimatize you will not get bored and will be able to discover one of the most beautiful cities, steeped in history and culture.
With altitude sickness you may first feel like you have the flu or a hangover. You may have a headache, tiredness, loss of appetite, nausea, vomiting, dizziness, trouble sleeping or breathing during exercise. If any of these effects worsen, report them as soon as possible to your tour operator.
Tips for Preventing and Coping with Altitude Sickness on your Machu Picchu Trip
Most of the time these symptoms will be mild. We recommend that you start exercising slowly and without too much effort so that your body can adapt properly. Drink plenty of fluids, such as water or coca tea. Coca tea has been used since ancient times to help prevent altitude sickness. The leaves of the coca plant contain alkaloids that facilitate the absorption of oxygen in the blood, this will help your body avoid altitude sickness. Avoid drinking too much alcohol and coffee because they will make you urinate more often and dehydrate you. Avoid smoking. Smoking makes it harder for your body to get oxygen. Avoid sleeping pills. They can cause shallow breathing at night, making it difficult for your body to absorb oxygen while you sleep.
The trek to Machu Picchu is about the journey and is not a race. Even if you are in top shape, your body can suffer from altitude sickness if you decide to walk too fast. Going slowly will give your body time to adjust to the altitude and allow you to enjoy the unique scenery that decorates the area. Your medical professional can prescribe medication to help prevent altitude sickness. You should start taking the medication two days before arriving at altitude and continue taking it while at altitude. You must remember that this is your vacation and you do not want to stress about the possibility of getting sick. Do everything slowly, drink plenty of water and enjoy coca tea. If something happens and unfortunately you get sick, let your guide know immediately.
Weather
The dry season in Cusco, Peru typically occurs from April to October. However, the weather in this area is very unpredictable and rainfall can occur at any time. Therefore, no matter what month you are trekking, you need to make sure you have rain gear. This should include a waterproof jacket, pants, poncho and waterproof gloves. Many people forget about gloves, but the cold and wet weather makes hiking uncomfortable without this tool.
Be prepared for all four seasons, regardless of the time of year. Hiking in the Andes means you will experience a variety of microclimates for which you will need to be well prepared. Extra layers of clothing are essential. They are easy to adjust to different temperature changes. Be prepared with a warm, thick jacket, as it will be cold at night.
First Aid
A large majority of guides who trek the Inca Trail have received first aid training from a professional. Throughout their trek they will carry with them a first aid kit for basic medical situations (traveler's diarrhea, cuts, scrapes, etc.) and oxygen. In case something happens and they are unable to complete the hike, they will find the safest and quickest way to get off the trail and to a hospital.
Travel Insurance
To protect your travel investment, we strongly recommend that you take out travel insurance. It is an excellent way to protect yourself against any unforeseen events while visiting Peru.
Environmental Impact
Out of duty to the conservation of the route and the environmental impact we take additional measures such as transporting all the garbage produced back to Cusco. Our porters are committed to taking care of the trail and therefore will also pick up any that other groups forget. We are all committed to leaving no carbon footprint.
Personal Porters Included
All Inca Trail treks require that porters be hired to encourage fair and honest work by local people who are responsible for carrying and assembling all the equipment, so that the whole area benefits from tourism. In addition, they will carry the duffel bag that you will receive at your briefing the night before your trek. Each bag cannot exceed 7kg/14lbs and must include your sleeping bag and sleeping pad.
Packing List
Essentials
Passport
Immigration card (they give it to you on the plane when you enter Peru).
Good backpack (the smaller the better).
Water tank: water tank such as Camel backs – but enough for at least 2-3 liters.
Comfortable hiking boots (light and with good soles).
For your luggage
The porters will carry up to 7 kg of your personal belongings. This should include your sleeping bag and air mattress (if you bring/rent one). For us, these two items weigh 3.5 kg.
1 wicking t-shirt, 1 t-shirt for Machu Picchu (which you want to see in the photos).
1 set of trekking pants, 1 set of shorts or pants for Machu Picchu.
2 sets of underwear.
Trekking socks, normal socks.
1 fleece liner
1 down jacket: it gets very cold at night.
1 rain jacket and pants
1 sun hat
Headlamp: essential
Waterproof gloves (even if they are ski gloves, bring them).
Comfortable shoes for camping
Quick drying towel. We provide small towels, you may like something larger.
Small bottle of soap: we provide hot water each day for cleaning – it might make you feel fresh if you had some soap.
Large plastic bags: to help organize and separate clean from dirty.
Sleeping bag: we recommend down sleeping bags for -10°C minimum.
Personal Care Items
Sunscreen
Facial moisturizer
Insecticide
Hand sanitizer
Wet wipes
Toothbrush and toothpaste
Toilet paper
Personal medication
First aid kit: band-aids, moleskin, etc.