INCA TRAIL TO MACHU PICCHU
2,000m/6,561ft to 4,200m/13,779ft
The Inca Trail to Machu Picchu trek 4 days is the most complete trek in our region, it offers the passenger the experience of exploring the different ecological zones of our country while enjoying the flora and fauna of each one of them. Furthermore, in its 45 km, 27.96 miles of the route, we have the opportunity to visit various archaeological sites: Llaqtapata, Runqurakay, Phuyupatamarca, Intipata, Wiñaywayna, Intipunku and Machu Picchu.
Come with us to enjoy the history, culture, and biodiversity that only the Inca Trail can offer.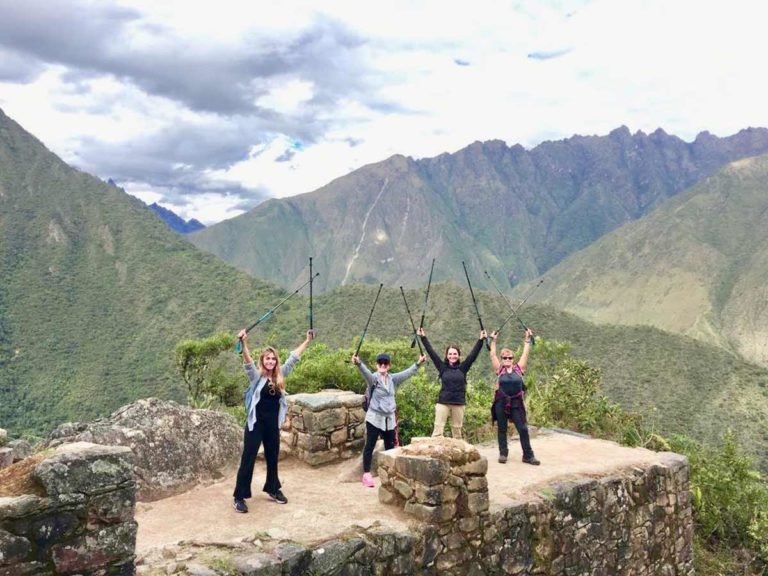 Price from: 659USDper person
Video Reviews about Inca Trail Trek
CLASSIC INCA TRAIL TO MACHU PICCHU DETAILS
Highlights
Hiking the Classic Inca Trail to Machu Picchu is the most famous hike in the world and has been featured in many travel magazines. This sacred Inca trail is steeped in history and is only a part of what it was in the days of the Inca empire. In modern times, this 26 mile trail is the only way to directly access Machu Picchu after 3 beautiful days of hiking.
The Machu Picchu Inca Trail is also the most regulated trek by the Peruvian state. Hiking permits, controlled by the government, can only be purchased by licensed operators such as Lorenzo Expeditions and we work in accordance with government rules and regulations.
Lorenzo Expeditions Inca Trail tours include a highly trained guide to lead the group and answer all your questions, a team of porters to transport all the necessary equipment and your personal belongings and a trekking chef to provide hot restaurant quality meals at each campsite to ensure your safety and to make sure you have the energy you need to enjoy your trek.
If this 4-day Machu Picchu Inca Trail option seems too challenging for you, Lorenzo Expeditions also offers a 2-day Inca Trail package that has the same attention to detail and service with different features.
Or, if you want to see the entire trail but want to do it at a slower pace, then there is the 5-day Machu Picchu Inca Trail Machu Picchu.
However, there is another option to make it even more challenging, which is the 7-day trek that combines the Salkantay Pass with the Inca Trail.
No matter which route you choose, we are here to help you find the best option and make sure you have all the necessary permits, equipment and support.
Traveling with Lorenzo Expeditions assures you a once in a lifetime, safe and comfortable experience.
So how is Lorenzo Expeditions' Inca Trail experience better than any other agency?
The quality and personalized service we provide to each of our guests is second to none. Lorenzo Expeditions also treats all of our staff like family and we have made a name for ourselves by pushing for better treatment of porters. We have led the movement by example and our porters, affectionately called The Green Machine, get higher wages, better equipment, health insurance and even housing.
At Lorenzo Expeditions we also have a passion for the land. We take our role as hosts very seriously and take care of every detail of the trek to make it the best possible experience that meets all the needs of the client and our staff. We strongly believe that equality is the key to creating the best environment for a great experience and we make sure that this is the case.
Each trek follows all government regulations, from paying porters fairly to leaving no trace after each camp, we are green!
Itinerary summary

DAY 1: CUSCO – WAYLLABAMBA: Trekking.
DAY 2: WAYLLABAMBA – WARMIWAÑUSCA – PACAYMAYO: Trekking
DAY 3: PACAYMAYO – PUYU PATAMARKA – WIÑAY HUAYNA : Trekking
DAY 4: WIÑAY HUAYNA – INTIPUNKU – MACHUPICCHU.
Enjoy a full day hike to the striped mountain at a very special price. This can be done before or after your Inca Trail, arrange with your sales team member.
About Inca Trail Availability
The Peruvian Ministry of Culture is in charge of all Inca Trail regulations, including permits and campsites. To enter the Inca Trail, you must have a permit matching your NAME, PASSPORT NUMBER, NATIONALITY and AGE issued by the Ministry of Culture. Only licensed Inca Trail tour operators can get them, and they are not transferable in date or name at any time. If you are unable to start your Inca Trail trek on your start date, you cannot transfer to another person. If you need to change your start date, you will need to make sure the permits still exist for the new date and purchase a new permit. These are all Peruvian government rules that we have to follow.
If the permits are sold out for your desired start date, there are many other trails leading to Machu Picchu. We can help you find the perfect trek for you.
Itinerary
Whats Included?
Price
Travel Info
Packing List
Faqs
Hiking to Machu Picchu along the Inca Trail in Peru is still the highlight of my year-long journey. It's that amazing. Looking at the peaks of the Andes, and knowing that I walked to get there, filled me with joy and wonder. I didn't want to be anywhere else. I'm not going to lie, though – it took a bit of work. A lot of work, in fact. But it was worth it.
Located about 2,500m above sea level, Machu Picchu was an Inca citadel that was built in the 15th century. The citadel was built as a royal estate, although it was used for less than 100 years before being abandoned when, due to the arrival of the Spanish, they set out to conquer.
It was not until 1911 that the ruins were rediscovered by archaeologist Hiram Bingham III. Although the locals were familiar with the ruins, it was not until Hiram climbed the mountain himself that he realized how spectacular his (re)discovery was.
To curb the damage caused by tourism, entrance to Machu Picchu is "limited" to 6,534 people per day, divided into morning and afternoon entries. Although it seems like a lot, tickets often sell out months in advance (especially for the trek). For that reason, you'll want to make sure to plan ahead, do your research, and book early!
A Short History
The Inca Trail to Machu Picchu is in fact a small part of a vast network of trails and roads built by the Inca Empire over 500 years ago.
Depending on the resource you read, it is estimated that the Inca Trails (or Qhapaq Ñanare, which means network of roads) have covered between 23,000 and 45,000 km of distance, basically a lot!
Composed mainly of paved stone, the roads were integral to connecting the Tahuantinsuyo Empire, which stretched from Colombia and Ecuador in the north; through Peru, Chile and parts of Argentina, and into Brazil and Bolivia (as seen on the adjacent map).
The trails varied in size from 6 to 8 meters wide at their widest point (typically in the coastal areas) to narrow 1 meter trails in the mountainous regions of the Andes.
The trails were used for various reasons, including trade, efficient transport and war. Peruvian historian José Antonio del Busto believes that the trails expanded rapidly under the government of Huayna Capac, who is believed to have added 16,000 km of trails to the network. Del Busto explains:
"It is said that (Cápac) put emphasis on the trails so that he could mobilize his army more quickly and be able to crush the rebellions that broke out during his reign.
The only unique feature of the trails is that they were built with the mind of the flame. The trails, particularly in the mountainous region, are steep, staggered and high – features of the landscape that the llamas are very skilled at crossing.
Author Hugh Thomson writes in his acclaimed and highly recommended book, The White Rock:
"We are accustomed to a system of roads designed for the horse and then for the car – a system which tries at all costs to avoid steep slopes and whose ideal (so established by the Romans) is the straight road over flat ground. The needs of the Incas were very different: the expansion of their Empire was driven by the flame".
When the Spaniards arrived in Peru in the 15th century, they were amazed at the scale, ingenuity and beauty of the trails, even though they had great difficulty travelling them on horseback. Hernando Pizarro, one of the first conquistadors to arrive in Cusco, wrote
"The road in the mountains is something to see, because it's built on very difficult terrain. In the Christian world we have not seen such beautiful roads. All the crosses have stone or wooden bridges."
Unlike most trails, which were used for practical purposes, the Inca Trail to Machu Picchu was only used as a pilgrimage or religious route.
It had no commercial use and therefore is often called the "Camino Real", "Camino Sagrado Real" or "El Camino del Rey Inca". The various Inca sites found along the 45 km trail seem to support this theory.
Hiram Bingham, an American scholar and explorer, who discovered Machu Picchu in 1911, was surprised when he discovered the pilgrimage route leading to the city.
Between 1913 and 1915 Bingham and his team discovered much of the trail covered with vegetation, and large portions of the route were restored in the 1990s.
Today, the trail, which is located in the Historic Sanctuary of Machu Picchu, is considered one of the largest trekking trails in the world and is walked by thousands of tourists every year.
Here are some tips that will help you make the most of your trip and avoid some of the most common pitfalls:
Arrive early – Try to arrive in Cusco 3-5 days before your hike so you can acclimatize to the altitude before the hike. This will make your hike much easier!
Use trekking poles – Bring trekking poles or rent them from your tour company. You will need them.
Chew coca leaves – If the altitude gives you problems, chew coca leaves. It is the local remedy and is used by many of the guides and porters. You can chew the leaves or buy gum with them. (You can also get altitude medicine from your doctor before you leave. Just keep in mind that it will make you have to pee a lot).
Break your boots – Make sure you buy and break your shoes at least 1-2 months before your trip. This will help you avoid blisters.
Bring sunscreen and insect repellent – The last thing you want is a sunburn when you're hiking in the mountains. And the mosquitoes here are abundant (and their bites are very biting!) so be prepared and apply both every day.
Bring bandages/packages – Your feet are going to get beaten up. Having some minor first aid supplies will help.
Bring extra snacks – You'll have plenty of food on the way, but bringing some of your favorite snacks is a great morale booster in those challenging sections.
Go the extra mile – For an amazing view of Machu Picchu, take an extra hour hike to Huayna Picchu. It's a bit tricky and the trail is quite narrow, but the views are worth it.
Train before you go – This is a challenging hike. You don't need to be an Olympic athlete to finish it, but the more you train, the easier the hike will be.
Don't expect to shower – Showers are available halfway through the hike but the water is painfully cold. Skip the showers and just embrace your well-deserved BO.
Bring extra batteries – Bring an external charger for your phone and extra batteries for your camera – It would be tragic to arrive at Machu Picchu and not be able to take a picture or two!
Bring earplugs – The Inca Trail can be very busy and there will be dozens and dozens of hikers at each camp. Bring earplugs for the noisy nights.
Consider the Salkantay – For a less busy route, consider walking the Salkantay. It has such epic views and sees 1/3 as many tourists as the Inca Trail. Plus, it's a fraction of the price.
Bring money for the bath – Make sure you have some money for the bath. There is only one bath at Machu Picchu and it will cost 2p.
Stamp – You can stamp your passport with a unique Machu Picchu stamp to commemorate the trip. It is a fun souvenir if you have a space in your passport.
Check your bag – You can only carry one day bag under 20L to Machu Picchu. If your bag is bigger than that, you will have to pay to check it at the door.
In the Peruvian subtropical Andes, two climatic seasons predominate: the dry season runs from the end of April to the beginning of October, and the wet season starts at the end of October and continues until April.
The Inca Trail is more traveled during the months of the dry season, particularly from May to September. If you wish to hike at this time of year, it is advisable to book at least 6 months in advance.
The dry months of March/April and October/November can also be a good time for trekking, although the likelihood of rain is higher.
Here is a diagram showing the average number of rainy days per month in the Machu Picchu Sanctuary.
December, January and February are the wettest months, and the Classic Inca Trail and the Salkantay / Inca Trail Combo is in fact closed for maintenance in February (it is possible to do the Short Inca Trail or any of the alternative hikes to Machu Picchu during February).
Temperatures in the region are fairly consistent throughout the year, with days reaching high 20 degrees Celsius (70s and 80s Fahrenheit), and falling into the low digits to below freezing temperatures at night and in the early hours of the morning.
Fluctuations in temperature are also common as you ascend to the high passes or descend to the valleys exposed to the sun.
It is important that you wear layered clothing to adjust comfort levels as temperatures fluctuate throughout the day and across different altitude levels (see Inca Trail Luggage List below).
The microclimates of the mountains make it possible to find rain at any time of the year, so you should also bring clothing for wet weather.
What travelers say about Lorenzo Expeditions?

Customer Service First class! I haven't actually got the chance to do our tour yet due to our flights being cancelled to Peru (COVID). But I was so impressed by their reaction and response to the situation I wanted to share it. They have allowed us to change the date of the tour for the next 18 months and free of charge, we also only need to give 30 days notice of the date. Excellent customer service, thank you for being so understanding of the situation, we can't wait until next year to do the tour!

Great experience with Lorenzo Expedition and our tour guide DORIAN My sister and I planned our trip to Peru 2 months prior to the trip start. We traveled late August to Mid September. When considering our trek to Machu Picchu we originally considered doing the "Original Inca trek" (4 or 5 days long and quite difficult). However, we changed our minds due to availability, price, and I had concerns about the difficulty level of the hike. Below is a long review and details about our trip. Here is the quick summary of our experience: we really liked Lorenzo Expedition, they have great tour guides who are very responsive and make the experience enjoyable. I think it's a very affordable trip, with great food, and a detailed itinerary. We absolutely loved our tour guide Dorian, he was very attentive, kind, informative, and quickly adapted to our personalities. The only downside is the "hike" felt more like a walk. We had a great experience and recommend Lorenzo's. More on our tour guide, my sister and I were the only ones on our trip, so we had a private tour guide by chance. We absolutely loved our tour guide Dorian, as mentioned above he is very kind, respectful, and attentive. I loved being able to talk to Dorian about Peru, the culture, and life in Cusco. I'm so glad we listened to all of Dorian's recommendations. He was also great about offering to take photos of us. I would describe Dorian as more of a quiet guy which I appreciated, often time tour guides can talk non-stop and it can be quite exhausting. I had a wonderful experience and would definitely recommend Dorian. My sister and I did the 3day/2night Trek to Machu Picchu in early September 2019. After doing quite a bit of research on different companies and reading lots of reviews we chose Lorenzo Expedition. The reasons: The video they made (wink), availability, price, easy to communicate with the company, reviews, and the information they had on their website. The day before your expedition they host a meet and greet/orientation where you meet the other people in your party, your tour guides, and go over the details of your expedition. Out of the group of 8 people my sister and I were the only two that were doing the 3 day trek, the rest of the group was doing the 4 day trek because of this we were able to have a personal tour guide, Dorian. Day 1: They picked us up from our Hostel and we drove about 1.5 hrs. before we got on the bikes. I absolutely loved the bike ride portion of the trek; the location was beautiful. You are surrounded by large mountains and lush greenery. The bike ride is primarily downhill which makes the ride easier and a bit more fun. Lorenzo Expedition gives you plenty of padding and protection gear for the bike ride since you are biking on a road with cars. The Lorenzo Van that you drove in is driving slowly behind the group to ensure your safety, trade your bike if needed, or if you need to rest. I was at the end of the group; I would say that on average the group was about 3-5 blocks a head of me, but they never pushed me to go faster and van was always close by. I really appreciated being able to go at my own pace. Often, when doing group activity companies can be stringent about staying close to the group etc. Luckily, that was not the case. Please note during the bike ride it is very difficult to take photos so I would recommend a GoPro on your helmet or your body. I regret not being able to film more of this experience. After the bike ride, we went to a hotel, where the group doing the 4-day trek was spending the night. We rested for a bit and then had lunch. The lunch was delicious and nicely presented. Next, water rafting. This was an additional cost but a fun small adventure that I would recommend. The river rafting was about two hours and is run by a separate company. The guides were fun, there were almost no rapids so don't be to concern. I recommend wearing a swimsuit because you will get wet. The company provides helmets, boots, jacket and pants. I would recommend river rafting just so that you have something to do unless you prefer hanging out at the hotel from 2 pm onwards. After river rafting, my sister and I went with our tour guide, Dorian, in a private taxi to the hot springs and the hotel we were to stay at that night. It was about 1.25hr drive on a one-way dirt road. My sister and I felt a little uneasy at first because we are two women traveling with two strangers in the night on this sketchy dirt road, but Dorian quickly made us feel safe and comfortable. We were quite exhausted from all our earlier activities and considered skipping the hot springs but Dorian recommended we go and said that we would really enjoy it. We are so glad we went. The entrance to the springs is not very nice but the springs are great. We went around 8pm or 8:30pm and there were not very many people and it was not loud at all. I believe there are about 4 large pools and two small waterfalls. It was a very relaxing and enjoyable experience. Unfortunately, this was our only Hot Springs experience in Peru but was a really great and needed experience. The hotel we stayed out that night was one of the more outdate hotels we stayed in, in all of Peru. It is a small town so I'm not sure that there are any nicer options. Day 2 began with ziplining, which is an additional cost. I was reluctant to zip line because a few days prior I had my first ziplining experience and it was unpleasant and long. Dorian, highly recommend we go and said that this company is really fun, and it would be a great experience. He was definitely right. The zip line course was extremely fun, with mini-courses in between, and lots of different positions to zip line. Well worth the money. I wish we could have hung out at the main office for the zip line because they have a cool set up with hammocks and are surrounded by beautiful mountains. Later we were dropped at a train station and would begin our "hike" aka walk to Aquas Calientes. At the beginning of the walk, Dorian shared stories of the Incas, the different kings, and how Machu Picchu was "discovered". Luckily, after an hour or so of walking, we stopped to have lunch. As always, the food was very tasty and there were multiple courses. It started to sprinkle so we ended up staying slightly longer at the restaurant. It was a cool restaurant with hammocks underneath the building structure. Then we began the 2.5 hr walk to Aquas Calientes. It was a pretty walk along the railroad tracks, and you had beautiful views of the nearby mountains and at a few points, you could see Wayna Pichhu. During most of our walk, it was lightly sprinkling but luckily there were a few stands on your way to Aquas Calientes so you can buy water or in our case by a poncho. We stopped at a restaurant to use the restroom and buy ponchos but saw no other restrooms in the area. We were able to rest in our hotel in Aquas Calientes before we went to dinner. We ate at an upscale restaurant with a preset menu to choose from. We greatly enjoyed this meal. The food was beautifully presented and very delish Dorian shared that the owner, Lorenzo, often travels to the different cities and checks out the hotels and restaurants that we will be eating at. Day 3: Machu Picchu My sister and I woke up early and lined up quite early at the bus stop for the first bus to Machu Picchu. Machu Picchu is stunning but very busy. Take your time. About a quarter of the way through you will be unable to turn back and must continue a one-way path. Please note, that there are security/employees throughout to ensure people are staying in the pathway and following the rules. Dorian met us shortly after our arrival and told us more about the history of Machu Picchu. He also assisted us in getting tickets to Waynu Picchu. Which we really appreciated. So glad we hiked Waynu Picchu, you have a beautiful view Machu Picchu and can take a break from the crowds. Dorian left us right before we hiked Waynu Picchu. There were smiles and hugs all around saying goodbye to Dorian. ( Don't forget to tip your tour guides) One note to Lorenzo Expedition, I think the tour guide should ride the bus with you to Machu Picchu. We had a bit of an issue meeting up with Dorian. I would not mind having the cost included in the overall trip package.

Erlebnisreiche Tour Alexander Wir waren zu zwei mit Alexander auf dem Inka Jungle Trail unterwegs. Es war sehr lustig und wir haben dank Alex Expertise über die Umgebung (Pflanzen, Tiere und weitere ding der Umgebung) viel gelernt. Alle Übernachtungen waren sehr angenehm und auch das Essen bestand immer aus großen Portionen und war lecker 😋 Auch nach dem wir den Trail hinter uns hatten, hat sich Alex und die Lorenzo Expedition gut um uns gekümmert. Als das Corona-Virus zu einer Ausgangssperre führte, besorgte Alex uns über eine Freundin ein Apartment und wir wurden des öfteren nach unser Wohlbefinden befragt. Nochmals herzlichen Dank für die tolle Tour und das Engagement vom ganzen Team 🙂

Amazing Jungle Trek My friend and I decided to travel to Peru and after completing research on tour companies, we decided to travel with Lorenzo Expeditions. We signed up for the 4 day jungle trek and we absolutely loved it. Our guide, Wilbert, was the reason for our incredible experience. This was the highlight of our trip and we are so thankful to our guide and the company for providing us with this experience. We were able to mountain bike, hike through the jungle, zip line and try the thermal baths. Throughout this trip we felt very safe accompanied by Wilbert. He was informative and allowed us to explore a lot during our trek. He provided us with a rich understanding of the Inca history, helping us to better understand our surroundings. The best advice I could offer to future travellers is to book through the company but to also request Wilbert as your tour guide. It will be a trip like no other and you will make a great friend!

Trip of a Lifetime! Our Inca Jungle Trek tour was truly a trip of a lifetime! Traveling with 6 friends we were able to experience the best Peru has to offer with mountain biking, hiking, and touring Machu Picchu. Our guide, William, was incredible and was very knowledgeable about the history and the culture of the area. What an adventure! I'd go back again and again!

davidoloughlin88
2020-02-10
Jungle Expedition with Rafting and Zip Lining We were recommended this tour by a friend who went the year prior. We could not asked for a better experience. Our guides, Alex 1 and Alex 2 were simply great. Alex 1 was the lead guide and you could tell he was fully invested in getting our group the absolute best experience. He answered all our questions thoroughly and with a great deal of passion; clearly someone who loves what they do. The jungle trek has a great mix of activities. With plenty of breaks, the trek takes you though the mountains without wiping you out for the next day. We had a blast doing the rafting. The zip lining was okay but I ended up almost breaking my foot. More on that towards the end. I would 100% recommend booking this trek even with some minor issues with the zip lining company. Perhaps miss the zip lining, but do not miss out on the experience that Lorenzo offers. The company running the zip line is a third party and they are not run as well as Lorenzo. The trees were allowed to grow up under the zip line too high. The workers sending the participants down the line would sometimes spin us to make it more exciting. This is how I ended up clipping a tree with my foot.

Superou nossas expectativas! A agência Lorenzo Expediciones cuidou da gente desde Rio Branco Acre quando ainda planejavamos nossos passeios em Cusco. As orientações do Sr. Lorenzo foram fundamentais para nossa primeira experiência em trilha de montanha. Além de nos guiar, ele fez muito mais por nós. Nos deu toda assistência na cidade de Cusco e também em Porto Maldonado. Fomos de carro e sabíamos que tínhamos para quem telefonar em caso de qualquer imprevisto na estrada. Tudo aconteceu de forma muito tranquila e em poucos dias de viagem curtimos mais do que imaginávamos porque o tempo foi otimizado. Sou muito grata ao Lorenzo por nos proporcionar uma viagem tão segura e proveitosa. Realmente, foi uma das experiências mais incríveis de nossas vidas! Voltaremos em breve para fazer todos passeios que vocês oferecem ❄😉🏔

Jungle Trek My partner and I just finished the 4d 3n Jungle Trek to Machu Picchu with Lorenzo Expeditions. We did so much research on which company to go with and decided on Lorenzo Expeditions and the tour well and truly exceeded our expectations! Our guide, Wilian, was incredible. He was knowledgeable about the area, the history of the Incan Empire and went above and beyond to always put smiles on our faces! Quite frankly he was the best guide I have ever had on any trip!! The trip was extremely well organized, excellent communication, accomodation, the food was amazing and we had an awesome time during our 4 days. Lorenzo Expeditions were serious about keeping us safe, and the bikes and protective equipment we used were top notch. I should also mention that we booked a group tour but it ended up being a private tour which we didn't have to pay any extra for which we really appreciated. We couldn't recommend Lorenzo Expeditons enough and would not hesitate to use them again in the future!

Great guide, great experience, awesome adventure! My girlfriend and I booked this trip (inka jungle trek-4 days three nights) without knowing exactly what we were getting into. It turned out to be a fantastic experience. We met with our tour guide the night before leaving cusco at a local restaurant to go over the details and he answered any questions we might have. We were expecting maybe a group of 10 people when we booked it (300 usd each) but it ended up being a tour for just the two of us because we did not book during high season. December in cusco region is quite rainy, but we really lucked out. Our guide (Wilbert) is an incredibly knowledgeable, capable, and friendly guide. He shared meals with us aND quite quickly became our friend. He had so much great information to discuss not only the history of peru but also the current political and social climate of this country. He is a good teacher too. If anything, i think he may have been disappointed that sometimes we didn't ask enough questions! He was also willing (and wanting) to tailor specifics of the trek according to our inputs. For the most part, we timed our hikes and breaks such that we could avoid the short bursts of heavy rain. The meals were fantastic, as were generally the lodgings (for the lodgings, just go into it with the expectation that you aren't staying at a 4 or 5 star hotel. They are very comfortable but a couple places we stayed at, for example the hostel in Santa Teresa, were modest. Keep in mind the price you are paying for the trip... regardless, still exceeded our expectations). The hiking was not as difficult as we expected. There were 2 approx. 15 km hikes. The visits with the local families in the jungle really added a nice touch as well. We probably packed too much for the trip. If you fill a 20L bag each you probably have enough space. No need to bring water for more than 1 day as there are many places along the route to buy bottled water for cheap from local families and towns that you pass through. We also packed too many warm clothes. Outside of the very beginning of the trip where we drove up to the Abra Malaga pass (altitude ~4.3 km) to begin the bike ride, we didn't really need sweaters. About halfway through the ride the temperature increased quickly! The views were incredible and the hikes were great-especially the portion where we used the historical Inca trail. Following Wilberts advice we woke up very early to get to machu picchu before it was flooded with tourists. I tend to sleep in but man it was worth it! Overall a fantastic adventure with a nice history lesson attached to it! I highly recommend this to anyone looking for some adventure but not willing to do the entire classic inka trail (lot more hiking and "roughing it").

Geweldige 4 dagen gehad Met onze gids Wilbert hebben we 4 fantastische dagen gehad. Mountainbiken, ziplinen, klimmen en wandelen naar de Machu Picchu. Wilbert vertelde met veel passie over de geweldig mooie omgeving. Hotels waren goed en het eten was ook erg lekker. We kregen van onze mountainbike tour een mooi filmpje achteraf op Whatsapp. Alles was tot in perfectie geregeld! Zeker een aanrader! Thanks Wilbert! 👊🏽