Classic Salkantay Trek 5 days to Machu Picchu
Price from: 599USDper person
The Salkantay Trekking 5 days to Machu Picchu is one of the most spectacular treks you can do in all of South America.
If you are thinking of trekking to Machu Picchu and want to be away from it all, in the middle of the mountains, close to the Andean communities and appreciate the diverse nature of Peru, this is your ideal route. A 5-day guided trek, with which you will enjoy unique and diverse landscapes such as snow-capped mountains, Andean villages, tropical forests and even a dense jungle to finally get to know Machu Picchu like a real trekker.
The Salkantay trek is a trekking route that takes the visitor to the Inca City of Machu Picchu. The total trekking distance is approximately 70 kilometers (5 days of trekking).
Salkantay  Trekking 5 days is a complete trek with a different and varied route to meet again with the classic Inca Trail to reach Machu Picchu.
The Salkantay trail route will take us through a path around the Sacred Mountain of Salkantay with a varied climate with incredible panoramic views, the Urubamba and Apurimac rivers make the tour take color and beauty. The Salkantay trek begins near Humantay and takes us through arid landscapes typical of the Andes to the jungle of Cusco where you will see abundant tropical forests in beautiful snowy peaks.
The Salkantay mt located northwest of Cusco is the highest peak of all the mountain ranges and reaches 6, 271 meters above sea level. The trek is well known because it is a quiet trail and is considered one of the best treks in the world and the best alternative to the Inca Trail 4 days.
Our Salkantay trekking route takes us through beautiful valleys where we will see varied flora and fauna that are not at all invidious for those who make the Inca Trail.
Salkantay trek has become more than an alternative to the Inca Trail, now many choose this route because it takes us through mountains with snow, lakes, and roads with unique vegetation to reach Machu Picchu.
Salkantay Trek does not have a limit of entrances or special permits like the classic Inca Trail, which is why it is also a good option. The 2 routes demand almost the same strength.
Itinerary Summary
Day 01

Cusco – Laguna Humantay – Suyruccocha

Our Salkantay Trek adventure begins with a visit to the famous Humantay Lagoon, then lunch and prepare for the trek to Suyruccocha camp.

Day 02

Suyrucocha – Salkantay Pass – Collpapampa

The second day we will arrive at the Salkantay Pass, which is the highest point of the route. Here we will be able to take pictures and enjoy the magnificence of the Salkantay mountain.

Day 03

Collpapampa – Sahuayaco – Santa Teresa.

The third day we will continue descending through amazing landscapes and accompanied by mountains with snow and weather changes.

Day 04

 Santa Teresa – Hidroelectrica- Aguas Calientes

The fourth day we will be in the middle of the high jungle of Cusco, we will walk until we reach Aguas Calientes and rest the night in this town.

Day 05

Aguas Calientes – Machu Picchu – Cusco

The fifth day of the Salkantay trek is when we will visit Machu Picchu and in the afternoon we will return to Cusco.
The trek begins when our Lorenzo Expeditions driver picks you up from your hotel or accommodation very early in the morning. We will then travel until we reach the village of Ollantaytambo.
DAY 1: CUSCO – HUMANTAY LAKE – SUYRUCOCHA: Trekking.
Leaving at 5:00 am to Mollepata (3 850 masl.)( 12,631.23 ft.). arriving at around 07:30 a.m. here breakfast and meet our Expeditions team (chef and muleteer). one hour bus to Soraypampa where we start the first day of hiking to Humantay Lagoon, later Lunch time, after a short rest continue the trek for three hours until we reach the first camp site in Suyruccocha (4 300 masl.)(14,107.61 ft.).
Around 05:30 pm "HAPPY HOUR", we all have to drink the famous coca tea to counteract the altitude sickness. the guide will explain a little more about the beautiful area around us. With the silence of dusk we can appreciate the Andean night sky and the snowy peaks of Salkantay and Humantay an experience that only exists in this camp.
Accommodation: Camping
Maximum Altitude: 4100 masl/13.4312feet
Minimum Altitude: 2850 masl/9.3504feet
Distance Travelled: 10 km/6.200mile.
Meals included:Breakfast | Lunch | Dinner
DAY 2: SUYRUCOCHA – PASO SALKANTAY – COLLPAPAMPA: Trekking.
After breakfast we have to do different stretching exercises to avoid any physical injury because this day is the longest and hardest. Our reward is to reach the highest point. It will be almost two hours to reach the Salkantay pass (4,600 m.a.s.l.)
Then, continuing with the hike we will descend to the small village of Huayraq, where we can rest and enjoy our snack. From this point the climate and vegetation will change drastically to an area full of orchids, medicinal plants and bamboo plantations, continuing our descent to our second campsite in the village of Collpapampa.
Accommodation: Camping
Maximum Altitude: 4650 masl/15.2559feet
Minimum Altitude: 2900 masl/9.5144feet
Distance Travelled: 21km/13.0488mile to Chaullay
Meals included:Breakfast | Lunch | Dinner
DAY 3: COLLPAPAMPA – SAHUAYACO – SANTA TERESA: Trekking.
Enjoying the great variety of flora and fauna as we pass through different agricultural fields of the local population, crossing rivers that originate in the nearby snow-capped mountains, as well as some waterfalls.
The change of climate will be a most expected experience, as we will pass from the freezing cold of the previous days to a warm and humid climate typical of the high jungle.  We will also have the option to visit the thermal baths of Cocalmayo.
Accommodation: Camping
Maximum Altitude: 2900 masl/9.5144feet
Minimum Altitude: 2100 masl/6.8898feet
Distance Travelled: Approx 27km/16.9419mile
Meals included:Breakfast | Lunch | Dinner
DAY 4: SANTA TERESA – HIDROELECTRICA-AGUAS CALIENTES: Trekking.
After breakfast, the hike is along a historically important part of the Inca trail, not only did it connect Machu Picchu with the jungle, but it was also used as an escape route by many of the inhabitants of Machu Picchu during the conquest. after the Luch in Hidroelectrica, the last three hours of trek are along the banks of the Vilcanota River until reaching the town of Aguas Calientes.
Meals included:Breakfast | Lunch | Dinner
DAY 5:  MACHU PICCHU
The guide will take us through the most important constructions and temples of the citadel, both in the agricultural area and the urban area. At the end of our guided tour, you must return to the town of Aguas Calientes by bus, where the train station is located.
The train is leaving from Aguas Calientes to  Ollantaytambo station and bus to Cusco.
Meals included:Breakfast.
This is the list of things that are included and not included in the Classic Salkantay Trek 5 days tour, please read in detail and know well each of the things that our tour offers. Lorenzo Expeditions takes care of each of these aspects to give you one of the best experiences in your trip to Machu Picchu.
What to bring? - Ultimate Packing list
We recommend carrying only the necessary luggage for the days of the tour. Large backpacks with equipment that are not needed for the expedition should be left in the city of Cusco (at your hotel or in our main office).
We recommend carrying only the necessary luggage for the five days of the tour. Large backpacks with equipment that are not needed for the expedition should be left in the city of Cusco (at your hotel or in our main office).
A small backpack of 30 to 60 liters capacity.
05 T-Shirts.
02 or 03 trekking pants (fast drying).
Pants and thermal pole (first layer).
A light sweater.
Waterproof clothing.
Warm jacket (of feather or fiber).
Hiking boots.
Flips flops.
Hat or cap.
Sunglasses.
Sunscreen.
Water bottle.
Repellent for mosquitoes (30% Deet or more).
Original Passport.
Personal medications.
Flashlight.
Personal hygiene items: Wet wipes, toothpaste and toothbrush.
The most friendly and positive attitude possible.
Additional Items to upgrade your experience
These are the different options how you can improve your experience in Machu Picchu after doing our Salkantay Trek 5 Days.
1. Huayna Picchu
The cost of the ticket is $60 dollars per person.
Huayna Picchu is a mountain within the archaeological complex of Machu Picchu, it is a 45 minute hike to the top.
To purchase this additional you have to let us know at least 2 months in advance due to high demand, schedules and details of your visit to this site will be confirmed in the previous meeting that we will have.
2. Machu Picchu Montaña
The cost of the ticket is $60 dollars per person.
Machu Picchu Mountain is another place that many travelers want to climb to have a spectacular view of Machu Picchu, and of course we help you with all this.
3. Vistadome Train
This train costs $60 dollars per person.
All our tours include the Expeditions train if you want an additional one we can offer you the Vistadome train which gives you more comfortable seats, large panoramic windows and we will include transportation back to your hotel.
Do you want to know more about the Salkantay Trek? Read our useful information section and learn more about availability, campsites, food, tents, porters, entrance fees and more.
At Lorenzo Expeditions we care that your experience to Peru and Machu Picchu is the most memorable. That is why we make tours and guides like this section, where you will find the answers to all the questions you have about traveling with us in one place. Please read the following information carefully – it will help you with any questions about our services.
Do you have any other questions that we haven't answered here? Write to us and we will get back to you as soon as possible.
Is the Salkantay Trek for me?
The Salkantay Trek to Machu Picchu is an excellent alternative to hiking the Inca Trail and is more suitable for more adventurous hikers who can handle higher altitudes and longer distances. The ascent to reach the famous Apacheta Pass (4,630 m) is not too strenuous or steep, as it is at the beginning of the hike. However, it does require stamina and some time in Cusco to acclimatize to the altitude before starting the hike.
If your initial plan was the Inca Trail and you have been preparing for this route, the Salkantay trek is ideal for you.
How many days do I need to acclimatize in Cusco before the trek?
It is very important to be well acclimatized to the altitude before exerting yourself on such a high altitude trek. We recommend that you arrive in Cusco at least 2 or 3 days before the start of the trek to help you acclimatize and avoid possible altitude sickness problems during the trek. This applies to all treks in the Cusco region.
Suppose you have already been to another area of Peru at high altitude before arriving in Cusco. In that case, we still recommend that you have a full day in Cusco to rest, recover from your trip, and enjoy the sights and sounds of Cusco before leaving for the trek.
Here are some suggestions of activities to do around Cusco before starting your trekking adventure:
City Tour Cusco (most recommended)
Sacred Valley of the Incas
Maras and Moray
Rainbow Mountain Peru (You need at least 1 day of rest to do this)
What is the best time to do Salkantay Trek?
Two climatic seasons predominate in the Peruvian subtropical Andes: the dry season runs from late April to early October, and the wet season begins in late October and continues through April.
The Salkantay Trail is busiest during the dry season months, especially from May to September. If you wish to hike at this time of year, it is advisable to book at least 6 months in advance.
Therefore, the best time of year to do the Salkantay Trek is from May to October.
The dry months of March/April and October/November can also be a good time to hike, although the likelihood of rain is higher.
December, January and February are the rainiest months, and the Classic Inca Trail and the Salkantay / Inca Trail Combo are actually closed for maintenance in February (it is possible to do the Short Inca Trail or any of the alternative treks to Machu Picchu during February).
Temperatures in the region are fairly constant throughout the year, with days reaching 20 degrees Celsius (70 and 80 Fahrenheit), and dropping into the low single digits to below freezing at night and in the early morning hours.
Temperature fluctuations are also common when ascending to high passes or descending into sun-exposed valleys.
Altitudes in Salkantay Trek
During the Salkantay Trek to Machu Picchu, we will find the following altitudes:
"Mollepata" 2,803 m.a.s.l.
"Marcocasa" at 3,500 meters above sea level.
"Rayuska" at 5,350 meters above sea level.
"Sayllapata" at 3,600 meters above sea level.
"Soraypampa" at 3,750 meters above sea level.
"Humantay" at 5,917 meters above sea level.
"Salkantay" at 6,271 meters above sea level.
"Salkantay Pampa" at 4,100 meters above sea level.
"Machu Picchu" at 2,430 meters above sea level.
The briefing meeting
This meeting will take place the night before the trekking departure at a point agreed with you, it can be in the lobby of your hotel, restaurant, etc.
What about the balance due?
The tour has to be paid in full at the latest one day before departure (usually after the briefing).
We would appreciate it if you pay the balance of the tour in cash in US dollars or in local currency in Cusco. You can withdraw money from several ATMs along Avenida Sol (either in US dollars or local Peruvian soles). You can also pay online with PAYPAL or NIUBIZ (credit or debit card), but you will have to add an additional 5% fee for the use of their secure payment gateway. We do not accept bank checks or balance payment by traveler's check.
Travel bag for the Salkantay Classic Trek – 5 days
The night before you start your trek, we will provide you with a duffel bag to pack your clothes for the 5 days of your Salkantay Trek. Your weight allowance is up to 7 kg / 15.4 lbs.
Our horses will carry your duffel bag for you along with food and camping equipment. It is important to note that you will not have access to your items in the duffel bag until the end of each day, as the riders and horses will always be ahead of the group.
During the trip, you will need a daypack large enough to carry your personal belongings, such as a warm jacket, rain jacket, camera, sunscreen, snacks, water, etc. Normally, a backpack of 30 to 50 liters is sufficient.
Food on the tour
Our cooks travel with the horses in front of the group so that when you arrive at the camp the tents are already set up and the food is ready.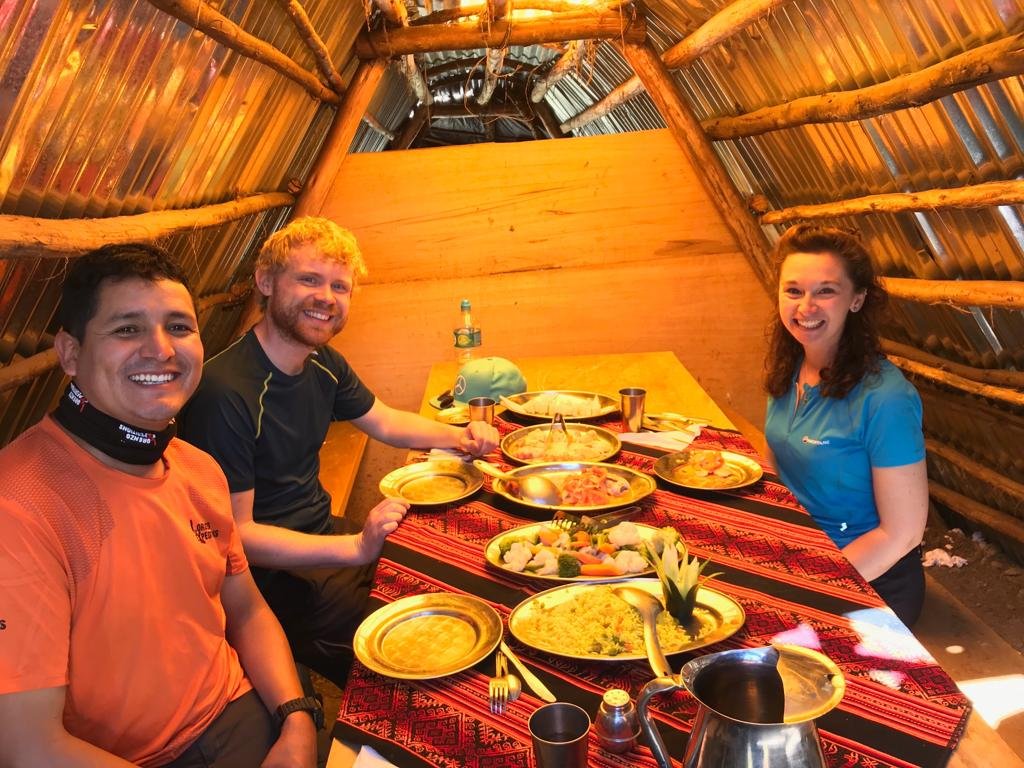 We have several food options that you will be informed about in the briefing.
Tents and showers
Our tents are ideal for the Salkantay climate, resisting extreme cold temperatures.
We also carry bathroom tents and in each camp there will be bathrooms for you to use, although they are basic.
Where can I store luggage in Cusco?
You can store your luggage in our offices and premises in Cusco while you do the tour. We do not charge you anything, it is totally free. Your luggage will be delivered to you when you return to Cusco.
The equipment you do not need during the tour can be stored safely at your hotel. Almost all hotels offer this service. Do not leave valuables in your luggage; store them in the hotel safe and get an itemized receipt (in the unlikely event of theft, many insurance companies require that you have a copy of the receipt detailing all items). For peace of mind, it is best to place items, such as credit cards, inside a sealed, signed envelope.
Pick-ups
Lorenzo Expeditions picks you up at your hotel, as long as you are in the Historic Center of Cusco. Your guide will coordinate the pick-up time at the briefing, but please note that the time may vary between 30 and 45 minutes due to traffic.
Cusco is an ancient city; therefore, it has many narrow, cobblestone streets. Some hotels and Airbnbs may be located on streets with no access to cars or on long, steep slopes, making it difficult to carry luggage. We strongly recommend that you book accommodation with good access.
Return to Cusco
The return from Machu Picchu requires quite a bit of logistics, but don't worry – everything is included in your tour!
At Machu Picchu, you will board a bus that will take you for 25 minutes to the small town of Aguas Calientes. Buses are boarded on a first-come, first-served basis.
In Aguas Calientes, you will board a train to Ollantaytambo (or Poroy). Your guide will give you train tickets showing your boarding time. Be sure to be on the platform 30 minutes before. The train from Aguas Calientes to Ollantaytambo takes 1:45 hours.
Once you arrive at the station, our representative, identified with Lorenzo Expeditions clothing, will be waiting for you to transfer you to Cusco or directly to your hotel. The trip from Ollantaytambo to Cusco takes 1:30 hours.
In Cusco, depending on the location of your hotel, we will take you to a smaller car of our company (Hyundai H1) to transfer you faster to your hotel.
Group Tours
Group tours are made up of different types of people, so physical conditions and ages may vary. By agreeing to be part of a group tour, you also accept that some people may be faster or slower than you. Therefore, each person can go at his or her own pace on the route.
It may be the case that a group wishes to modify the route; however, it is up to the guide to decide, after consultation with all participants, whether such modifications are possible.
Strikes and protests
Strikes and protests are common in Peru, and this may disrupt some of our tours. Roads may be blocked and train tracks may be taken over. However, we will try to keep your tour as planned, even if this means leaving the night before the scheduled date.
In case of changes or cancellations, all situations will be coordinated with you by our operations department. Your safety is our top priority, and our decisions will be made to protect it.
Lost and Found
Please pay attention to where you leave your belongings and remember to pick up everything once you leave our buses, tents or restaurants. You are solely responsible for your belongings during the tour.
Frequently Asked Questions
Salkantay Trek 5 days photos
What travelers say about Lorenzo Expeditions?

TOPervaring! We hebben enorm genoten van de 4 daagse inka jungle trail! Het was een zeer diverse trail met mountainbiken, ziplinen, wandelen in prachtige omgevingen, eten bij de locale bevolking, zwemmen in hot springs en het bezoeken van de Machu Picchu als kers op de taart. Het was voor ons het hoogtepunt van onze reis. Onze gids Wilbert nam ons volledig mee in het verhaal van de Inka's en leerde ons voeling krijgen met het leven van de locals door al zijn kennis, passie en (levens)ervaring. Wilbert was een zeer aangename, zorgzame en inspirerende reisgezel, we hadden hem graag meegenomen tijdens de rest van onze reis 🙂 Dank u Wilbert en Lorenzo Expeditions!

Inca Trail - 4 days/3 nights Wij hebben zojuist een vierdaagse tocht naar de Machu Picchu afgerond, onder leiding van de twee geweldige gidsen Wilbert en Alex. We begonnen de eerste dag met een mountainbike tocht, dit was een tocht van zo'n 50km, voornamelijk bergafwaarts. Wat een geweldige uitzichten onderweg! Wij reden met Wilbert mee, die zeer goed Engels sprak. Dat was ook handig in een groep met verschillende nationaliteiten. We kregen veel veiligheidsuitrustingen en voldoende uitleg vooraf en tussendoor, we hoefden ons om onze veiligheid geen zorgen te maken. De twee dagen daarna zijn we richting de Machu Picchu gaan hiken, waarbij we telkens jn een ander dorp sliepen aan het einde van de dag. Dit was een vermoeiende, maar vooral ook een prachtige ervaring. Wilbert liet ons onderweg hele bijzondere plekken zijn, plekken waar andere groepen niet waren zoals een waterval. Met zijn jarenlange ervaring en de jeugdige Alex, waren het hele interessante en bijzondere dagen. De laatste dag naar de Machu Picchu was waar we het natuurlijk voor deden: wat was dit mooi!! De Machu Picchu is een absolute aanrader en als je er dan toch heengaat, dan raden wij Lorenzo Expeditions zeker aan. Groetjes L en M (27 jaar)

Geweldige ervaring !!! Het was een prachtige tocht (Sankantey trek). Best pittig, maar ongelofelijk mooi en afwisselend. Onze gids Wilbert was echt TOP !! Alles was perfect geregeld, hij was altijd op tijd en had daarnaast veel kennis en liefde van de Machu Pichu historie

Super leuke en diverse trip We hebben enorm genoten van de 4-daagse inca jungle trail naar Machu Picchu! Met name de diversiteit aan activiteiten (mountainbiken, raften, hiken, ziplinen) en natuur (bergen, jungle, rivier) heeft veel indruk op ons gemaakt. Onze gids Wilbert heeft hiernaast veel verteld over de Peruaanse cultuur, de (her)ontdekking van de Machu Picchu en hoe de inca's destijds leefden. Ook Christian, de tweede gids, was erg behulpzaam en enthousiast. We raden deze trip zeker aan!

Een aanrader!!! Fantastische trip gehad met gids Bruno! Vanuit Ollantaytambo met de mountainbike naar beneden. Overnacht in Bella Victoria Ecolodge, een fantastische plek in de natuur! Daarna vanuit Santa Maria naar Santa Teresa gelopen een prachtige hike met klimmen en dalen en mooie uitzichten. Vanuit Santa Teresa naar Aguas Calientes gelopen en vanuit daar naar ons doel Machu Picchu. Bruno was een fantastische gids veel verhalen over de historie maar ook over lokale leven. Lorenzo's heeft een mooi concept om de lokale mensen te sturen. Dit is een echte aanrader om mee op pad te gaan!

4-daagse Inca Jungle trail naar Machu Picchu De Inca Jungle trail was echt een fantastische ervaring en het hoogtepunt van onze reis door Peru. We hebben deze geboekt bij Lorenzo expeditions en alles was goed geregeld. Zeker als je wat afwisseling zoekt is deze optie perfect want het is een leuke combinatie van hiken en andere activiteiten zoals raften, mountainbiken & ziplinen. Deze activiteiten zijn ook zeker de moeite waard. Complimenten voor de gidsen Wilbert & Cristian. Beide heel enthousiast en vriendelijk! Door deze gidsen leer je het land & de cultuur ook echt goed kennen. Iets waar wij wel naar op zoek zijn. Wilbert heeft ons op Machu Picchu van alle informatie voorzien. Dank voor de fantastische ervaring!

Fantastische ervaring Wat hebben we genoten van deze fantastische 4 dagen Inca jungle trail. Het is een actieve trail, maar met genoeg momenten rust en diversiteit. Van mountainbike, tot ziplinen en tijdens het hiken genoeg plezier. We hadden een erg fijne gids, Wilbert, die ons veel heeft bijgeleerd over niet alleen de activiteiten, maar ook over het leven in Peru. Wilbert heeft een erg prettige manier van vertellen. Hij vertelt het op zo een manier, alsof hij het zelf heeft beleefd. Je zit in zijn verhaal. Ook de tweede gids van de groep was een erg vrolijke en enthousiaste gids, Christian. Hij was erg behulpzaam en positief!

Espectacular! Me habían recomendado este tour pero supero ampliamente mis expectativas, sin dudas vale cada dólar e incluso más ya q la calidad de todo es perfecta. Tuvimos la suerte de tener a wilbert como guía, he recorrido varios países y sin dudas es el mejor guía q me ha tocado, combina conocimiento, humor y profesionalismo. No duden en hacer esta experiencia xq es algo q lo van a recordar por siempre!

Excelente todo, Willbert el mejor ! Vinimos 4 amigos desde Uruguay y tuvimos una excelente experiencia. Una empresa muy seria, que cumple con todo lo establecido y está en todos los detalles para que no haya preocupaciones. Solo disfrutar. Además de contar con la compañía del mejor guía Willbert, una persona muy cálida y amable que sabe muchísimo y lo explica muy bien. Realmente un placer haber compartido esta aventura con él. 100% recomendable!

A spectacular adventure towards Machu Pichu. Guided by Wilbert (a pleasant personality!), we had an excellent and spectacular adventure. And Wil was able to combine that with a lot of nice stories about the ancient culture of the Inca's and Machu Pichu. And not to forget all he could tell about birds, plants and Peru in general. Being with a family with 4 teenage boys, the downhill cycling, zip-line and rafting kept the tour a super experience for the whole family. Beautiful scenery too. Super! Any many thanks to our guide Wil !!
More inca trail hike tours